My visit to Sahyadri Museum @ Kuttikkanam, Idukki

Sahyadri Museum is part of Sahyadri Ayurvedic Hospital at Kuttikkanam near Peerumedu, in Idukki district of Kerala. The museum has a good collection of books and antique items that demonstrates the history of Ayurveda, spices, the ancient tribal livelyhood, ayurvedic medicines etc. If you are visiting tourist places like Munnar or Thekkady, this place is pretty close and is worth a visit.


For those who visited Kerala. the Western Ghats Mountain range (locally known as Sahyadri) is surely one of the biggest attractions. Some of the popular tourist destinations like Munnar, Kumily, Thekkadi wildlife sanctuary etc are located in Western Ghats.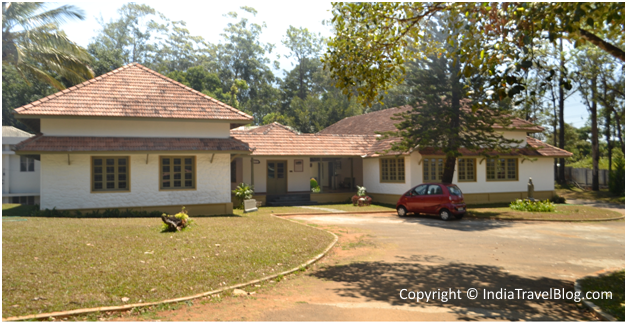 If you ever visited Thekkadi Wildlife sanctuary in Kumily, you will never miss a landmark named Kuttikkanam on your journey to Thekkadi. Kuttikkanam was famous even in the time of British Rule as a Summer destinations of Maharajas.

If you are planning your journey to Kumily through Kuttikkanam, you have one more reason to spend few more hours at Kuttikkam. Thanks to the Peermade Development Society which set up a nice museum which showcases the history of Aurveda and tribal medicine systems of Kerala in such a beautiful manner. The museum is aptly named Sahyadri Museum .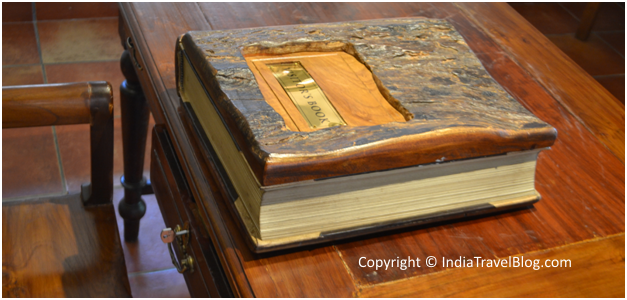 Sahyadri Museum is located in a small town called Pallikkunnu, just 3 KM away from Kuttikkanam Junction. If you are going to take a taxi or tuk tuk to the museum or even when asking for directions, better ask the driver to go to Sahyadri Ayurveda Hospital rather than Museum because that is what the locals are more familiar to.

After two and half kilometers of scenic drive through tea plantations and about half a kilometer bumpy ride on a local road, you will reach the Museum. There are no signboards prominently displayed to announce that it is a Museum. May be they are just starting the whole project and things will get better as you are reading this post.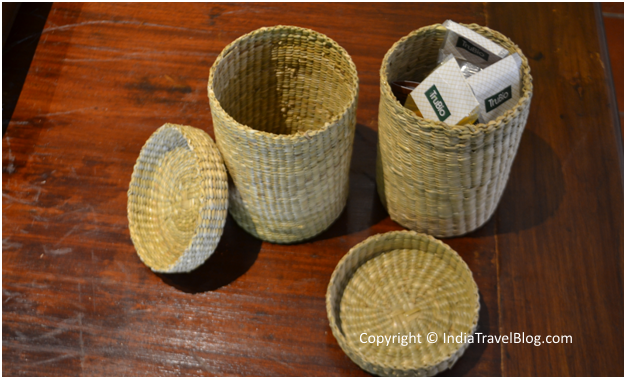 I drive in to the place that looked like an Estate bungalow, a stone made building which is common in this area. Later I came to know that this building has lot of history behind it. The original building was built back in 1900 and it was a medical center at that time. Later it went through series of add-ons and renovations over the past hundred years and now in 2015 it has become an ayurvedic museum.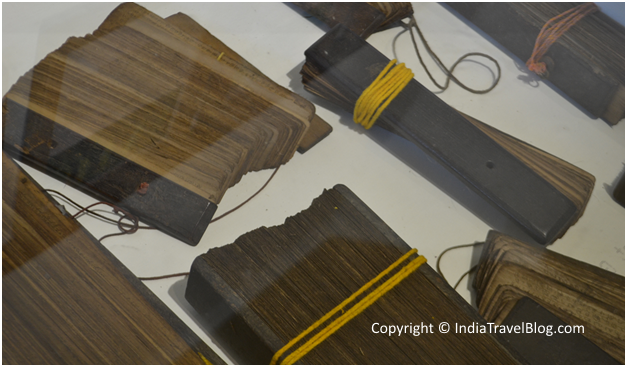 Since the museum is about Ancient medicinal systems of India and specifically to Kerala, they maintained a theme that goes well with it.

I was greated by Jobin Alex, a friendly person who was kind enough to give me a full tour of the entire property even though he as busy with some assignments. The first thing that attracted me in the front office is the visitors book, which uses a wooden binding. The whole ambiance of the front office will take you back to the golden times of Ayurveda .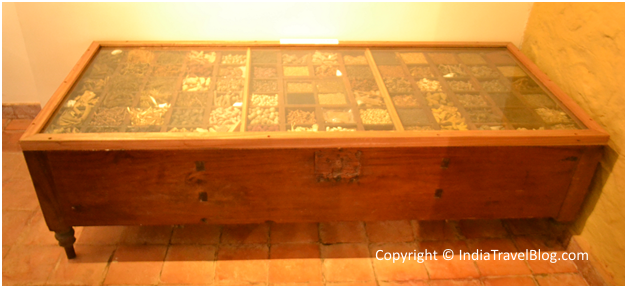 The lighting is done using LED systems but that elegantly blended with the traditional ambiance. Lights are placed in a piece of wood hanged from the top.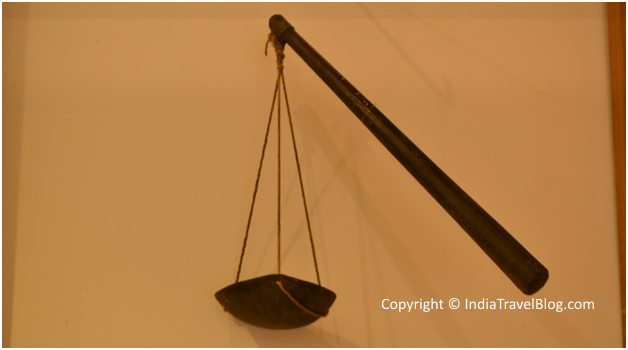 The whole building reflects the taste of the designer and the quest for perfection.

On the reception counter itself some branded Ayurvedic products are showcased. I was told that these are organic products produced at their facility itself and it is packaged in natural tribal man made packages which were fully bio degradable.

Have a closer look of these products and their packages.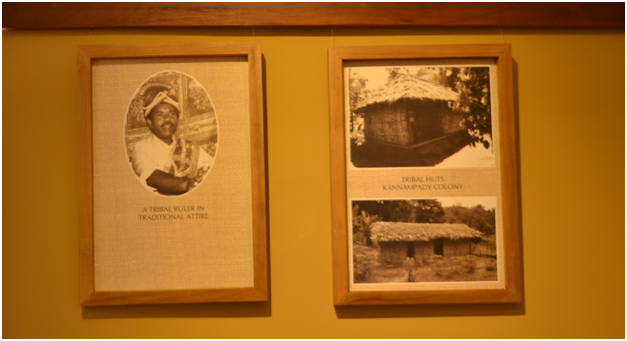 Then I started visiting the artifacts in the museum. I was greeted by a stone with some stone age picture scripts of some cavemen on it. It was just created new and placed there for telling you that it is a museum.

The history of the places of Peermade and Vandiperiyaar are depicted there along with an ancient map of south India. There was a nice ambiance in the room with soothing music. All the rooms have fireplaces originally done by British designers almost a century back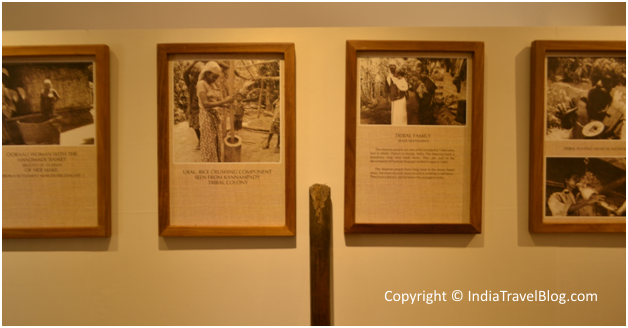 These are some Palm Leaf manuscripts of some old Ayurveda medicines kept on the Ayurveda medicine production division.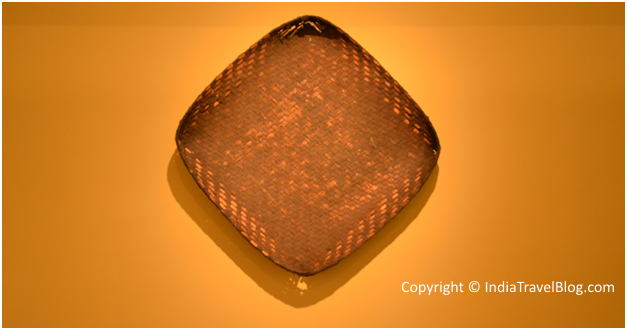 One of the main attractions was the Traditional Medicine box which is used to store all the Ayurvedic components in common place when preparing the medicines and the oil bath tables which are used for various oil based massaging treatments. There are a nice collection of all Ayurveda medicine ingredients kept in a neatly arranged glass containers and these are well documented.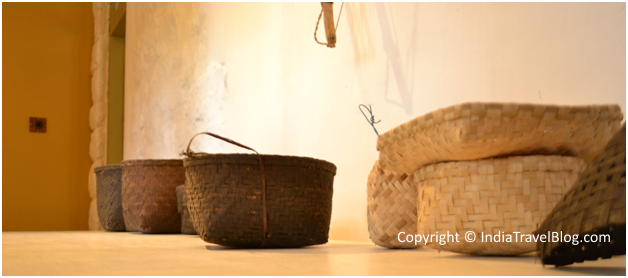 The stone sculptures of Dhanvanthari and Suhrutha, the famous ancient Ayurveda physician's were kept in the museum in prominent places along with a detailed description.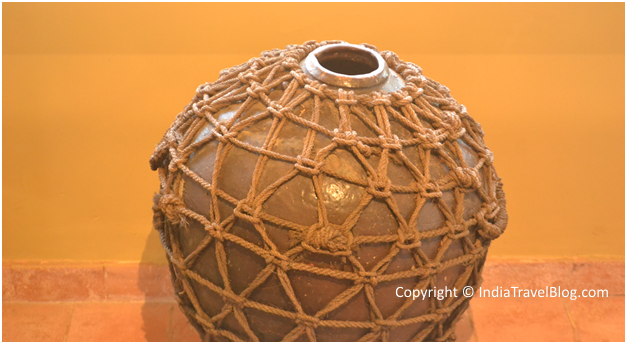 The ancient history of this hill station is described with pictures that dates back to early times of photography is showcased here that will give a clear idea about the major palaces near Peermade and the regular household lamps, measuring equipment, and kitchen utensils are exhibited here.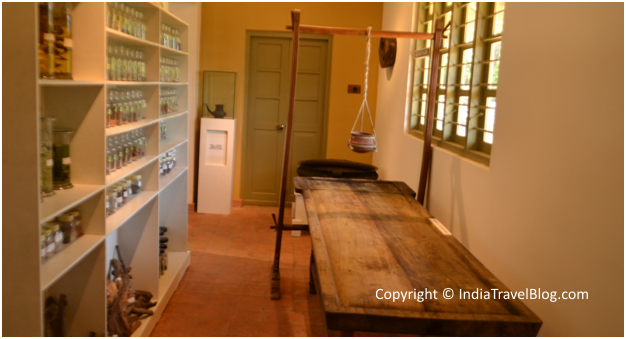 One section is dedicated to depict the tribal life of western Ghats with pictures and products used by various tribal of Kerala.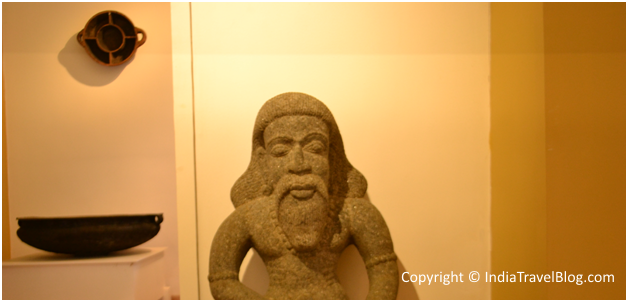 I spend almost 90 minutes exploring the stuffs and having a quick view of almost all the products. There were many empty rooms which I was told that it is going to be filled with more exhibits related to Tea industry. So if you are reading this post after a while it is being published, there is a good chance that you will see a lot more than what I have seen. If you are going to read the entire stuff that is placed there and going to inspect each and every element, you are going to spend at least 3 hours for that.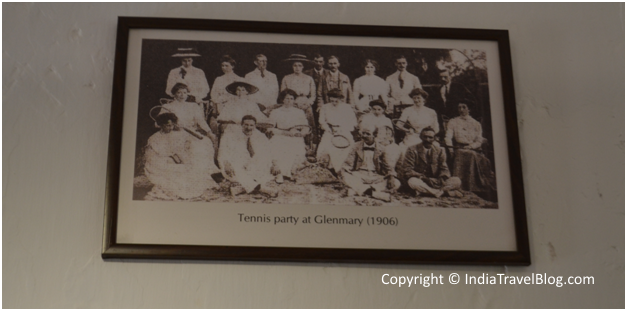 So if you are going to any of the tourist destinations in Western Ghats including Peermade, Kuttikkanam, Kumily, Idukki or Wagamon, this place is worth a visit. Apart from museum, they have a full fledged Ayurvedic medicine production center and Ayurvedic therapy center which you can visit if you wish.
The Facility is maintained by Peermade Development Society and you can reach them on +91 4869 232497 .