Wonder La Kochi Review from our recent visit

This blog is about my recent visit to Veegaland (Wonder La) Kochi. Read this Veegaland review to find how we liked the place and what we did not like.


Before you read further, let me clarify one thing. Veegaland Kochi is same as Wonder La. I know a lot of people are confused about this new name. "Wonder La" is just a new name for the old Veegaland in Kochi and is one of the most visited destinations in Kerala.


Our visit to Wonder La, Kochi

It has been several months our kids talking about visiting Veegaland in Kochi. We agreed to take them to Kochi WonderLa during summer since the place is just 5 km away from my wife's house. (Even though Veegaland is now called "Wonder La", the local people like to call it by the old name)

We reached Kochi Wonderla at about 10:30AM. It was a Wednesday during the summer holidays. During the mid of the week, we were not expecting any crowd there and thought we could enjoy all rides without any long queues. Another reason for coming early was to get inside and start having fun before most people reach there.

To our surprise, we found a huge crowd in front of the entrance even before the park officially opened for public. All of us said "Oh God" together when we saw the crowd. Looks like all summer holidays are busy like this. Well, actually, not just the summer holidays. We visited Kochi Wonderla (Veegaland) couple of times in the past and it was not summer holidays but was still over crowded.

We parked the car and entered the park at 10:40AM, just 10 minutes after the park opened. Ticket price was Rs 520 for adults and Rs 420 for kids. We took a locker to keep our bag and dress safe.





The first ride we tried was the caterpillar ride. There are 2 caterpillars and one was more challenging than the other. It is actually a family ride on a train that look like a caterpillar and almost anyone can go for it without worrying about any quick motion effects. My son was little bit disappointed because we happened to choose the less challenging one. We had to wait about 20 minutes in the queue to get to the train, so we did not want to try the other train again.


4D Movie in Kochi Wonderla

The next entertainment was the 4D movie which were waiting to open. They opened at 11AM and we rushed to the show. Kids really enjoyed the 3D movie with the special effects like air blown to your body, some things that come and touch your body to match certain effects on the screen etc. It was really a great family fun. They played two 3D movies which were about 5 minutes each long.


Fun for little kids

After the movie, we marched to the rides for small kids. My 6 year old son spend about an hour there while the rest of the team enjoyed some bigger rides around. The next one was the Balarama Cave. This is a huge artificial cave where you go through a dark cave on a ride. It takes us through some scary (for small kids) setup where you see many characters from the kids magazine "Balarama". The characters include Dagini, Mayavi etc.

After enjoying few more rides, we had lunch at Kochi Wonderla's restaurants. Food was not bad and were reasonably priced. They have pretty good number of shops there and were maintained well.

After lunch, we moved on to more rides which include skywheel, battery cars etc.


Water rides and Water parks at Wonder La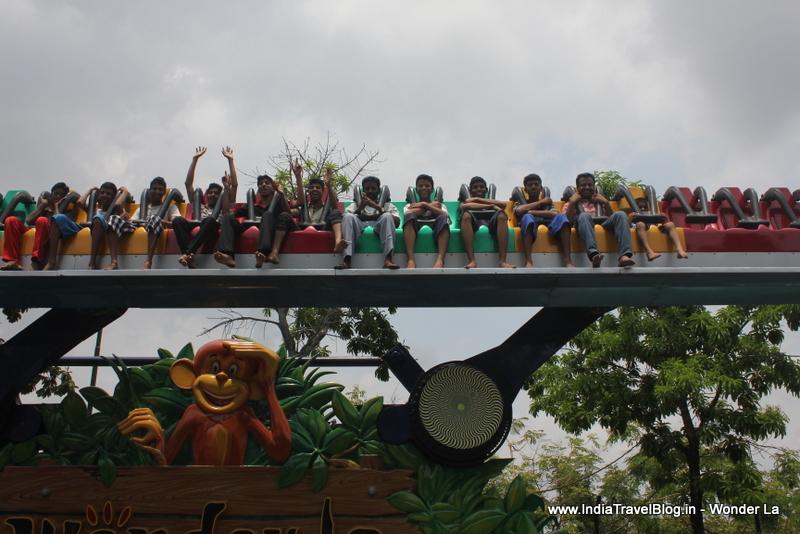 Water rides and water parks are some of the biggest attractions in Wonder La. There are several fun rides including Pendulum ride, Bullet ride etc. Most of the rides are family friendly and are not very challenging. Many rides require you to ride on a tube and some of them are double tubes were 2 people can go together. There was 1 ride which was pretty tall and steep which I did not want to try!

The wave water park is another entertainment. We spent about 45 minutes in the water swimming through the artificial waves. Rain Disco is another entertainment in the Wonder La amusement park where people can dance under the rain as long as they wish.

By evening 6:30, they started closing the rides one by one. There was last show at the Musical Fountain at 6:30 and that was the end of the full day of fun.

By about 7:00pm, we changed our dress in the changing station and returned the locker keys.

One of the highlights of Wonder La Kochi is the clean atmosphere and helpful staff. There are lot of staff everywhere to help you and make sure everybody is safe on the rides. The park is very clean which you cannot expect in most places in India. I saw most people putting their footwear in the lockers and walking with barefoot. After lunch, I too put my chappals in the locker and started walking barefoot since it is difficult to take care of them when you go for the water rides.

If you are planning to visit Wonder La, don't forget to read my Wonder La Visiting Tips.

Munnar, one of the most visited hill stations in Kerala is just 3 hours drive from this place. Read more about attractions in Munnar. We had visited Dream Land Spices Park in Munnar, which caters to those who have a yearning for Adventure sports.