Mahadev Temple Tambdi Surla: Famous Mahadev Temple in Goa

Mahadev Temple in Goa is a famous tourist attraction. This temple in Tambdi Surla in Goa is well known for it's architecture. Read this article to learn more about this ancient pilgrimage centre.


Mahadev Temple Tambdi Surla in Goa is one of the famous Hindu Temples in the state. This temple in Goa is situated at Tambdi Surla, which is a small village in Goa. It is located about 13 kms from the Bhagwan Mahaveer Sanctuary and Mollem National Park. This temple is just 65 kms far from Panaji, the capital of Goa. You can reach Tambdi Surla Temple from any where because this place is just 22 kms from the main town of Valpoi.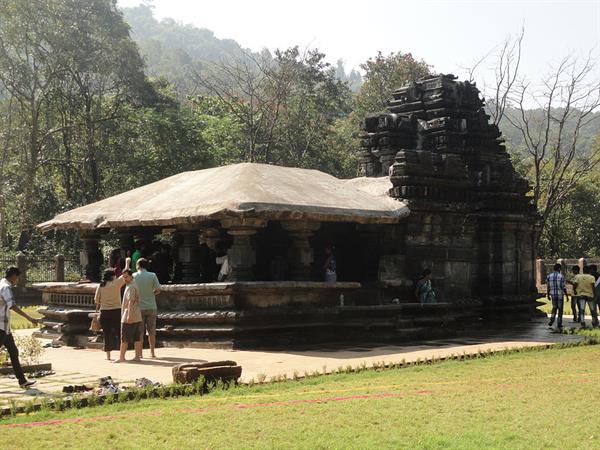 Image Credits: Shambhav94 Wikimedia CC BY-SA 3.0

The Shiva mandir (Lord Shiva Temple) is situated at the foot of the Anmod Ghat which is one of the way which connects the two states Goa and Karnataka.



History of Mahadev Temple Tambdi Surla

The Tambdi Surla Temple was built in the year 1271 by the Minister of Ramachandra who was the King of Yadava. The name of his minister was Hemadri. The design of this temple is very good and attractive. This temple was made by grey-black basalt stone which is known as a very good Weather resistant stone. These stones were brought from Deccan plateau mountain. The most interesting thing of this temple was it is believed that this is the only specimen of the architecture of Kadamba-Yadava.

The main deity of the Tambdi Surla Temple is Lord Shiva or Mahadev who is known as the God of Destruction
according to the Sastras of Hindu or Hindu Sastras. In this temple there is a large linga which is known as the Symbol of Lord Shiva which is inside a sanctum and many people believes that that is the place of a huge cobra. The architecture of this temple very wonderful. There are four pillars in the temple. These four pillars are decorated with good crafts and flowers. The interior of the Tambdi Surla Temple is also very wonderful. The temple was made in a style that the first sun ray falls on the deity of this temple. There is also a statue of Nandi who has no head in the statue. This Statue of Nandi is located in the center of the Mandap. There is also a river Surla which flows very near to Mahadev Temple Tambdi Surla Goa.

The famous festival of Sri Mahadev Temple Tambdi Surla is Mahashivratri, which is celebrated with a great joy and pomp by the peoples of Goa. Tambdi Surla Waterfalls is another attraction near to the temple. Goa, obviously is famous for it's beaches also. Check out some of the great beaches like Anjuna, Vagator beaches.