Ramnathi Temple Goa: One of the famous temples in Goa

In this article you can get almost all information about the Ramnathi temple Goa. This is a Shiva Temple. Read the full article to know more about the famous Ramnath temple of Goa.


Ramnathi Temple Goa is one of the famous temple in Goa attracting thousands of tourists and pilgrims. It is also one of the most important places to visit in Goa.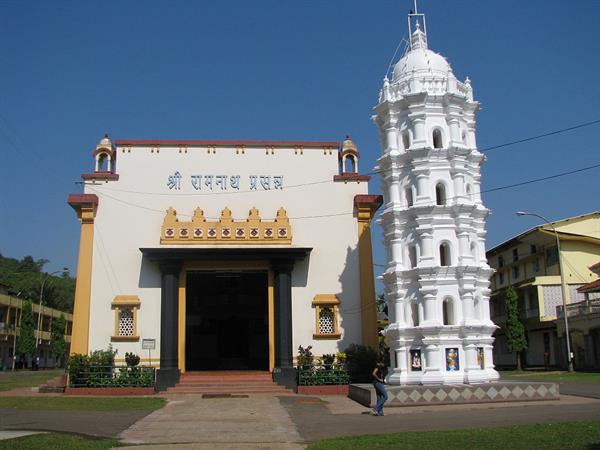 Amol.Gaitonde Wikimedia CC BY-SA 3.0


About the Ramnath temple of Goa

The famous Ramnathi Temple Goa is located in Ramnathim,Bandivade in Goa. The deity of the Ramnathi Temple Goa was there from 3000 years B.C. That was installed by God Rama. When the Lord Ramachandra returned to his own country with Sita after winning the battle with Ravana he came to Ramnathi. As he killed Ravana who was a very talented Brahmin so to absolve his guilty he pray to Lord Shiva. He came to this place and make a Linga which is known as the symbol of Lord Shiva and prayed to that Linga. So the name of the temple is Ramnath. Originaly, this Ramnathi Temple Goa was situated in Salcette Goa. The main Idol of the Ramnath temple Goa was shifted to Bandivade of Goa in 16th century because the old temple was came to destruction. Now the new Ramnath temple Goa was about 450 years of old till now.


Deity of the Ramnathi temple of Goa

The main Deity of the Ramnath temple is God Ramnath. The god Ramnath is known as Lord Shiva. As Lord Shiva is the great god so the Ramnath temple of Goa is also known as Ramnathi. There are also two deities are worshiped in this Ramnath Temple of Goa. The deities are Goddess Santeri who is also known as Shantadurga and Goddess Kamakshi. There are also the idols of Ganesh, Shree Kaalbhairav and Shree Betal are present in this temple. This is also known as the Ramnathi Panchayatna.

Now this temple is turned into a major tourist spot in Goa. Every year many devotees, peoples and tourists come to this temple. If you want to go to the famous temple in Goa then you can reach the Ramnath Temple Goa as it is very easy to access and you connected with all the major cities of Goa. Mahadev temple located 65kms from Panaji also is a famous temple.