Panna Tiger Reserve: How to Reach and Accommodation in Panna National Park

Here you can find how to reach Panna Tiger Reserve, Madhya Pradesh. A list of few accommodation facilities which are available in this wildlife park in India is also mentioned in the article


Panna Tiger Reserve and National park is surely one of the most beautiful tiger reserves in India. Safari in Panna National Park in the morning hours is popular as the probability of finding wildlife including tigers are more.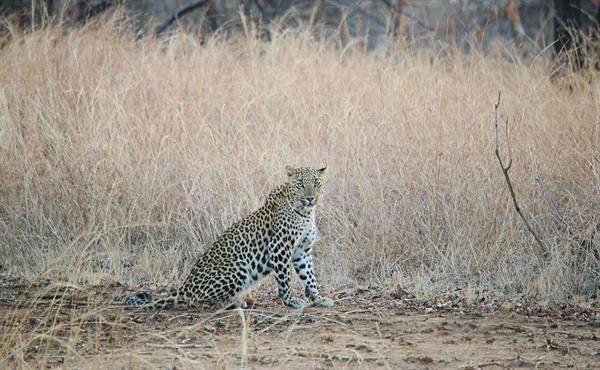 A Female Leopard in the tiger reserve. Ab0408 Wikimedia CC BY-SA 4.0


How to reach Panna National Park
Panna National Park in Madhya Pradesh is easily accessible by road, rail and trains. Let's discuss each ways in detail: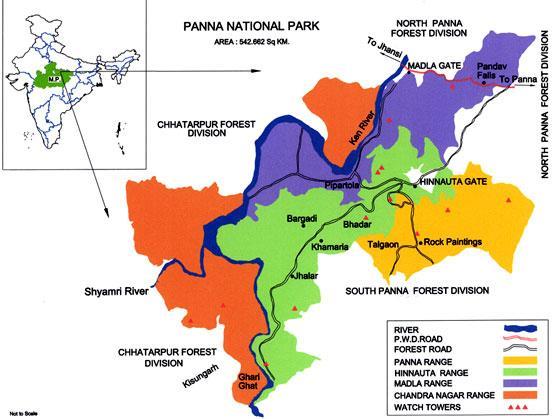 Reaching Panna National Park by air

The nearest airport for Panna Wildlife Sanctuary is Khajuraho, around 25 km away from this place. Khajuraho Airport is connected to all the major airports in India by means of daily flights. Cities like Delhi, Mumbai and Varanasi have daily flights from Kingfisher Airlines and Air India. This way it becomes easier for tourists to visit Panna Wildlife Sanctuary from all around the world. Foreigners can take an international flight to Delhi or Mumbai and from their take a connecting flight to Khajuraho.

Also read: Panna Tiger Reserve - Travel Information


Reaching by rail

For Panna Tiger Reserve, the most convenient rail roads are Jhansi, Katni and Satna. Jhansi is located 180 km from the national park and is usually preferable for people traveling from Mumbai, Delhi and Chennai. Satna is located around 90 km from the tiger reserve and is preferable for tourists traveling from Delhi, Kolkata and Varanasi. As far as Katni is concerned, it is located 150 km from the national park and is ideal for tourists travelling from Mumbai, Chennai and Nagpur.


Reaching by road

By road, Tiger Reserve is easily accessible from Khajuraho. Tourists also get an option of selecting private vehicles outside Khajuraho Airport. Tourist traveling from Bandhavgarh National Park to Khajuraho can also visit Panna National Park as it falls in between. The tiger reserve is around 240 km from Bandhavgarh National Park. By road, Panna Tiger Reserve is very well connected to major cities via Satna, Jhansi, Khajuraho and Katni.


Distance from major cities of India to Panna National Park

Satna – 90 km

Jhansi – 180 km

Katni – 150 km

Khajuraho – 25 km

Bandhavgarh – 240 km

Agra – 400

Delhi – 620 km


Road route from Delhi to Panna National Park

New Delhi (NH2) – Faridabad – Mathura – Agra – Morena – Datia – Jhansi – Chatatrpur – Panna Tiger Reserve


Accommodation Facilities
Tourist can avail good accommodation nearby Panna wildlife sanctuary in Madhya Pradesh. Panna Tiger Reserve is a known and developed tiger reserves in India. Many tourists pay a visit to Panna Wildlife Sanctuary every year, hoping to get a sight of the rare species that house inside this reserve. Hence comfortable accommodation services are made available by the forest authority to the tourists who wish to stay amidst the forest reserve. Other than that there are few private hotels which also are located within the vicinity and promise good and comfortable accommodation.

Simple tourist huts are made available at Madla and Hinauta for the tourists. These huts are suites comfortably equipped with amenities for the guests. To avail this accommodation one has to book them with the Field Director of the Tiger Reserve. It's ideal to book them earlier as they are served on First-cum-first serve basis.


Contact details of Forest Authority
The Conservator of Forests and Field Director
Panna Tiger Reserve
Civil Lines
Panna
Madhya Pradesh – 488001
India

Telephone number: +91-7732-291214

email: pannatiger@mp.nic.in


Accomodation, Hotels in Panna National Park

The Jewel of the Jungle Resort: The Jewel of the Jungle is a luxury wildlife resort located within the wilderness of Panna Tiger Reserve. This resort offers comfortable accommodation services which includes 28 rooms that comprise of comfortable. Self-contained cottages and air-cooled rustic huts. This resort also offers many activities meant for the entertainment of the guests.


Ken River Lodge: Ken River Lodge is a jungle lodge cum resort located just 1 km from Panna Wildlife Sanctuary on the banks of River Ken. This resort offers excellent accommodation which comprise of Swiss Cottage tents which are spread over an area of 30 acres offering great privacy to the guests staying in the resort.

Panna Tiger Resort: This Resort is a beautiful jungle resort located on the banks of River Ken, at close proximity to the tiger reserve. The accommodation facilities at this resort include 8 self-contained cottages and 4 tents which offer a beautiful view of the River Ken. The resort also arranges for safari and excursions.