Our visit to Eravikulam National Park (Rajamalai)

I, along with my family, visited the Eravikulam National Park a few months ago. This is the most sought after tourist destination in Munnar and we really enjoyed our visit there. Read our travel experience to Eravikulam National Park.


Eravikulam National Park, popularly known as Rajamalai, is the best tourist attraction in and around Munnar and is located about 13 km from Munnar town in Udumalpet road (SH17). The park includes several mountains where many rare species of animals, birds and butterflies are found, including the endangered "Nilgiri Tahr". There are only a limited number of these animals remaining. In order to protect them, government has banned tourists during the calving season (February and March) every year, to avoid disturbance to the new born calves. You can enjoy this place during all other times of the year.



Nilgiri Tahrs (a type of wild goats) at National Park


Eravikulam National Park and the safari at Rajamalai

The national park is spread across an area of 97sq km and is a protected area. A small part of the national park called Rajamalai is the only place open for tourists. Private vehicles are not allowed to the top of this mountain. You can park your vehicles in the base parking station and then buy tickets to travel in the safari buses to go to the top of the mountain. The ticket counter opens at 8 am in the morning and closes at 4:30pm. If you don't reach there early in the morning (7am to 8am), you may have to stand several hours in the queue to get the tickets and board the bus. We reached there by 9:00am and the queue was too long which made us wait about 2 hours to board the safari.

Since May 2016, Kerala Forest Department has started online ticket booking to Rajamala. Take advantage of this online ticket booking service to save a lot of time there.



Safari bus in which visitors are taken to the mountain peak

Anamudi Peak
Anamudi Peak, the highest peak in south India, is located in Eravikulam National Park. Entry to this peak is restricted but you can enjoy the great view of this peak from the safari bus and also from the top of Rajamalai.

You can get close access to the endangered Nilgiri Tahr (a kind of wild goats) at Rajamalai. The safari buses will go near top of the mountain and you have to go the rest of the way on your foot, which is about 2 km walk. Those who can't walk all the way up can return from any point. At the top point, there are some sitting areas and a small temple, which will make you go for meditation in the serene beauty of the nature. It is a very pleasant walk with a magnificent view of Rajamalai and other mountains. On the way, the goats will come very close to you. You can take photos and even touch them if no security staff is watching. Avoid making loud noises and chasing the animals. You are strictly not allowed to carry any plastics to Rajamalai and also feeding the animals are not allowed.

About 700-800 Nilgiri Tahrs are estimated to be living in the park. During our trekking, we were able to see about 25-30 goats, which include male and females and also many calves.




While the kids really enjoyed taking photos with the goats, adults were keen on enjoying the superb views of the large rocky mountains covered in green on the sides. I don't think there are any other hill stations in Kerala which offers a better view of nature than this place.


Important attractions

It's not the usual tourist place where you watch a lot of attractions and have fun. You must go with a different perspective to enjoy this place to the best. A casual traveler expecting to see a lot of activities, attractions and many species of animals may not be fully satisfied here. If you are a true nature lover, your heart will be filled with the amazing views of the mountain ranges in the laps of the the mother nature.

The primary attraction of Rajamalai is Nilgiri Tahrs, which is an endangered animal. It is fun to watch the animals which comes very close to the people. Also, you will enjoy trekking and the great view of very high mountains with huge rocks and the rest of the area covered in green.

Suggested Read: Tea Museum in Munnar - Places to visit in Munnar

Depending on the season you visit, you may see a few small water springs with cold, pure, crystal clear water, originating from the mountains. You can't leave this place without tasting this pure water from the nature. Also, you can see a lot of birds having a good time near those springs. If you are a biologist, you will be amazed to see the wide variety of plants you will see at Rajamalai.

Read Dream Land Spices Park - An ideal place for fun and activities at Munnar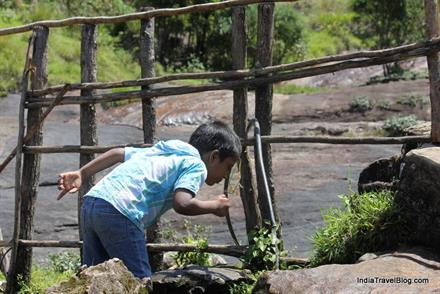 Tasting the natural spring water
Entry fees

If you are not an Indian citizen, you have to pay a higher fees. However, if you are a person of India origin and look like an Indian, there is no need to reveal your citizenship!

Fees details:

Adult – Rs. 75/-
Children – Rs. 65/-
Foreign Nationals – Rs. 260/-

Reservation fee - Rs 50/-

I wasn't aware that there is a reservation counter where you can pay Rs 50/- extra and skip the long queue. When you visit the park, if you notice a long queue, I would strongly recommend you walk straight into the reservation counter, pay the extra Rs 50 and get straight into the next safari.


Tips for visitors

Here are some travel tips:

1. Go early in the morning. Even though the ticket counter opens at 8 am, you can reach there by 7:00~7:30 to get in the line. By about 8 am, there will be huge crowd and you may have to wait for several hours in the queue.

2. If you are late to arrive, be prepared to spend an extra Rs 50/- per person and go for the special reservation counter.

3. Avoid visiting during January/February since the park will be closed during this season.


Beautiful view of mountains and peaks from Rajamalai
How to reach Rajamalai

The nearest railway station is Aluva (between Ernakulam and Airport), which is about 120 km from Munnar. If the train you are arriving doesn't stop at Aluva, get down at Ernakulam, which is the next nearest station.

Nearest airport is Kochi International Airport, which is also about 125 km from Munnar town.

If you are on a tight budget, you can come by public transport buses as well, which is what did on our recent backpacking trip to Munnar. There are frequent buses to Munnar from Kothamangalam. You can get direct buses to Kothamangalam from places like Ernakulam, Aluva, Angamaly and Perumbavoor. If you are coming from the Airport, you will have to take a bus to Aluva from the airport and then from Aluva, take a bus to Kothamangalam.

From the railway station and airport, you can hire a taxi to come to Munnar. There are no hotels or resorts at Rajamalai and the National Park. But you can find several hotels, resorts and homestays in Munnar area. I stayed in Munnar Tea Country Resort, which is between Adimali and Munnar (about 12km before reaching Munnar). There are many budget hotels in Munnar town, if budget is a constraint for you.

Eravikulam National Park is not the only attraction in Munnar. Don't forget to visit places like Anayirangal dam, Tea Museum, Honey Bee Tree, Rose garden, Dream Land Spices Park etc.

Photos of Eravikulam National Park