Reaching and accommodation at Gwalior, Madhya Pradesh

Gwalior city attracts a lot of tourists with heritage sites and as a shopping destination. Here you can read about how to reach this city and accommodation facilities available


Accommodation Facilities
Gwalior city is has lot of options when it comes to accommodation. Being the Tourist Capital of Madhya Pradesh, it is definitely prepared to offer a lot of accommodation options for its visitors. These accommodations range from economy range with reasonable fares to exclusive range with exorbitant fares. Out of the various accommodation facilities that this place has to offer, few of them are mentioned below: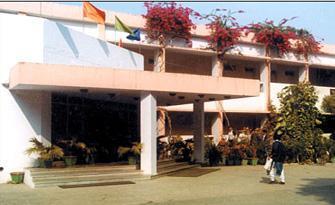 MPTDC Tansen Residency: This is a MPTDC Owned 3-Star Property. MPTDC Tansen Residency offers excellent accommodation facilities which include air-conditioned accommodations, multi-cuisine restaurants, lounge bar and Conference facility.

Tariff: For A/c Deluxe Suites – Rs. 3290/- for single or double occupancy.
Extra person – Rs. 500/-

Contact Details:
MPTDC Tansen Residency
Besides Railway Station
Gwalior
Telephone number: +91-751-2340370
email: tansen@mptourism.com

Also check out: Gwalior Fort - History and Travel Information


Private Resorts and Hotels
Mentioned below, a list of private hotels and resorts:

Usha Kiran Palace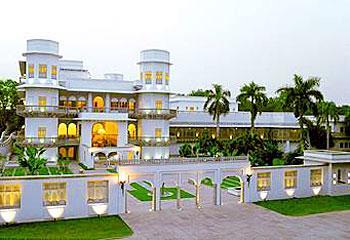 This is a Heritage Hotel from Taj Group of Hotels. This 100 years old palace was transformed into a hotel and is spread over an area of 9 acres. As the name suggests, this place offers royal accommodations and facilities.

Address:
Usha Kiran Palace
Jayendraganj Lashkar
Gwalior – 474009
Madhya Pradesh
Telephone number: +91-751-2444000

Hotel Shelter
It is conveniently located in the heart of the city near the railway station. One of the best hotels, Hotel Shelter offers comfortable accommodation which includes the Maharaja Suites and luxurious facilities.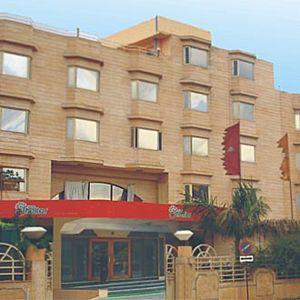 Address:
Hotel Shelter
Padav
Gwalior – 474002
Madhya Pradesh
Telephone No: +91-751-2376209


Hotel Grace
Hotel Grace is centrally located in the city, just 500 meters from Railway Station. Hotel Grace offers its visitors excellent accommodation facilities with Deluxe rooms and Suites.

Address:
Hotel Grace
40, Manik Vilas
Gwalior
Telephone Number: +91-751-2340111


How to reach
This city is so strategically located that, it is easily connected to all the major cities and states in Madhya Pradesh and overall India. This place is roughly 423 km from Bhopal, 100 km from Jhansi and 122 km from Agra. It is just 321 km away from Delhi, making it one of the most accessible cities in India.


Reaching by Air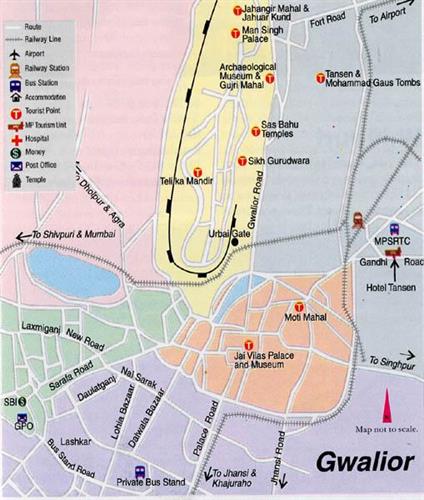 Airport is around 8 km towards the North-east side of the City. Airport is also one of the major airports in Madhya Pradesh equipped with all the modern amenities and thus is one of the Best airports in Madhya Pradesh State. It is very well connected with all the major cities in India including Delhi, Jabalpur, Agra, Bhopal, Jaipur, Varanasi and Indore. For Foreign tourists, this Airport is connected via the Delhi Airport which is just 321 km from this city. From this Airport, tourists have the option of taking private taxis or State Transport buses for continuing their journey ahead in the city. Tourists who have accommodation arrangements already done with hotels get airport transports facility from the hotels itself.


How to reach by Rail
Gwalior Junction is conveniently located right in the heart of the City. It is very well connected with all the major cities like Mumbai, Delhi, Kolkata, Indore, Trivandrum, Udaipur, Pune, Bhopal, Bangalore, Ahmedabad and Udaipur to name a few by means of Direct Trains. This railway Station forms an important junction for most of the passenger and Long Distance Trains. Also, this Station forms an important link between the Broad Gauge Lines of Delhi and Mumbai.

Additionally there are few other railway stations located within the city limits. These stations are connected to Gwalior Junction by means of Narrow Gauge Line and are named as Birla Nagar, Sithouli, Grasim Factory and Motijheel. These mentioned railway stations help passengers and tourists in reaching the nearby towns and villages of the city especially during Sightseeing and serve as the best Inter-City transport Options.


Reaching by Road

By road, This city is conveniently connected to all the major cities and states of Madhya Pradesh and overall India by means of several National Highways which pass through the city. The National Highway No.3 passes through the city and connects to all the cities on the Agra – Mumbai Stretch. Additionally this place is also connected with Mathura via NH.3. It is also connected with Jhansi via NH75 which passes through the southern side of the city. Thus this place is connected to all the major cities in India by means of well-established road-routes.

There are well-established bus services from many cities which ply regularly to this city. These bus services run from many cities including Jabalpur, Bhopal, Delhi, Indore, Jhansi, Jaipur and Agra to name a few.


The distance from all the major cities in India
Bhopal – 423 km
Agra – 122 km
Delhi – 321 km
Jhansi – 100 km
Indore – 485 km
Jaipur – 350 km
Khajuraho – 275 km
Ujjain – 455 km
Shivpuri – 114 km
Mumbai – 1086
Nagpur – 685


Road Routes from New Delhi
New Delhi (NH-2) – Faridabad – Hodal – Mathura – Agra (NH-3) – Morena – Gwalior


Road Route from Mathura
Mathura (NH -2) – Agra (NH-3) – Morena - Gwalior