Reaching and accommodation at Pench National Park, Madhya Pradesh

Pench National Park offers many accommodation options. Here you can read about how to reach this park and accommodation facilities available as well as tips for tourists visiting this park


Accommodation Facilities near Pench National Park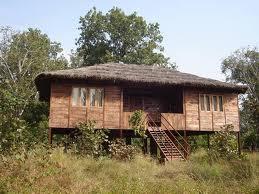 When it comes to accommodation, this park has much more to offer. With various forest lodges, temporary rest houses and other private hotels all near vicinity, one can definitely expect a comfortable accommodation here. Numerous lodges or rest houses are found in the vast area of Park which offers temporary yet comfortable accommodation facilities. See Also: Tips to Remember while Visiting Pench National Park in Madhya Pradesh


Resorts near the Park
Mentioned below is the list of private resorts which offer comfortable and luxurious accommodation to tourists:
Tiger N Woods Resort
Tiger N Woods Resort is located in the Avarghani Village right amidst the dense forests of the park. Tiger N Woods Resort offer excellent accommodation and recreational facilities.
Tiger N Woods Resort
Village Avarghani
Pench Tiger Reserve
Tehsil – Khurai
District – Seoni
Madhya Pradesh.

Baghvan
Baghvan is an exclusive lodge located near the park. The Baghvan Lodge is managed by the Taj Group of Hotels and is one of the best when it comes to accommodation and recreational facilities.
Baghvan
Pench National park
Village Avarghani
Distrcit – Seoni
Madhya Pradesh

Pench Jungle Camp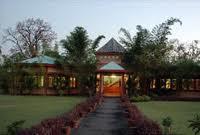 This Jungle Camp is the only 3-Star Resort in the park. Located in the Pench National Forest, Jungle Camp offers exclusive accommodation facilities amidst lush green forests.
Pench Jungle Camp
Village – Avarghani
Tehsil – Kurai
District – Seoni
Madhya Pradesh
Pincode – 480881

Please do confirm the charges before planning the trip as they are subject to change.


How to reach
This National Park is located within the Seoni and Chindwara Districts towards the Southern Side of Madhya Pradesh. Due to its proximity to various cities like Nagpur in Maharashtra and Jabalpur, This Park forms an ideal tourist place to be visited in Madhya Pradesh.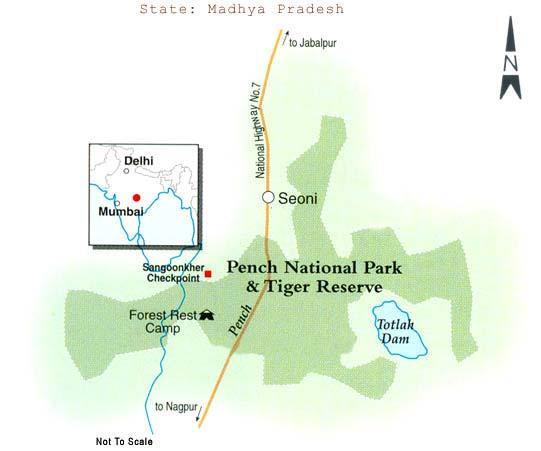 Reaching by Air
The nearest airport for the Park is Nagpur in Maharashtra which is hardly 92 km away. The drive from Nagpur Airport to this park is hardly 2.5 hours which makes it really feasible. The other nearest airport within the Madhya Pradesh State in proximity to this Park is Jabalpur, around 206 km away. The drive from Jabalpur Airport to the park is around 4.5 hours, which makes it within reach. From Nagpur Airport and Jabalpur Airport, one can find private taxis and buses plying regularly to this park.

Related article: Jungle Safari and tourist information for Pench National Park, Madhya Pradesh


Reaching by Rail
The nearest rail road is Seoni around 30 km from here. Seoni is very well connected by means of trains with major cities like Mumbai and Jabalpur. The other nearest airport is Nagpur which falls on the Mumbai – Jabalpur Line.

Reaching by Road
This park is very well connected to Nagpur and Jabalpur by means of National Highway No – 7. Nagpur will be closest, around 92 km from the Park. The road route which takes two hour drive from Nagpur to reach here. The route is Nagpur – Kamptee – Kanhan – Mansar – Khawasa – Turia – Pench.
The road route from Jabalpur is a 4.5 hours journey would be through the National Highway No.7 from Jabalpur – Dhuma – Seoni – Gopalgiri – Pench.
The distance between Bangalore to this park by road is around 1250 km roughly and may take around 19 hours drive. The route from Bangalore is as follows:
Mahatma Gandhi Circle (Bangalore) – NH7 (follow the Queen's Road) – Palace Road – Chowdiah Road – Yelahanka Bypass – NH7 – Jawaharlal Nehru Expressway – Gachbowli Miyapur Road – Bollaram X Road – 1st Exit to NH7 – Turn left at State Highway 243 – Nagpur – Kamptee – Kanhan – Mansar – Khawasa– Turia – Pench National Park.