Memorable two day trip to McLeod Ganj in Himachal Pradesh

McLeod Ganj in Himachal Pradesh is the perfect weekend getaway destination if you are living in NCR, Punjab or Haryana. It is an ideal destination to unwind in the midst of nature. McLeod promises something for the body and soul.


Delhi summers are predictable; sweltering hot days with the mercury crossing the 40° mark interspersed with an occasional gale or dust storm that gives some respite from the blistering heat. It's the worst season to be living in Delhi, most Delhiites will agree. So, this summer, as soon as the weatherman made his predictions, we decided to head up north, to cooler climate. Our destination was McLeod Ganj, Dharamshala in Himachal Pradesh.

We had the wheels rolling before break of dawn, initially taking NH1 and later steering to NH503. The highway department has done a splendid job in laying the roads and maintaining them. The drive was smooth and comfortable. We rolled the car windows down and breathed in the fresh air. The distance of approximately 500 km was covered in close to 11 hours, with a brief halt at Chandigarh, for an early lunch and along the highway for hot cups of tea. The mountainous terrain slowed us down further. The highway had many rustic dhaabas and some classy eateries, so there are plenty of joints to stopover for a quick bite or tea/coffee and a chilled bottle of beer too.

McLeod Ganj was pleasantly different from any hill station we'd been to. Yes, there were the hills and the snow covered mountain ranges in the distance, the fresh air was cool enough to sting our nostrils and we could almost feel it filling our lungs. The smell from the pine trees and the verdant surrounding left us enamored, quaint house dotted the place and clouds engulfed us within their fold. But, what stood out was the calm, even amidst the hustle and bustle around us.

There were a lot of foreign tourists around; most appeared to be backpackers. There were a few families, but most of the crowd consisted of young tourists.


Where is Mcleod Ganj?
Mcleod Ganj is in Dharamshala, at the foothills of the spectacular Dhauladhar range, which is part of the mighty Himalayas. It is a charming little picturesque town, famed for being the seat of His Holiness, the Dalai Lama.

To the locals the region is known as Kangra and geographically it is the Kangra Valley. To people like us, it is one of the most scenic place on earth; protected under the Forest Act, and covered in a thick blanket of dark green - with dense forests of pine, rhododendron and deodar trees covering the entire valley.

This quaint little bit of paradise gets its name from David McLeod, a former Governor of Punjab, during the British raj. There is a strong Tibetan influence in McLeod Ganj, since it is home of the Dalai Lama and many exiled Tibetans, which is why it is often referred to as Little Lhasa.


Sightseeing in McLeod Ganj
Be ready to walk when you are here. Leave your high heels and fancy shoes back home and come prepared with a comfortable pair of walking shoes. There'll be a lot of walking to do!


Colonial architecture
McLeod Ganj hasn't yet been completely 'corrupted' by modernization and you'll realize this as you stroll through the streets lined with old colonial style buildings. Some look dilapidated on the outside, but still house people.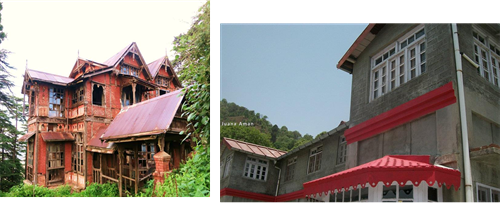 Don't miss the 155 year old Nowrojee & Sons General Store, established in 1860. Back then the store catered to grocery needs of the British families that resided there. Today, you can walk into this piece of history and admire old artefacts kept on display. You can still buy newspaper and a few goodies here.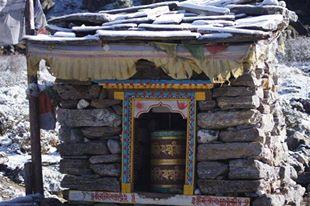 Namgyal Monastery
This is where the Dalai Lama stays. You can get an audience with him if you are lucky. The place is generally milling with people; tourists and locals alike. It's a good place for those looking for inner peace.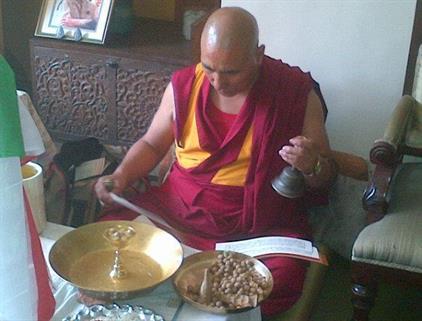 St. John in the Wilderness
The Church dates back to the 19th century, and is a must visit, even if you don't belong to the Christian faith. Set amidst a thicket of deodar trees, its peaceful tranquility is welcoming. It's an Anglican Church built in honour of St. John the Baptist, and is a marvelous structure, designed in the neo-Gothic style of architecture. The Church is situated close to Forsyth Ganj, a hamlet near McLeod Ganj.



The stunning stained glass windows are the main attraction of the Church. We were told that they were especially brought in from Belgian, when the Church was first constructed. So, they've been there for over 150 years. They create a vivid display of colours when sunlight shines through them.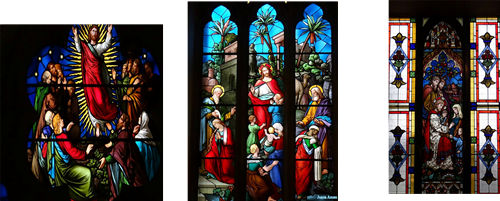 The Church is said to have survived a massive earthquake that struck the region in the early 20th century. Though, the original bell tower was destroyed in the quake, another bell sourced from England was erected on the premises. The Church is open to visitors between 10:00 hours and 17:00 hours on all days.

There is an old graveyard bordering the Church compound. Don't let it spook you; it is one of the most peaceful (pun intended) places on earth. A lot of beautiful grave stones can be found here, dating back to the 1800s.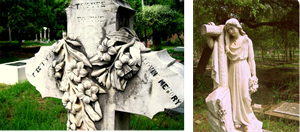 Dalai Lama Temple Complex
Another place with a strong Buddhist influence, the temple should be on every tourist's itinerary. It opens at dawn and closes to visitors at sunset. You can visit anytime during the day, but were told that morning is the best time as that is when the monks are in prayer. Their chanting in unison is something to be experienced in person. It can leave you mesmerized.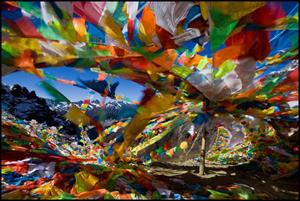 Tibetan Musuem
The museum set within the Tsuglagkhang Complex lets you look into the Tibetan way of life and their history. The structure is designed in typical Tibetan style of architecture. Apart from the famous Thangka paintings the museum also displays some very old manuscripts. The souvenir shop at the museum sells authentic Tibetan handicraft items and is a nice place to pick up memorabilia to take back home.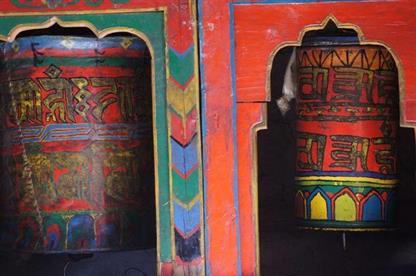 Where to stay in Mcleod Ganj?
We stayed at Hotel Bhagsu, run by the Himachal Pradesh Tourism Development Corportaion (HPTDC). We'd done our booking online, through Gobibo. The place offered decent accommodation and had a restaurant that served meals as well. The cost per night was within Rs.2,000, with an extra bed. Our room had a spectacular view of the mountain ranges in the distance.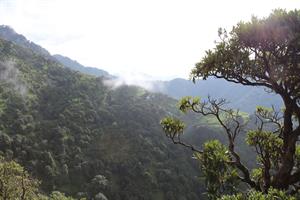 From what we saw, there are a number of hotels and homestays in the township.


Places to chill
McLeod Ganj doesn't have a night life, but you can relax at the place you're staying. I recommend a visit to the cafes – Ground cafe has the most amazing decor – a wall lined with books, lots of comfortable chairs and sofas to lounge in and interesting bits of knick-knacks on display.

Try the home style bacon and eggs accompanied with baked beans and chicken or authentic Tibetan soul food at Lobsong's Four Seasons cafe. The Woeser Bakery serves excellent coffee, cakes and other baked goodies. There are many more cafes around Jogiwara Road. They have lovely ambiance and a laid back atmosphere that allows you to relax, grab a bite, chat, play a game of chess or read a book.

We spent two days and three nights in McLeod Ganj and they were well spent. If I get a chance to go back to this little hill station, I most certainly will grab that chance. We headed for Trinud, after our 2 day enjoyable stay at the hill station. Trinud was another beautiful experience.