Fascinating Honeymoon Destination - Shimla, Manali and Chandigarh

Here I will talk about the charm and beauty of our honeymoon destination - Shimla, Manali and Chandigarh. Famous sightseeing we visited, are described here. You can feel the elegance of these cities through images embedded in this article.


It was month of December 2011. After 1 week of our wedding ceremony, me and my husband, both of us were ready to explore the very beautiful cities of Himachal Pradesh - Shimla and Manali our honeymoon destination. It was followed by a small excursion to Chandigarh at the end. Our 7 day trip was arranged by "make my trip".


1st day
In the morning, we flew from Bhubaneshwar, Odisha to New Delhi. A taxi was booked for us. Taxi driver was well known and experienced with the hilly roads of Himachal Pradesh. He picked us up from Delhi airport and headed for Shimla.

It took more than 8 hours to reach Shimla from New Delhi by taxi including our halt at Sonipat for lunch. We had our lunch in Hotel Haveli (in sonipat) which was given theme of royal look and food taste was also good.

We arrived at our destination Hotel Quality Inn, Shimla. Nice infrastructure, full of cleanliness and variety of tasty food; this was Hotel Quality Inn. I liked it. We took rest overnight as we were tired of full day traveling though we enjoyed it too.


Shimla (our 2nd day)
We were extremely curious and excited to visit various beautiful points of Shimla. We had breakfast and left with our guide cum taxi driver to check out Shimla. There are many places for sight seeing but we visited only few of them listed below:


Kufri
This is a small hill station at an elevation of 2500 meters located at 13 kms from Shimla. To reach highest peak of Kufri, at one point we got down from taxi and hired pony for hilly roads. I enjoyed pony ride and it was adventurous too. This place was so cold with blowing wind. It has Himalayan zoo and an amusement park, full of excitement at hill station. There are few small stalls offering snacks item with tea.


Naldehra
Excursion to Naldehra was thrilling as we were travelling all around the hills through horse ride. At some points I felt like falling down but those horses were well trained. They didn't let me go off.

Naldehra is famous for its 9 hole golf course which is situated on hill top. Tourists are allowed to walk around this golf course but can't enter inside.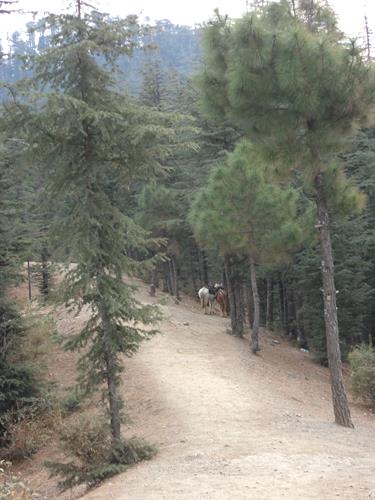 Other than Kufri and Naldehra, we visited an adventure park (don't remember the name) in local area; it was not facilitated more.


3rd day
Next day morning we departed for Manali, our next destination. Distance between Shimla and Manali is approximately 260-270 km and it took 7 hours of duration to reach there. On the way to Manali, we saw Pandoh Dam (one of famous point of Manali). We stopped there for few minutes, took shots and resumed our journey. Whole day spent in travelling.

Manali
This is another beautiful city of Himachal Pradesh. There are many tourist attractions like Hidimba Temple, Solang valley, Rohtang Pass, Buddhist Temple, Mall road and many more.

4th day
We visited following places:

Hidimba Temple
This is an ancient cave wooden temple dedicated to Devi Hidimba, wife of Bhima. People assume that Hidimba used to do meditation here. It is surrounded by pine trees and looks good.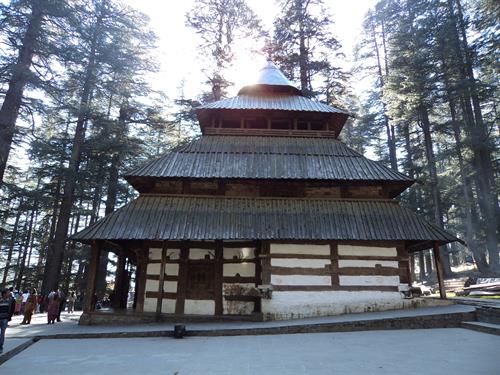 Afterwards we moved to Budhhist temple situated nearby.

Buddist temple
This is based in Buddhist Monastery a peaceful place. Temple painted with different colors and a huge golden color statue of Buddha placed inside. Several colorful flowers were grown in vicinity area.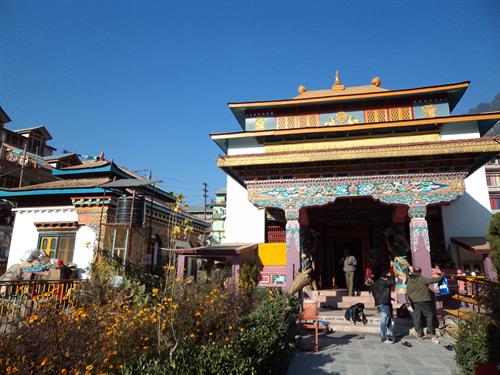 After visiting spiritual places, it was time for some fun and shopping at Mall road.

Mall road
Mall road is equipped with lot of shops, restaurants and hotels.
This is the center of activities for tourists in Manali. This is famous for street shopping. If you are planning to shop here then do not forget to bargain as shopkeepers will ask you for higher price.

5th day
This was our 2nd day in Manali, fully reserved for Rohtang Pass.

Rohtang Pass
It is located at a distance of 51 kilometers from Manali and at a height of nearly 4000 meters. It opens for tourists from May/June to October/November. Rest of the months this pass gets blocked due to layer of snow. We were lucky to visit this amazing scenic beauty in 1st week of December.
Beware of below points before excursion to Rohtang Pass:

Get vehicle hired (with experienced driver) which is allowed to be driven for Rohtang Pass.


This is a snow point and it is really very very cold so be ready with your snow dress.


Tourists enjoy skiing, trekking, snow scooter riding here. Take along skii set. There are many shops offering tourists skii set, snow dress and shoes on rent. They can provide skii trainers also with the package.


Rohtang Pass is out of communication because there is no mobile signal.


On the way there are one or two places where you can get something to eat but I suggest you to carry some snacks along with you.


At this snow point, there are stalls of tea, Maggi and cold drinks. I enjoyed having cup of tea and bowl of Maggi at this highest snow point though it was tasteless.

It took more than 2 hours to reach Rohtang Pass safely. We had hired skii trainer with skii equipments, he helped us for skiing. We thoroughly enjoyed it. It was awesome being on the peak of Rohtang Pass.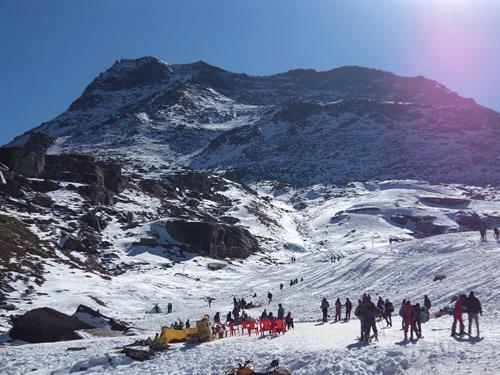 6th day
Shimla Manali trip ended here and next day morning we headed for Chandigarh. It took 7 hours to reach there.

Chandigarh
We visited two places in Chandigarh:

Rose Garden


Rock Garden
Rose Garden
This is Asia's largest rose garden. At the entrance there is informative board which reads all the details of this garden; I suggest to have a look before you enter the garden. It provides all the related informations in terms of area of garden and types of roses planted here. Some of the points mentioned below:

This is called Zakir Hussain Rose Garden, named after our former president Zakir Hussain.


Spread across 30 acres.


It has 50 thousands rose bushes of 1600 different species.

It looks beautiful with colorful roses, trees and fountain. There is no entry fee for visitors.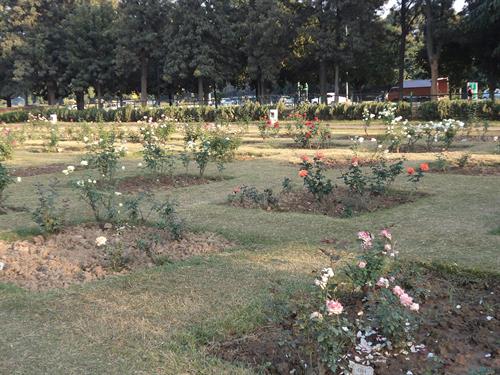 Rock Garden
Rock Garden is truly an amazing creation of the world. This is a vast garden expanded about 40 acres in area. It consists of various sculptures (such as human being, animals, birds etc) intended from different industrial and urban wastes like discarded wire, plug, socket, marbles, broken bangles, chinaware etc. It presents an example of recycling waste effectively. It has many sections interconnected through gallery, bridges, caves, narrow passages and some other innovative ways. The whole garden is furnished with rocks therefore the name Rock Garden exists.
It's beautiful and unique. It takes a lot of time to explore this garden, suggest to stick to the path you are following to avoid misleading. Every visitor appreciate it for its unique creation.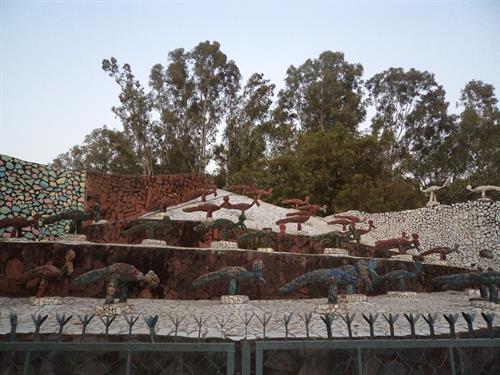 Here we finished our trip of Chandigarh and left for the hotel. We arrived in the night, stayed there for single night.

7th day
Next day morning we left for Delhi airport and flew back to Bhubaneshwar. Our trip was well organized by Make My Trip within our budget. It was an excellent experience. I loved it.

If you are planning to visit Shimla-Manali then please note below points:



The best months to visit are September, October, November. There may be some plus or minus of days as per weather condition. We visited in 1st week of December that was perfect as snow fall did not started that time and we were able to get everywhere we wanted, did not stuck anywhere due to weather.


Prebook hotel and taxi to roam within Shimla Manali. It provides comfort and saves your precious time.


Taxi driver should be well versed with that area and he must possess experience in driving on hills. It's must.


Plan your every day activity on trip.


Do not forget to carry warm clothes along as temperature ranges from 10 to 15 degree centigrade during above mentioned months.


Stay away from vendors trying to sell duplicate saffron. You will find many vendors at popular places especially in Manali.


For shopping go for Manali, it's exciting. It has a lot to offer. Kullu Manali is famous for the shopping of shawl and other woolen stuffs.


Activities like paragliding, river rafting, skiing, trekking and hot air balloon are popular in Manali.


And at last, carry your camera without fail to capture scenic beauty and your special moments in these beautiful cities.

Happy Journey.