Tyda Jungle Bell Resort: Another Attraction in Aruku Valley

Tyda is a forest resort located just 40 kms away from the main Aruku Valley of Andhra Pradesh. There is only one resort in the midst of a dense forest by the APTDC. The name of the Resort is Jungle Bells. It is a place which adds up to your experience of being with Nature in as many ways as you want. It is an ideal spot for a family, a large group or honeymoon couple. This article gives you a glimpse of it, see if this is the kind of place you were searching for.


The Location of Tyda
In our Araku Valley trip, we first visited Borra Caves and from there we marched ahead to Tyda, a hill eco-tourism resort by the AP Tourism Development Corporation and the State Forests Department of Andhra Pradesh. Tyda is on the Visakhapatnam-Araku Ghat Road, at a height of 2,000 feet above the sea level, around 40 kms away from proper Araku Valley. Just a few yards ahead of Tyda, there is a wonderful little stream where you can taste the thrill of pure ice cold mountain water.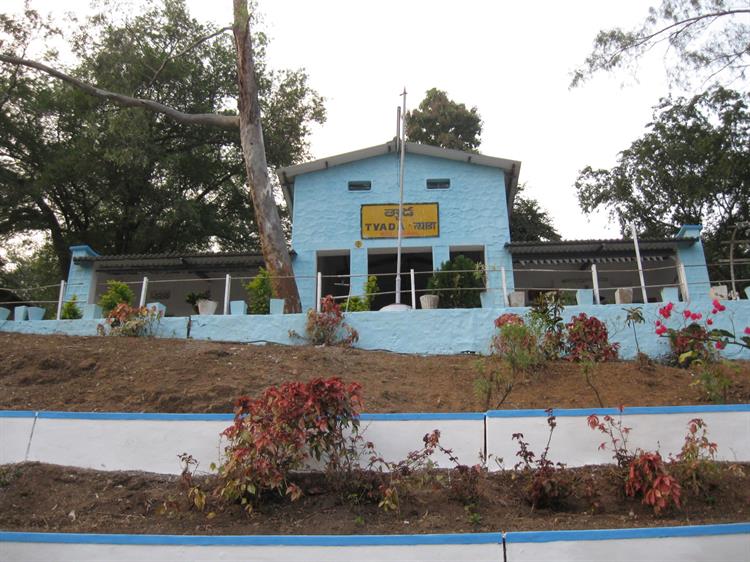 How to Reach
By Train:
The train from Vizag to Araku starts at 6:50 am and it will take about 4 hours to reach Araku. The same Kirandhool Express crosses the station of Tyda through a mind-captivating and enchanting route through numerous tunnels, dense forests, and hillocks. Tyda has a very inconspicuous station (so much that we were almost going to miss it out) and so you have to be watchful and ready as it doesn't stop there longer than 2-5 minutes. From there, the resort in only around a kilometre away. So if you aren't loaded with huge amount of luggage, then you can simply walk down the campus of Jungle Bells which is an attractive forest resort at the side of the winding hill road going still further ahead.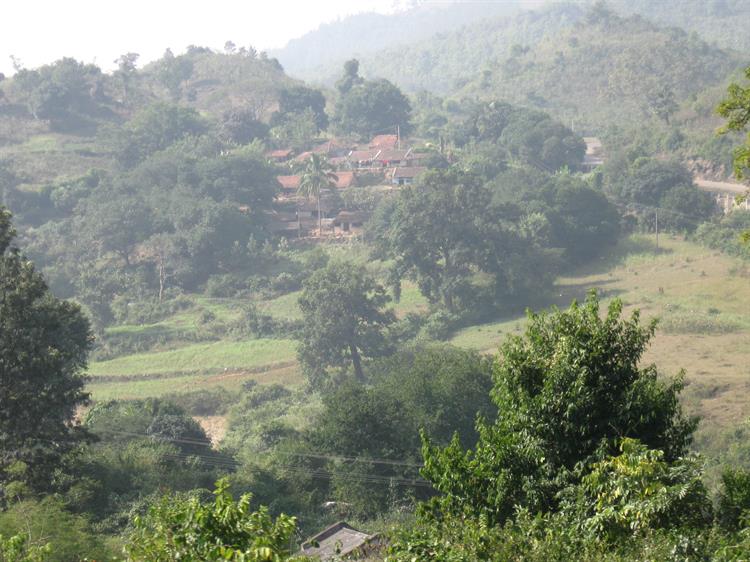 By Road:
Tyda is 75 km from Vizag. So either you need to take a cab from Vizag or take the AP tourism tour package which takes the tourists by buses or sometimes with a combination of train and bus. If you choose the entire trip to travel by road, it is advisable that you book the cab from Vizag for the return journey as well.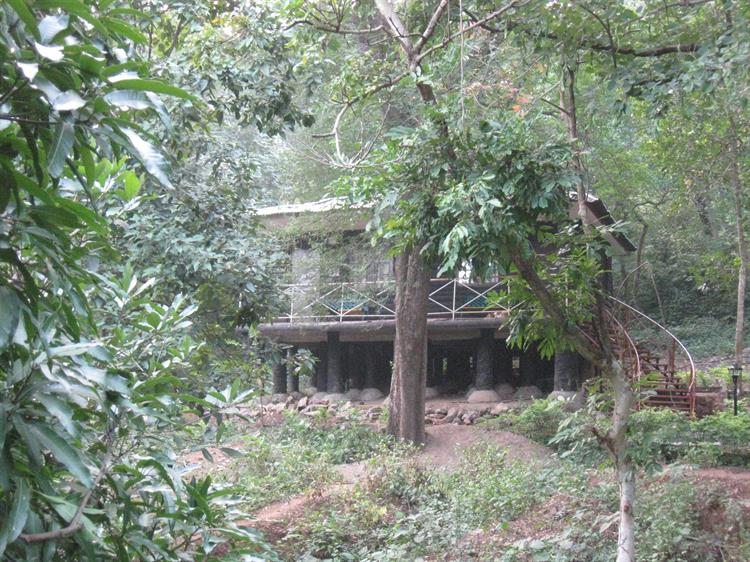 The Ambiance
Tyda received us with a beautiful ambiance of lush green tree cover with 18 beautifully furnished cute little cottages made of wood and bamboos. Jungle Bells is spread over a campus area of five acres and all the cottages are scattered throughout the campus with a very attractive "eat out pagoda" at the bottom level. All the cottages are connected through small winding steps decorated with colorful flower plants and also very old and rare tree plantation. The surrounding is covered in dense forest which shows many signs of varied wildlife habitation. The rocky terrain makes the landscape even more beautiful with pleasant surprises scattered here and there.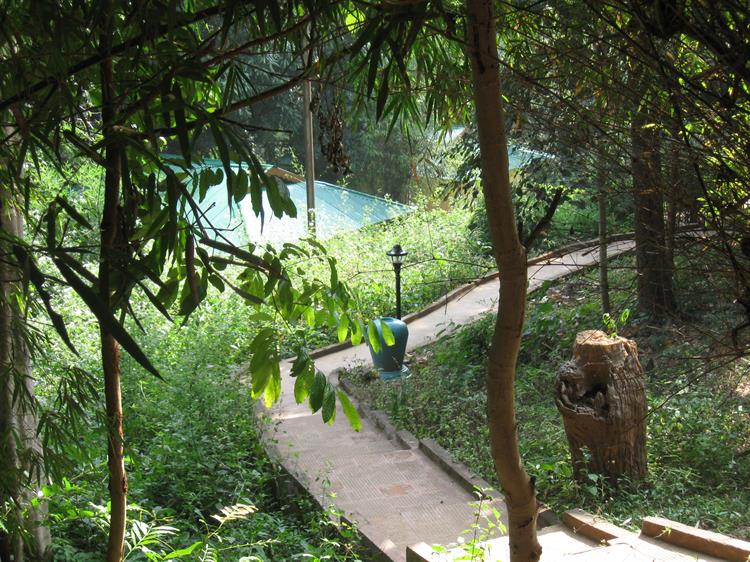 The Stay
This resort is run by the APTDC, named Haritha Jungle Bells, Tyda (Vizag). The cottages are all well furnished and are set in the tribal environs. They also have a good collection of multi cuisine plates, with a really palatable taste and that was quite rare to get in a such a jungle lodge. They also render room service in scheduled time limit, as monkeys attack the staff quite often while carrying food.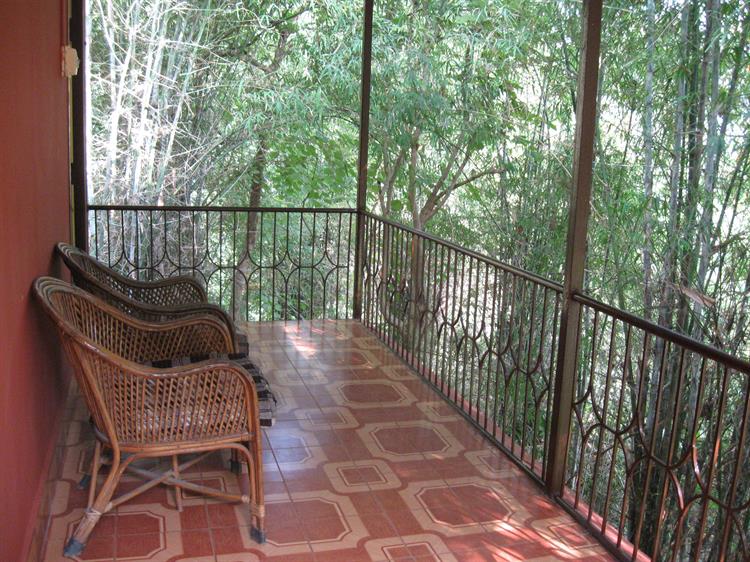 Facilities
If you are looking for the facilities in the resort, then you get these standard set like AC Rooms, attached bath, hot water and room service. There is an attached balcony surrounded with bamboo forest and also a Tree House Watch Tower to watch the entire campus.

There is a Tribal dance program conducted in the evenings on weekdays and Sundays. They can also perform on request by a large group of tourists. Apart from these you get Laundry and Parking services.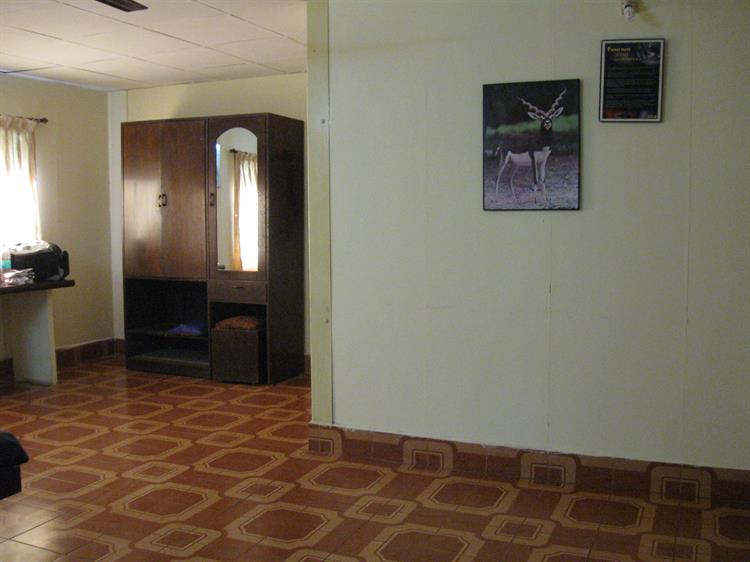 The Specialty of Tyda Jungle Bells
The Haritha is a very affordable and equipped restaurant with both (Veg & Non-Veg) Cuisines. It also has an outlet of the Girijan Coop. From where you get the best natural honey which you can take as a token gift for your near and dear ones.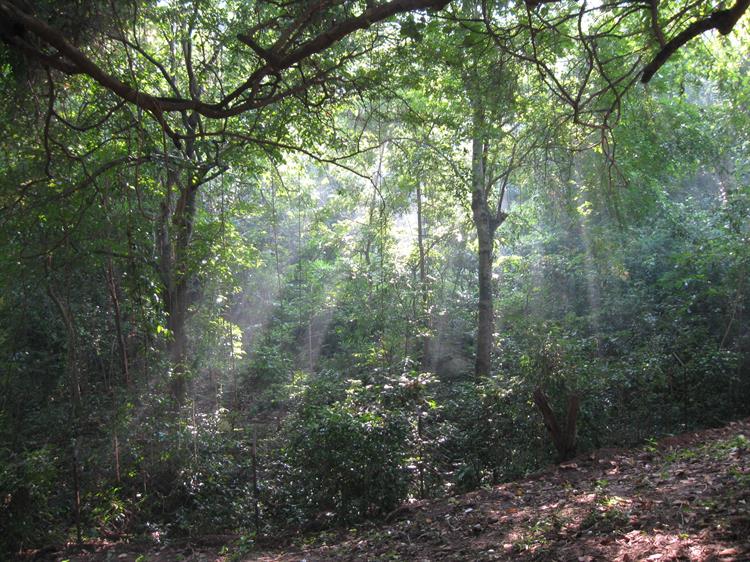 Things to do
Early morning bird watching and jungle trek in Tyda organized by the Resort with a local guide.

Campfire: Camp fire with a good collection of music is conducted twice a week.
Camping & Trekking: There Log Huts, Tents and camping gears which are provided by the resort. The place gives you ample scope of exploration and camping.

Rock-climbing and Target Shooting: There is also a good scope for Rock-climbing and Target Shooting with Bows and Arrows, the spots are specially maintained by the resort itself.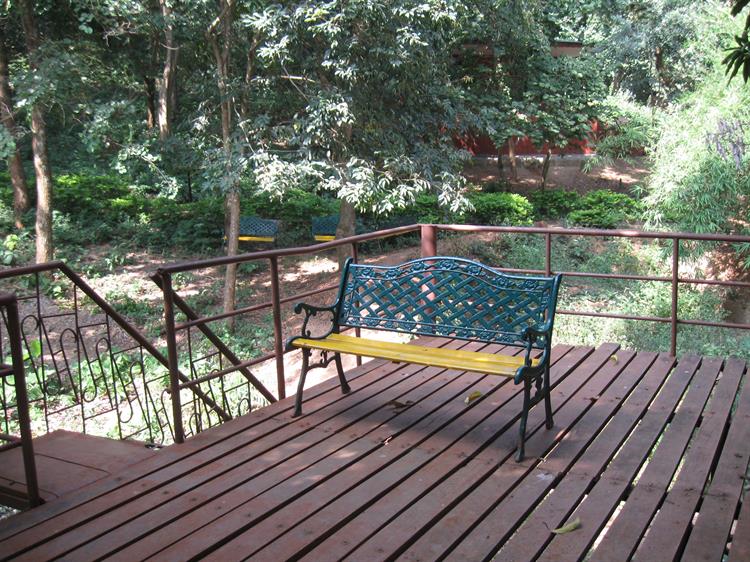 Places to See Around
Araku:
It is the valley, which has got its own spectacular charm. People also visit the Padmapuram botanical gardens located within the area.

The Chaparai water stream specially in monsoon and winters make it a place to spend a quality time for a couple of hours.
There is also a tribal museum.

Borra caves:
The huge Borra caves believed to have been formed 150 million years ago, is a splendid place to visit and is a special tourist attraction as well as an archaeological spot.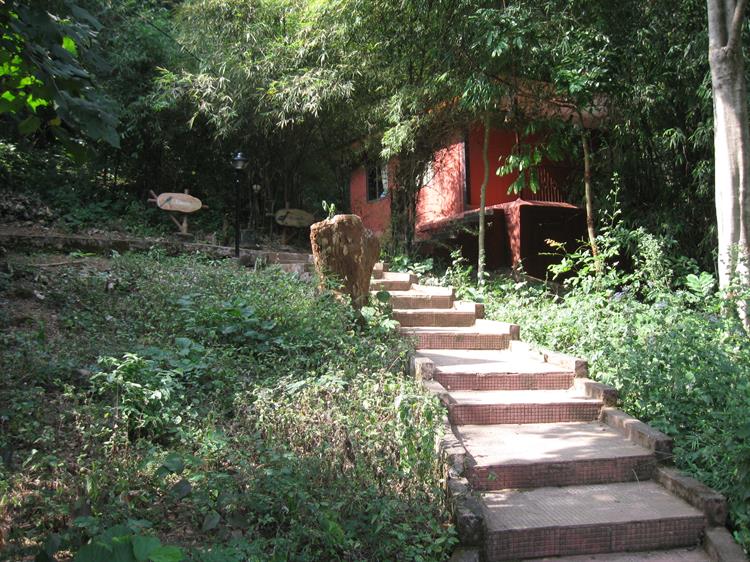 Overview
Tyda Jungle Bells, is a place ideal for a small trip or a part of a an extensive trip in the Aruku Valley. The Resort itself is a place that enchants the tourists with its striking ambiance, good food and comfortable stay. Once you are there in Tyda, it is only peace and natural beauty which will engulf you. It is a place where with a difference. And that is you are going to be completely cut off from the din and bustle of the city. There are no phones, mobiles, TVs, etc. and you can realize how much our souls were yearning for this piece of mental peace.