SGNP, the world's only National park inside the city of Mumbai

Want to plan a Sunday outing with family or friends or with those from out station within the boundaries of the city? Searching for a good place for an outing having some greenery, wildlife or some picnic spots? Sanjay Gandhi National Park- SGNP, an ideal place for daily walks, cycling, picnics, wild life excursions and the lovebirds who want to spend some time together.


Motivation
Sundays are for relaxing, going out, picnicking, partying specially for Mumbai based people who work Monday to Fridays/ Saturdays and rain their energy out traveling and working. So come Thursday and typically Mumbaikars start making plans for what to do on Sundays. A half day outing is preferable if there are weekly chores in pipeline. This is how we came up with a plan of a trip to Sanjay Gandhi National Park, called SGNP or Borivli National Park for short. I wanted to talk long walks amidst the green forest and my spouse wanted to cycle on the slopes. So SGNP turned out to be a good choice. This article is not just about the travel to the park and what we did but an informative article providing more details about the park. Join me on this journey which will take you deep into the Sanjay Gandhi National Park.


An overview of SGNP
SGNP or commonly called as Borivli National Park is one of the six national parks of Maharashtra located in the Sahyadri range, in the northern part of the Western ghats. The area has three ranges: KrishnagiriUpavan (is a recreational are), SGNP and Yeoor. The park is surrounded by Thane, and Mumbai. Some part of the park is in Thane and the other small portion is in Vasai creek at sea level with many mangrove patches. The Park was formed by bringing together privately owned land. The entire park area of 104 sq kms comprises of three parts: recreational area, buffer area and the core area. This park protects Vihar and Tulsi lakes and supplies water to parts of Mumbai.


Some more details of SGNP
Did you know that Mumbai is the only city in the world which encompasses a National Park? SGNP is a global diversity hotspot. It houses rare, nearing extinct and beautiful 286 species of birds, more than 150 species of butterflies, many leopards and 15 species of orchids. The flora identification was carried out by BNHS, Agharkar Research Institute Pune and Blatter Harbaria. The forest is tropical, dry deciduous, or southern dry deciduous and dominated by teak and bamboo trees. The entire park is protected under the Forest Conservation Act of 1980. Adivasis work with the forest Department to protect the flora and fauna. An entry into the park is reasonably priced and offers daily pass for regular walkers and cyclists. It opens around 6 am for pass holders and at 7.30 am for the day visitors.

Park soil is from basic lava flows of basalt which gives the park terrain an undulating topography of hills, valleys, lakes and open areas makes it very attractive for visit by tourists, walkers, cyclists, biologists, scientists, children, families etc. I enjoyed this topography. If you want to see all the variety of fauna and flora in SGNP you can choose any day in each of these three seasons:

Monsoon: June to August
Post monsoon: October to November
Winter: January to March
What to do in SGNP?
There is something for all ages in SGNP. The variety of activities will make this place a joy for all. SGNP houses:

NIC- Nature Interpretation Center which gives information about the park, its flora and fauna
A recreational playground for children
A mini train which goes around the Gandhi Choti, with the ticket priced at Rs. 34 per adult, starts by 9 am but will only set off with minimum 15-20 on board. Along the tracks, are deers in a bounded area, and further away you can see the Teen Murti (three statues), a holy temple of the Jains. Some Bollywood movies have been shot in this train
The Dahisar river has a very scenic view, specially in the rains. You can ride on the pedal boats, or sit along the river, and just take a walk on the trail. If it is hot then local adivasis sell juicy cucumber grown in the park, or guavas. A memorable scenic view is both sides of the river from the bridge under which the Dahisar river flows
A lion and tiger safari where you can see Asiatic lions and white tigers, a must see for children if they have not seen the wild animals before. The safari is reasonably priced but check out the timings. Weekends and holidays are often crowded
A picnic area, where you can enjoy a family or a group picnic with games or get stoves and cooking and enjoy the sumptuous food
Ample nature trails through the lush green forests, but beware of insects, small snakes and mosquitoes in the rains. Otherwise enjoy the walks
A beautiful place called the Gandhi Choti, the highest point in SGNP which can be reached from a few trails and offers a panoramic view of the city. You will find people walking up and down the steps, and doing yoga at the top
Teen Murti, a Jain temple for the Jains
A few waterfalls, with good flow in the rains which are a place to wet in
Long roads, up and down the slopes, pathways for walking, jogging and cycling
Kanheri caves will be covered in a separate article.
Near the main gate, you can find bicycles on rent
Overall ample things to do, and enjoy at SGNP, for a few hours upto the whole day.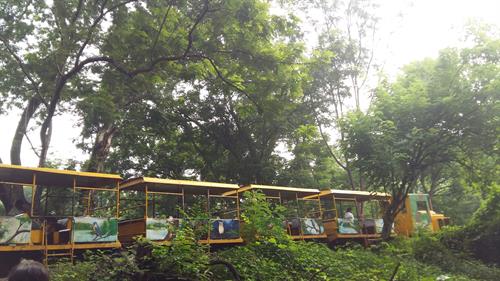 The future of SGNP
Recently Tungareshwar is declared as a wild life sanctuary and is included in SGNP and these two together make a corridor to allow animal movement from one environment to another which increase genetic diversity and health. A few issues in SGNP are handled by the Forest conservation Department and are still ongoing like the forest fires, illicit activities like heavy drinking, sound and emission pollution, festivals like Ganapativisarjan, Mahashivratri and illegal encroachment and human animal conflict among the leopards and the Adivasis tribes residing in SGNP. SGNP has improved in terms of the look, cleanliness, the signboards, the trails, the roads etc. but this place still has a long way to go to come up to international standards.

To formally close if you are in Mumbai then pay at least one visit to SGNP and see the greenery, flora and fauna amidst the remaining concrete structures of Mumbai. Enjoy!