A visit to Banasura Sagar earth dam

Banasura sagar dam is second largest earth dam in Asia and largest in India, which is completely made with mud. This dam is located to Wayanad district of Kerala. Wayanad is a hill station which is gifted naturally with waterfalls, forest, wild life sanctuaries, tea estates etc. Through this article I would like to give brief information about Banasura sagar dam, how to reach Banasura sagar dam and near by places to visit.


No doubt that Wayanad is abundantly gifted with its natural beauty. It will be a perfect place for the people who love nature. Wayanad has become a most visiting tourist place in Kerala since some years. Many wonders and surprises will be waiting for you if you plan to visit Wayanad. Ride through forest road will be an adventure for tourists who love adventures. We cannot explain in words about the beauty of Kuruvadweep, Suchipara waterfalls, Chembara peak, tea estates covered with mist etc. But here I would like to explain about Banasura Sagar dam, largest earth dam in India which is very beautiful reservoir made on a tributary of Kabani river. It is located at Padinjarathara, a place near Mananthavady and Kalpetta in the district of Wayanad.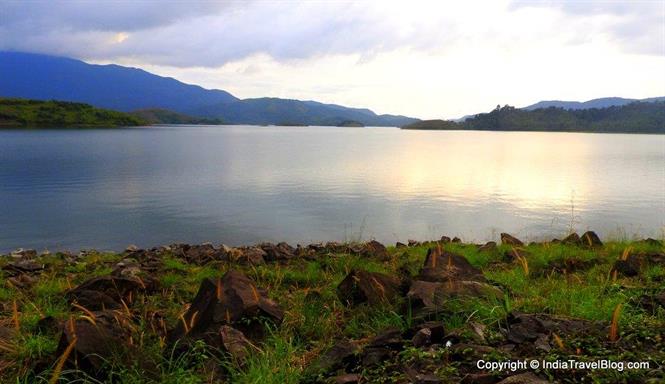 An evening at Banasura Sagar dam

It was a sunny day and we reached Banasura Sagar dam at 4.30 p.m. After collecting tickets from the ticket counter, we started to walk and reached some steps to climb to reach the dam. There were many tourists including school children climbing steps and returning from the dam. In the middle of the way, there was an elephant with its caretaker. We can take a photo with the elephant or can do a small elephant safari there. We just took some photos and continued further. We could see the water when we reached on top and there are some small islands in the middle of the water. It was a most beautiful view with a large amount of water along with cool breeze touching our body. Boating facility is available for taking us to the island. Speed boating is more adventurous and thrilling. A beautiful garden with statues and sculptures is a suitable place for photographers and also it provides a space for us to take rest by facing the water. It is an exact place to get relaxed. After spending nearly two hours by enjoying the nature we started to return back. This time, there was no elephant, she might have gone for rest after entertaining all the tourists. When we reached near gate I just looked back again and the sight was amazing, the sun in orange colour was ready to leave for today to come back tomorrow. We clicked some more photos and left the place.


Watch an exciting video of Banasura Dam


How to reach Banasura Sagar dam

The exact place of Banasura Sagar dam is 'Padinjarathara'. It is about 22kms from Kalpetta, 43kms from Sulthan Bathery and 21kms from Mananthavady. If you are coming via Calicut you have to come through Kalpetta or Sulthan Bathery. Buses are available at regular intervals. Taxis are available always.


Near by tourist attractions

Kuruva islands, Pazhassi tomb, Suchipara waterfalls, Wayanad wildlife sanctuary, Thirunelli temple, Muthanga wildlife sanctuary, Edakkal caves, Chembara peak are nearest places to Banasura sagar.

The Banasura Sagar dam is very beautiful and a must visit place when you visit Wayanad or Kerala. There are many other beautiful and adventurous tourist attractions nearby Banasura Sagar. The climate here is very cool and pleasant. This will be a dream destination for nature lovers.