A Recent Visit To Puri With My Family - An Episode to Remember

Puri, the land of scenic beauty. Check out my recent experience of visiting Puri with my family. Also, know things to do in Puri, places to see, the best time to visit and more.


Introduction

I don't know how many of you who are reading my article has read or heard about Puri. There are seldom travelogues written on such small districts like Puri. Since I have had a wonderful experience in this district with my family, I took the urge to write about the same. I hope you enjoy this travelogue.


Some details about Puri

Puri is one of the coastal districts of India and is in the state of Orissa or Odisha. Since Orissa has become a growing corporate hub a lot of people come here to stay with their family and work. But seldom do these people take a trip to Puri which could be at a distance of a stone's throw from their site of work. People who really come to visit this district are tourists from states like West Bengal, Bihar, Delhi, Vishakhapatnam etc. Puri is mainly famous for the sea beaches, especially the Chandrabhaga beach. Also, another famous tourist spot in Puri is the Konarak Sun Temple. The district of over 3000 sq kms has a history of over a thousand years to cultivate.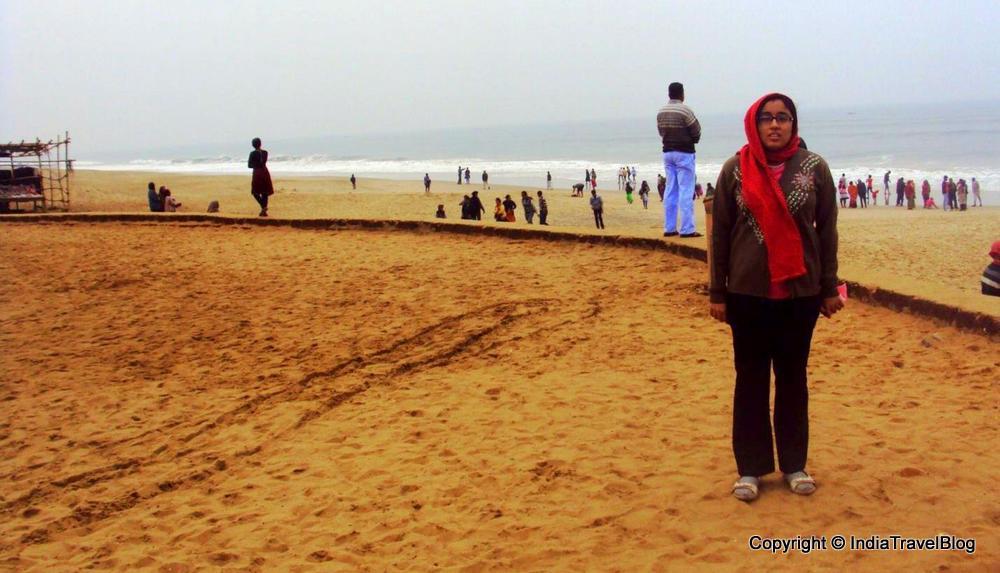 The sandy beaches in Puri
How did we plan the trip to Puri

I went to Puri recently with my husband and few other relatives. We had it clear in our mind that we wanted to explore Puri and Chillika Lake together in this trip. We had around 6 and half days in hand to tour. Of them we had to keep the first day, that is, the day when we reached Puri and the last day when we were leaving Puri free from any hectic tour. I don't know whether you will agree to this decision or not. But we thought that the day we arrived at Puri and the day we were leaving were the days when either we already got tired or we were about to get tired. So, on those days, we did not want to keep any other stress or toiling at hand.


The tour begins

We reached Puri by afternoon and by then we were famished. So firstly we got into our respective rooms and immediately freshened up. After that, we went out and took a late lunch in a restaurant very close to the hotel. We were almost done for that day, so we took a nap in our rooms. Later that day we went to the sea beach and enjoyed the cool sea breeze of the evening. That was pretty much end of day 1.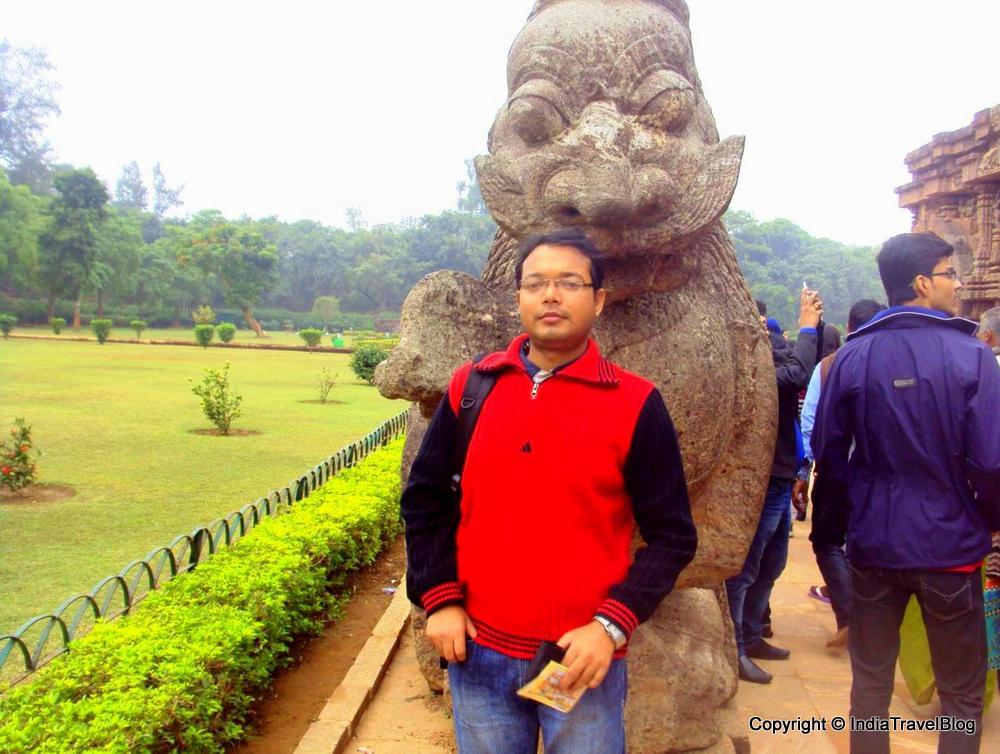 Day 2 started very early. We woke up early in the morning and went to the office of travel and tourism. The buses for touring Puri leave from 9 am. So we looked for the bus tickets before that. Luckily we got a bus which had a couple of seats more than we wanted. We boarded that bus and headed for the day tour.

First spot on the tour was Chandrabhaga beach. This place is some 3 kms away from Konarak temple and a beach worth watching. The bus stopped there for around 15 minutes. This time was given to buy some snacks to keep people going for the rest of the tour. We did the same. We also bought few water bottles to get a relief from the scorching heat.

Next spot was Konarak, the sun temple.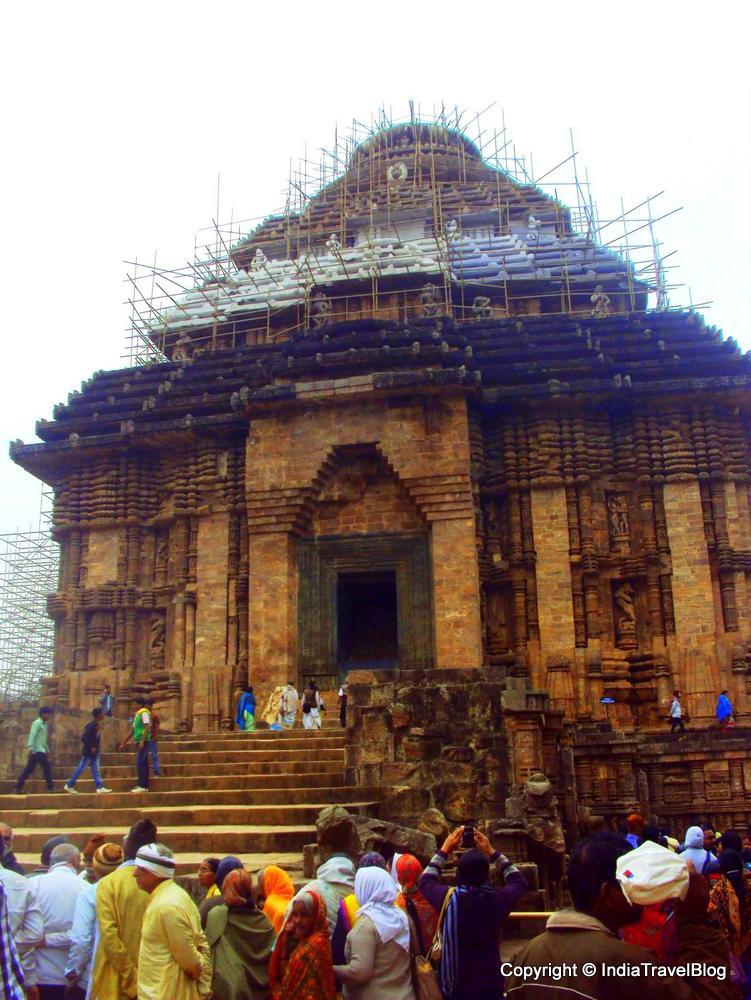 A view of Konarak, the sun temple

I don't know whether you have seen Konarak temple, but I don't think there are many architectures as beautiful and as neatly embellished as this one. The wheels or chakras all over the temple maintain its uniqueness and sharpness in structure. Our guide said that the name Konarak was an amalgamation of two Sanskrit words Kon, meaning Corner and the word Arka is referring to the dedication of the temple to the sun god. We took pictures of the "Nata Mandir" inside the temple area.

After around 40 minutes we proceeded to the next spot which was the Lingaraj Temple.

Lingaraj Temple is one of the oldest Hindu temples in Puri which is worshiped by Hindus from all over India. It is built of deep red sandstone. We saw that the main gate had big lions carved on both sides. Probably that is why it is called the 'Lion's Gate'. We were given only 1 hour to see the four sections of the temple. Seldom have I seen such big walls of a temple carved with beautiful sculptures of Hindu Gods and Goddesses and different animals and birds. After this spot, we were asked to have our lunch in the next spot.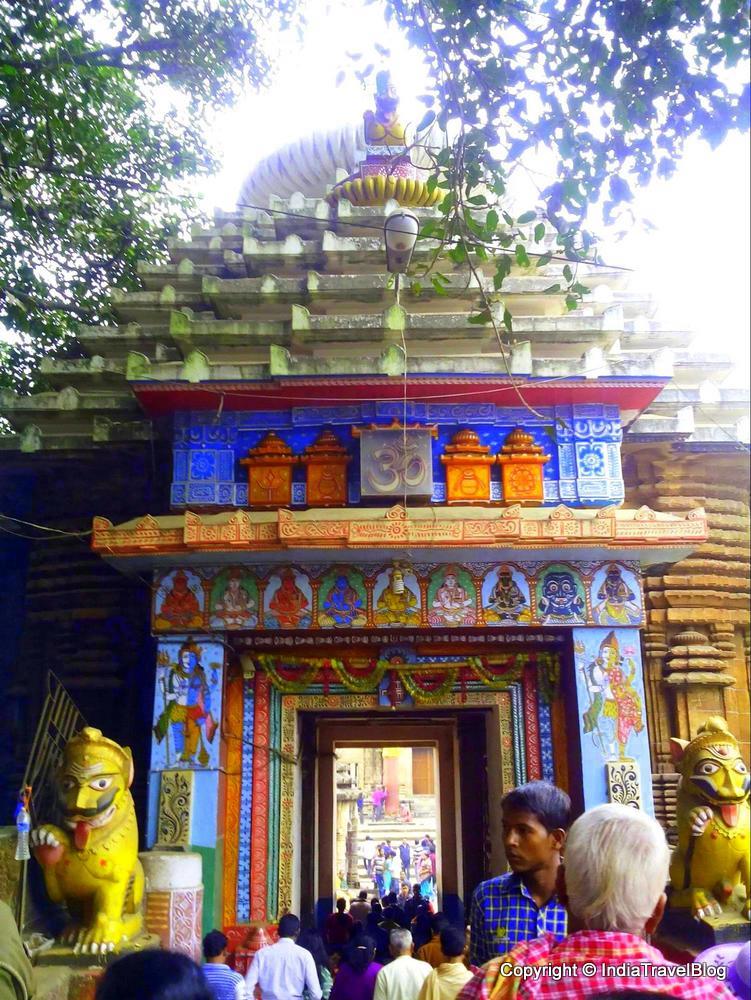 Lingaraja Temple
Conclusion

I will be continuing about my trip to Puri, with the details of the rest of the journey in my next article. To conclude this article I would say that Puri is a very quiet place with natural beauty. Its sea beach is among the best sea beaches in India. Puri is a travel destination cum pilgrimage spot. You must have understood by the description of the tourist spots that I have mentioned so far. You can read the following articles that I will be writing about this travel destination. You can then decide for yourself that at what time should you plan your family trip to Puri.