8 Reasons Why You Must Travel to Puducherry

If you haven't been to Puducherry, or maybe, just planning to visit; let me tell you, this is the high time & the right weather to travel & explore this small, enchanting town: Here are the 8 major reasons, what makes 'Puducherry' an inevitable destination for anyone & everyone!


There is something unique about Puducherry; this city demonstrates a perfect balance of serenity, fun, vibrant, & urbanism. A bright town filled with tranquility & serenity to the core
If you are tired of hustle & bustle of city life, Puducherry is a distinct choice for you! An unbeatable beauty of Promenade beach, tantalizing cafes & bakeries, picturesque French architecture, grand boulevards, and the spiritual heritage; what else could you demand more after experiencing all these in one place.
I visited Puducherry once again while in the search for some peace. Of course, the city offered me much more than just peace & tranquility...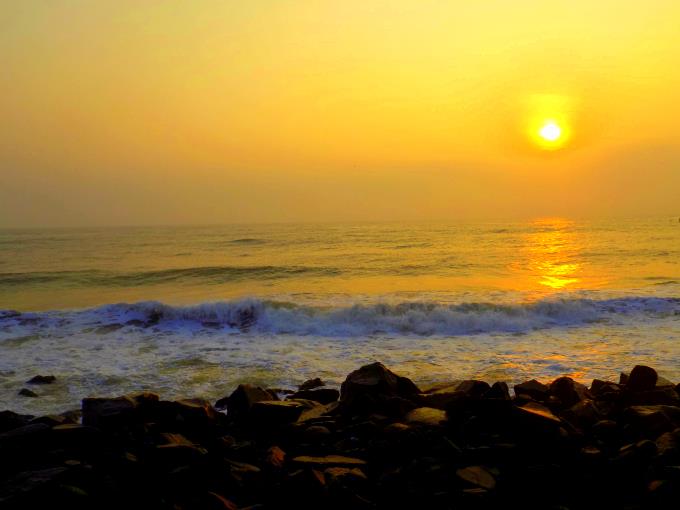 1. Experience untroubled peace in the beach while gazing a sky full of stars

Nothing seems perfect than lying/sitting down on a rock, sipping a hot cup of tea & listening to the whispers of waves, while gazing the stars on the sky! This experience is unique & rare in our day-to-day city life. So much peace! So much completeness!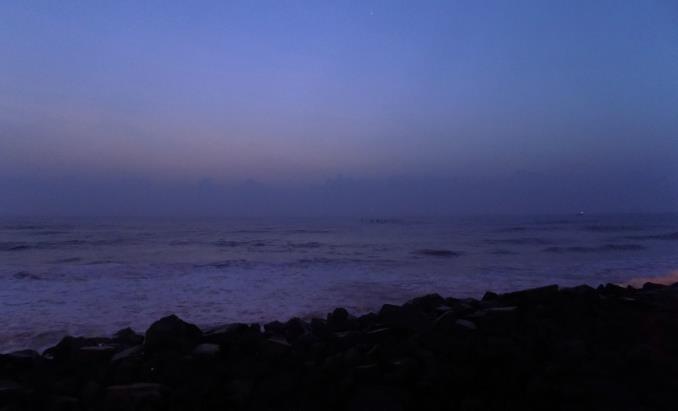 The quiet sky & the roaring ocean at the dawn
2. Watch magnificent Sunrise

The most remarkable experience for a soul!
When the first ray of sun kisses the sky, while the clouds floating subtly like the wisps of cotton candy; watch the spectacular unfurled colors on the vibrant golden sky. Here, your eyes & mind would encounter the most delightful & breath-taking view for a lifetime.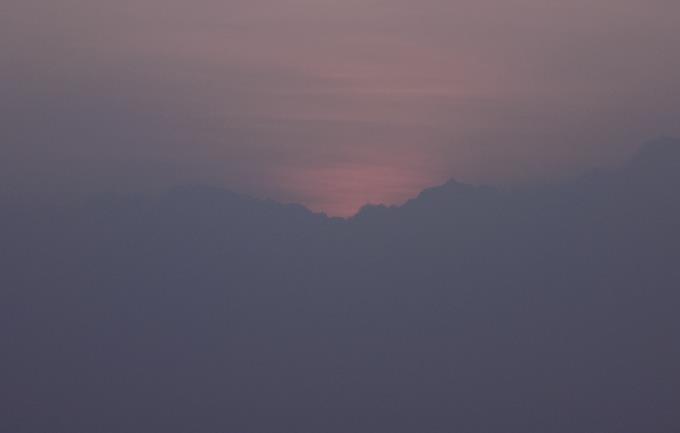 When the Sun appeared on the sky

To witness & experience the most spectacular sunrise, all that you need to do is- Head to the most prominent beach stretch known as Promenade Beach by 4 am & find a quiet place to settle down, comfortably. During the dawn, the waves roar subtly & thrashes onto the rocks at the beach which produces a beautiful tune to the ears.
Sit quietly for a while & look far into the ocean... the vastness of the ocean & the sailing boats there will surely hold your senses for a while. Maybe the words cannot ever be enough to describe this blooming beauty.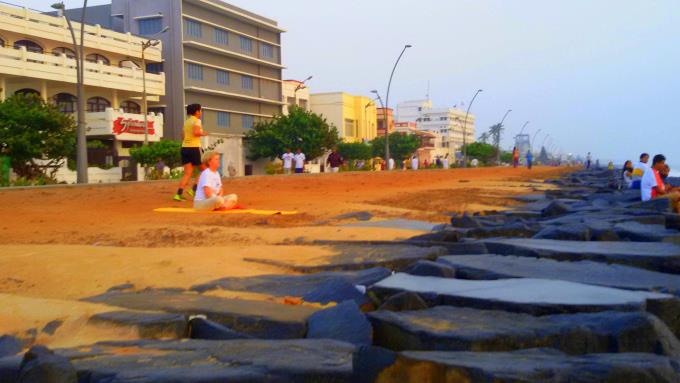 Promenade Beach at 5 am

On the bank of the beach at early morning, you will find many people practicing yoga, exercise & meditation. What a delightful experience it would be to practice meditation while gazing at the huge waves of the ocean!


3. A visit to the Universal township, Auroville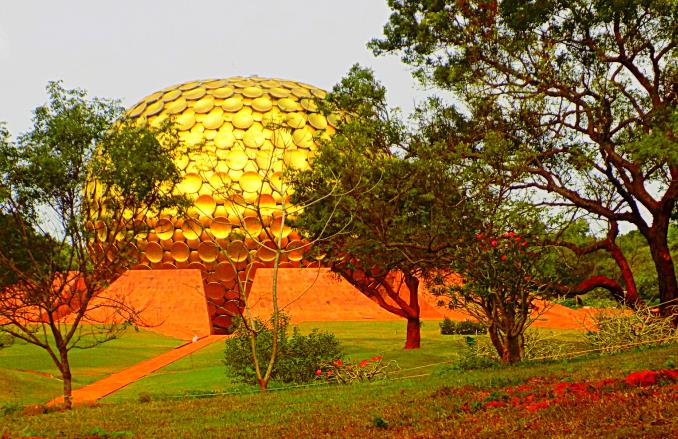 A view of Auroville

Auroville is not a place to see in a day, rather, it's a place to experience.
The Universal Township, Auroville was founded by Mirra Alfassa in Feb 1968. Mirra Alfassa, also referred by the name of 'Mother' in her first public message about the township stated, "Auroville is meant to be a universal town where men and women of all countries are able to live in peace and progressive harmony, above all creeds, all politics, and all nationalities. The purpose of Auroville is to realize human unity."

The township is approximately 15 km away from Puducherry; I would suggest you get a map and hire a bicycle or a Bike/Scooter. This would be an ultimate way to discover Auroville in your own way.


Things to do in Auroville!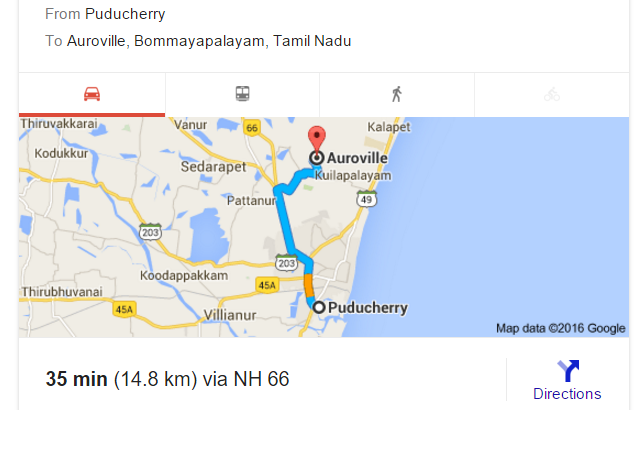 A route map from Puducherry to Auroville

1. Visit Matrimandir- This is 'the soul' of Auroville. It is not allowed to access inside Matrimandir by all the visitors, but only for those who are serious about the ideology. Those who wants to take just a trip to Matrimandir can look around from the distance.

To spend time inside Matrimandir, one needs to make a prior booking. 1st day, you need to collect passes from the office at the Visitors' Centre for a trip inside the Matri Mandir & next day, you can visit Matrimandir. Matrimandir is surrounded by 12 petals. Inside these petals, there are 12 meditation chambers.
2. Hone a skill- There are a lot of things to do & learn in Auroville. This place offers many short-term workshops & classes for Aurovillians & guests such as incense manufacturing, handmade paper making, sustainable farming, & et cetera.
3. Hang out at eating joints, pizzerias & cafes like Auroville Bakery, Momos cafe, Farm fresh, Frite corner & La Terraza.
4. Indulge in roadside shopping!- There are a few really nice road-side stores in Auroville. Look out for some great material. But, don't forget to bargain. :)


4. A Lazy walk along the shores of the Bay of Bengal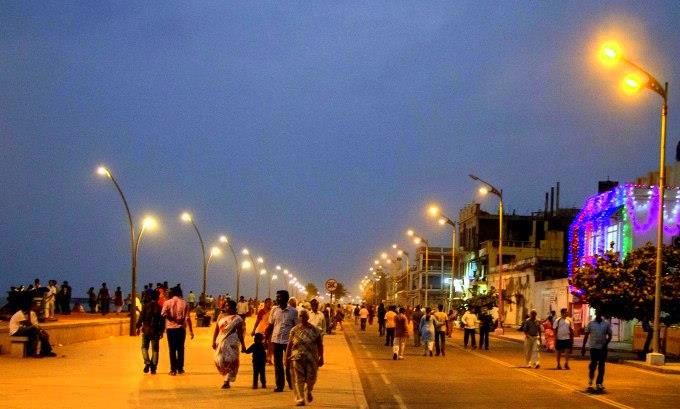 Amble down the roads to the Promenade beach to relax & rejuvenate in the evening breeze. Vehicles are barred from entering the beach road stretch from evening 6:00 pm to morning 7:00 am, which makes it apt for long, lazy walks.
Walk on the beach stretch & see many prominent, colonial buildings & spots such as Mahatma Gandhi statue, Chef Secretariat Building, Light House, Bharathi Park, French War memorial, The Basilica of the Sacred Heart of Jesus Church, French Consulate General, Aurobindo Ashram & Meditation Hall. These spots are at a walkable distance.


A Handy Map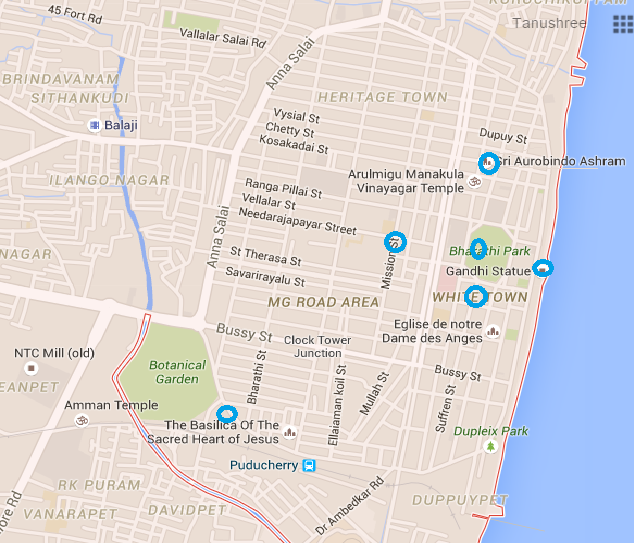 Note: You will find this map really handy & helpful. I've highlighted some areas with blue color, you can easily walk to these spots at the evening hours conveniently.
5. Spend some moment to achieve a Meditational State

This is a place for anyone & everyone! A quiet place, away from the hustle & bustle of daily life where people come from various countries and places, irrespective of their age to meditate & find peace.
Ashram gate opens at 4:30 am & closes at 11:00 pm. One can go to Samadhi for Pranam & meditation. Samadhi is accessible to all, except on Monday, Tuesday, Wednesday & Friday. In those 4 days 7:00 pm onward; it is accessible by Ashramities & Visitors who stays in the Ashram guest house on display of playground passes.




One needs to switch off their mobile & maintain pin drop silence. People come to the samadhi to offer pranam & meditate.


6. Appreciate the glory of the unique Architecture & Township Plan

This town is only one of its kind in India, where the beautiful amalgamation of French & Tamil architecture could be found. It has got a fascinating taste of French Architecture. The colonial past of the town is visible in its Architecture & Township plan which included Portuguese, the Dutch, the Danes, the French, the British, and then the French again.
The pouring bougainvillea, the swanky pots of greenery and blooming plants, gazebos and mini pavilions, the churches and the very unmistakable European architecture influenced by the local Tamil architecture; the standout in its own way.
The cafes, the churches, the stately homes, the private villas, Aurobindo ashram & government institutions display a dramatic french influence in its characteristic; which attracts tourists from all over the world.


7. Tantalize your taste bud in Cafes & Bakeries!

This small town has got quite a bit to offer when it comes to food! Besides architecture & culture, the influence of the west could be observed in the cuisines too.
From local to European, & Asian, this town has all the flavors to bring back its visitors again & again. And, when it comes to desserts, no other place in India can beat Puducherry.

Here's the list of cafes & eating joints!
• Cafe Xtasy
• Le cafe
• Kopi Bar
• Le Dupleix
• Auroville Bakery
• La Marée
• Bon Bakes
• Suru Guru
• Bay of Buddha
• Café Ole
• La Terraza
• Baker Street


8. Discover the town in a swanky bicycle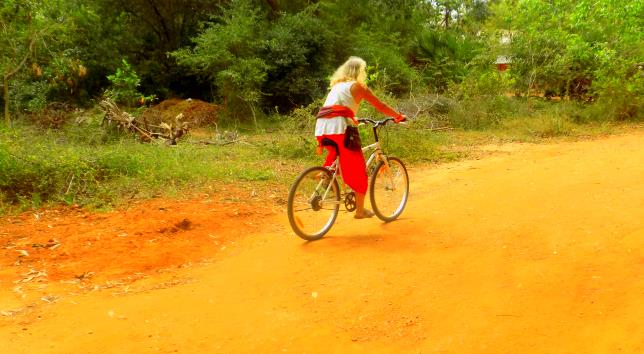 Puducherry, a beautiful small town with fine Boulevard & unique architecture. What a fun it would be if you look around the entire town at your own convenience & appreciate the beauty to the fullest!
You can hire a bicycle from the Mission Road. There are a plethora of such small stores in & around Mission Road who provides a bicycle for rent, you can look for a stylish & a jazzy bicycle for yourself. The charges are quite affordable, Rs 75 per day. All you need to do to hire a bicycle is carrying an ID proof to the shop. The shopkeeper will keep the ID with them, & returns it once you return the bicycle to the shop.
Some Important Tips:
1. Carry a big bottle of sunscreen lotion.
2. Buy a Puducherry Map, hire a bicycle & discover the town in a new way.
3. Puducherry is well connected with other major cities; it has got the airport, railway station & regular buses from major cities.
4. Wear comfortable clothes during the daytime as humidity is relatively high.
5. In case, you have a tight budget, the visit to the Bureau Central of Aurobindo Ashram and request for a room. If you're lucky, you may get a chance to stay in one of the ashrams on availability.