River Rafting in Kerala - an interesting water sport in God's Own Country

Are you looking for river rafting in Kerala? Read more about various river rafting opportunities in Kerala, the God's own country.


A lifetime experience to remember! Are you traveling to, or planning to travel to Wayanad? What is on your agenda of adventure activities? How about river rafting on a bamboo raft? In our experience river rafting in Wayanad is an unforgettable lifetime experience and 'not to be missed' activity, especially if you love water sports.

I travel a lot and from every place, I try to take away the best of the experiences on offer. In some places there are a lot of activities to do, in others, I just enjoy nature and relax. Personally, I do prefer to try activities and not just spend me whole time relaxing watching skies. Vacations mean travel time to me and being together with family and friends. I love cruises in houseboats in Kumarakom, enjoying the countryside while sailing through backwaters.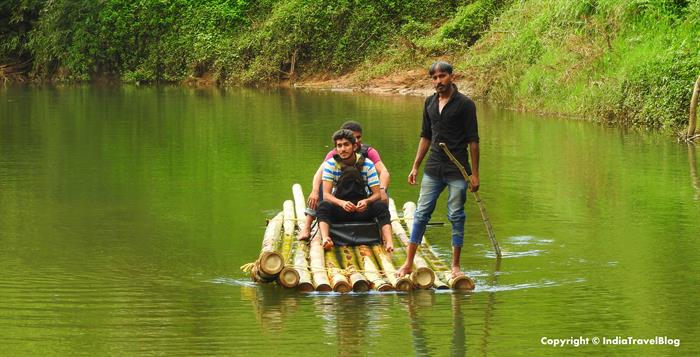 River rafting team of Wayanad

In Kerala, one of my favorite places to go is Wayanad. The scenic beauty, full of valleys, hills and mountains, is reason enough to revisit Wayanad again and again. However, I am an outgoing person and a bit of an action-adventurer so the last time I visited Wayanad, the first day was awesome, but the next day I started feeling a bit bored. Luckily I met a Tour Guide who also happens to be a coordinator of Responsible Tourism in Wayanad. He told me about Pepe Vacanza, a company that specializes in arranging outdoor activity programs and off road tours in Wayanad. The great thing about Pepe Vacanza is that they offer fully customized packages. You can choose any date, time, location and duration, and they make it happen for you.


Bamboo Rafting with Pepe Vacanza

Pepe Vacanza offer bamboo rafting on the Pozhuthana River at Pozhuthana village, located some 4km from Vythiri, in the Wayanad district of Kerala. Pozhuthana is a small picturesque village with gushing rivers and whistling valley scenery.

The Pozhuthana River is not that fast or furious. It gives you more of a lake like experience while rafting. The water current is slow and a check dam makes it even slower. The river finally ends when it meets the Kabani River.

The bamboo rafts are made up of dry bamboos. Typically, 5 people are allowed to ride together, but sometimes they also allow for 6. All depends on how much weight a raft can carry and the Pepe Vacanza guides take care of that. The river although calm, is really deep in some areas, which we experienced while rafting. Listen to your guide; it's important for your safety. Also, for your safety, they will have another raft following with a lifeguard on duty.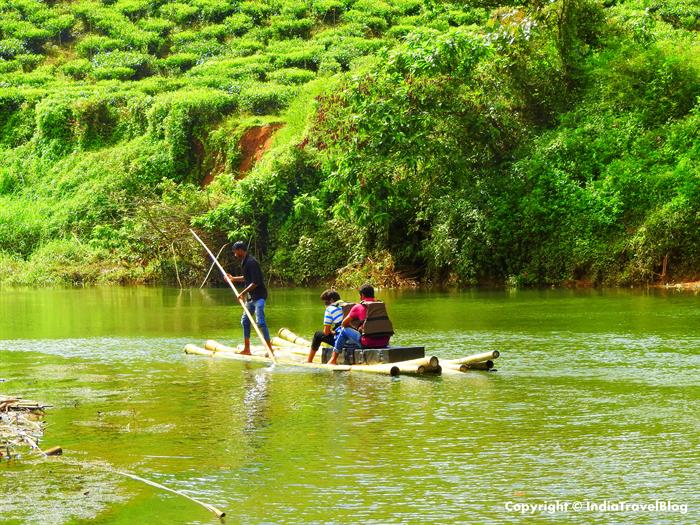 Explorers enjoying river rafting in Wayanad

Pepe Vacanza owns 5 bamboo rafts in Wayanad, licensed from the local panchayat. Just in case they get more customers, they can arrange additional rafts quickly from other agencies in the local area.

The rafting takes about 1 hour or a little more. In our case, they extended the session for 1 more additional hour for which we were truly thankful. As a special offer, they promised me that all visitors who have read this blog and who will come for a ride and mention that they found out about Pepe Vacanza on "TopTourist" will get an hour free!

The bamboo raft sailed us through the streams, in some places the river is truly deep but most of the way we found it to be shallow. The ride was awesome and once we finished the only thought in our minds was to revisit the place again on our next vacation. The fun part, which we never shall forget, was when we stopped at a safe location and the sailor made the raft turn; we all fell into water! Everyone got wet and we laughed a lot knowing it was a deliberate act to add extra fun. The river water is so clean that one feels like drinking directly from the crystal clear streams.


Booking & Tariff

During busy days when it is tourist time, it is advisable to book rafting sessions 1 or 2 days in advance, so that you won't need to wait for others to finish their ride.

Bamboo rafting in Kerala is a thrilling experience you will remember your whole life. So why not take a deep breath, pack your bags and hit the road!

The Cost is Rs 2,000 per raft. Maximum 5-6 people can be accommodated in a raft. You will have a lifeguard/guide/helper in the raft with you throughout the cruise.


Fishing

The one thing we did miss out on this trip was fishing. Our group was keen to catch some fish and cook it for our supper, but the guide told us that there was not many fish in that particular zone. He suggested an area where we could enjoy fishing but, unfortunately, we could not make it because of time constraints.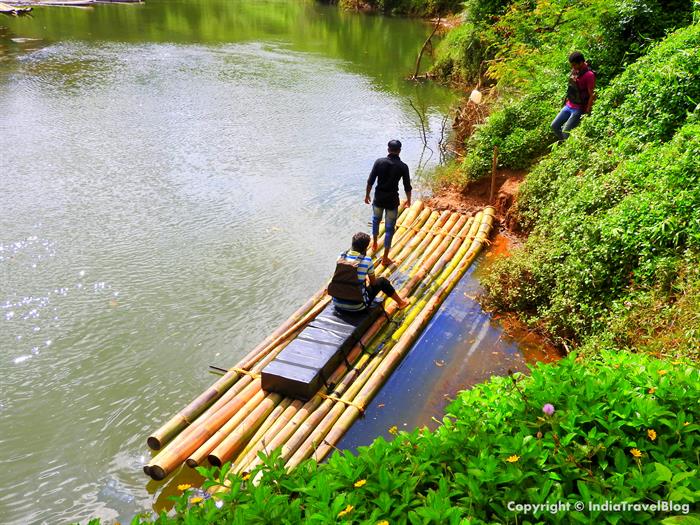 Though we were not able to go fishing, we did, however, experience some thrilling off-road jeep driving with Pepe Vacanza! In my next articles I would like to tell you more about other activities I have enjoyed in Wayanad. It is interesting to note that Pepe Vacanza organizes adventure tourism activities in Munnar and Thekkady.

There are many other picturesque spots like Chembra Peak, Soochipara Waterfalls, Kuruva Island etc. but definitely Wayanad is one of the best places in Kerala for river rafting. And don't forget to mention that you read about Pepe Vacanza on "India Travel Blog" and claim your extra hour of rafting for free!