Chinnaswamy Stadium Karnataka address, location, how to reach

The 2011 ICC Wold Cup schedule is from February 19th to April 2nd Chinnaswamy Stadium, Bangalore, Karnataka is one of the venues of the 2011 ICC World Cup. In this article you will get information on how to travel to the Chinnaswamy Stadium in Bangalore Karnataka.


The Chinnaswamy Stadium is located in Bengaluru Karnataka. It was earlier known as the Karnataka State Cricket Association (KSCA) stadium. It was later re-named as Chinnaswamy stadium, the name referring to M.Chinnaswamy, ex-BCCI president & ex-Secretary of the Karnataka State Cricket Association.


Features of Chinnaswamy Stadium Bangalore Karnataka

Established in 1969, the Chinnaswamy stadium underwent a major renovation for the 1996 ICC World Cup. Floodlights were installed and the seating capacity for spectators was increased. At present, nearly 55,000 spectators can enjoy a game of cricket in the stadium. The enjoyment is doubled because of the stadium's convenient location in the heart of the city, thereby not making it a tedious journey!

An important permanent feature of the stadium is that it is home to the National Cricket Academy, the Academy operating from this stadium since 2000. In addition, the India Premier League (IPL) team Royal Challengers Bangalore (RCB) is based in this stadium.

Pitch at Chinnaswamy Stadium: The two ends of the pitch at the Chinnaswamy stadium are known as the Pavilion End and the BEML End. The pitch is not very slow and does not have an excessively flat surface, offering a fair bit of turn but not over-bouncy.

Parking Facilities at Chinnaswamy Stadium for the 2011 ICC World Cup: You can park your vehicle at the BRV Police Grounds, which is located within a few footsteps (15 meters to be exact) from the stadium.

Facilities for Physically challenged spectators at Chinnaswamy Stadium for the 2011 ICC World Cup: Spectators who are physically challenged can avail of wheelchair facilities at the 'B Lower' section of the stadium.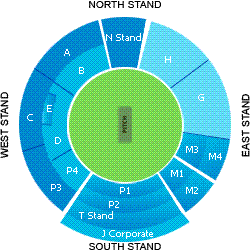 Did you know?
* West Indies legends Gordon Greenidge and Viv Richards made their cricket Test debut in the Chinnaswamy stadium Bangalore during the '74-'75 season against India. Gordon Greenidge made his debut century!
* India's batting maestro Sunil Gavaskar played his last innings in this stadium during the India-Pakistan series in 1987 (India lost).
* Indian legendary spinner Anil Kumble bagged his 400th Test wicket at Chinnaswamy stadium which is one of the Stadiums in Karnataka.
* Younus Khan of Pakistan holds the record of scoring the highest individual runs at the stadium (267 runs), while Indian bowler Maninder Singh holds the best bowling figures: he bagged 7 wickets & gave a miserly 27 runs.


How to reach Chinnaswamy Stadium Karnataka

To reach the Chinnaswamy Stadium Bengaluru you have to fly to the Bengaluru International Airport. From there, you can take an auto or taxi or rental car to the stadium.

Road route from Bengaluru International Airport to Chinnaswamy Stadium
It takes about 1 hour & 10 mins. to reach the Chinnaswamy stadium from Bengaluru International airport.

Note: There are plenty of roundabouts on the road route, so it is a good idea to stop at each and take directions otherwise you will literally end up going round & round the roundabout!

Here's the general road route to the stadium from the Bengaluru airport:
Bengaluru International Airport – go in the northern direction, keeping on the right side of the Devanahalli Airport Road – roundabout – first turn & then left - LT Trumpet Flyover - Bengaluru Bellary Road (NH 7) – on to the bridge – continue straight on NH 7 – up flyover – same NH 7 – route – up Hebbal Flyover – continue on NH 7 to Ramana Maharishi Road – Shri Chowdaiah Road - turn left at Palace Cross Road – roundabout – first turn to Dr MV Jayaram Road – roundabout - first turn on Millers Road – roundabout - first turn on Millers Road - right on Railway Station Road - right on Queens Road – stadium

Road route from Bengaluru City Railway Station, Srirampuram to Chinnaswamy Stadium
From the Bengaluru City Railway Station it will take you just 10-15mins. to reach the Chinnaswamy Stadium.

Bengaluru City Railway Station – left turn on Bhashya Main Road – go to slip road - Sheshadri Road – up flyover – same Sheshadri road – take left turn on Post Office road - Dr Ambedkar Veedi Road - Vidhan Vidhi Road - right on Queens Road - stadium


Contact Information of Chinnaswamy Stadium Bangalore Karnataka

Chinnaswamy Stadium,
Cubbon Road,
Bangalore – 560001
Ph: +(91)-(80)-40154015 / 40154018 / 40154021/ 22868975