How does the Odd-Even system affect the tourists in Delhi

Odd-Even Traffic Rule in Delhi is making noise in every nook and corner of the city. Chief Minister Arvind Kejariwal brought this idea to curb the pollution in the National Capital. Here is how Odd-Even Rule affecting the tourists and visitors in Delhi?


Dilli Bole Dil Se, Odd-Even Phir Se ~ Delhiites invite Odd-Even Rule whole heartedly, claims Delhi governments on its hoardings bearing promotional Odd Even message for second phase of testing. Chief Minister Arvind Kejariwal claims that Odd-Even rule was highly successful during first phase and hence a second phase trial is required. The level of pollution is very high in Delhi and progress of first phase Odd-Even can be measured by scientific instruments only. Hence I do agree with the CM's claim.

Talks doing the rounds on Delhi streets, everyone is talking; politics has its own flavor. A day, I ask asked to a guy, why you worried, both you and me don't have a cycle even and Vehicle No 11 (walking on foot) is always fine. To my surprise he told he lost his job because his owner has one car. Why he should pay a full month salary for half month work? Right!!! Every one is affected while level of pollution is decreasing Odd-Even has its Cons too.


Delhi's odd-even rule affects tourists

Tourists are also affected from Odd-Even Traffic rule. But how? Here is my analysis:

Delhi receives many types of tourists and homeless tourists on regular basis. Yes, you heard right. In the National Capital unemployed youths arrive on daily basis in hope of a job. A significant percentage of these job hopers are unskilled youths. Also a huge pool of young men and women reach to Delhi for learning new skills.

Areas like National Capital Regions like Noida, Greater Noida, Gurgaon, etc are den to massive population working 6 days a week. These people love to travel to Delhi over the weekends with family and friends.

Vehicles like VIP vehicles, carrying patients etc or driven by a female driver are exempted from Odd-Even rule.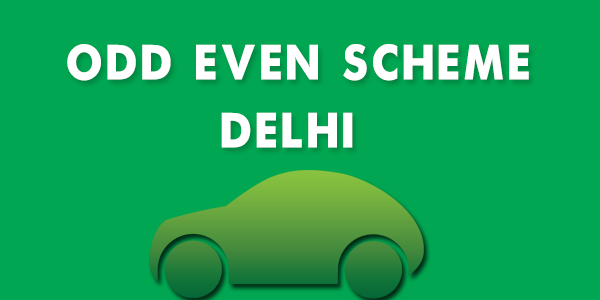 Under new traffic rule main responsibility goes on public transport which was already flooded some 10 years back. Metro has added to some respite for travelers in last few years but now every mode of transport is over burdened. Public transport is cheap mode of travel and affordable. Here is how tourists are affected from Odd-Even Rule in Delhi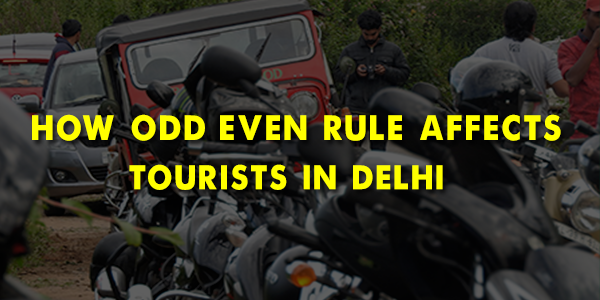 1. Level of pollution is low in areas like India Gate during late in night or Lodhi Gardens in the wee hours and in the border areas of Delhi like Alipur Village. Though you won't feel any significant difference but I am quite sure about these changes.
2. Because of Odd-Even people give lift to neighbors every alternate day while traveling to office; in case of a hurry or emergency you can't expect a free ride when vehicle is already full.
3. If you are planning for a long stay, say a month or two and going for long drive in Delhi and thinking of to buy a Car, give up your plans. Parking is inconvenient because half of the vehicles are unmoved.
4. Delhi buses carry 150 plus passengers during peak office hours. Can you handle the bone breaking pressure from inside? I was not when working full time. Because of Odd-Even many office goers rely on public transport. So crowd is truly huge.
5. Metro is cheaper and easy mode of transport; it virtually connects to all corners of the city and now extended till NCRs like Gurgaon and Noida. If you want to travel in a Delhi Metro especially during peak hours, try your luck.
6. Autos and Taxis are instructed to ply on metered rates. You can book cabs like Ola etc. But being a tourist sometime you will need local taxi / auto drivers. I live in Delhi and in my experience only 1 out 20/30 divers is ready to travel on metered rates especially if you are stuck in a deserted place.

Enough is Enough!

You must be willing to ask now, 'whether cancel my Delhi travel plans?'

No, indeed plan your travel.


How to plan your trip to Delhi and avoid the hassles of Odd-Even rule

1. In the morning office goers travel in large numbers towards location like Gurgaon, Noida, Rithala ect. Avoid traveling towards these locations during morning's rush hours.
2. When hiring a taxi or auto ask your driver to drive on metered rates. In case of a no, hold little patience, enjoy the Delhi crowd, someone will be ready in a matter of 10/20 minutes.
3. Hire a Cab. Download Cab's Android App. They also offer nice discount packages on downloads.
4. Do not plan Sunday travel in a public transport. Its way too much busier because people go out with family and friends on Saturdays and Sundays.

Note: My best time to travel in a Delhi Public Transport is Saturday 5 PM to Sunday Till 9AM. Come; Join Me.

If you are not aware about Odd-Even Rule, allow me to tell you in brief:

1. Morning 8AM – Evening 8PM Odd-Even Traffic rule applies in Delhi.
2. This is a test run only. Based on its success and public opinion government will decide on further actions.
3. Extra buses are deployed on every route to carry the passengers.
4. Violation of rule attracts Rs. 2000 penalty.
5. Emergency services Ambulance, Vehicles of VVIPs and VIPs and Services like Electricity, Water etc are exempted from Odd-Even Rule.
6. Female drivers are exempted from Odd-Even Rule.