Beauties of Shimoga-places to visit nearby to Shimoga

I will give you brief details how to tour Shimoga alone. There are few places that are to be seen nearby Shimoga for a monsoon holiday. Come experience the virtual tour with me! You can experience the Exotic Nature beauty which you cant even imagine. Jog Falls are the best part.


How to reach Shimoga Karnataka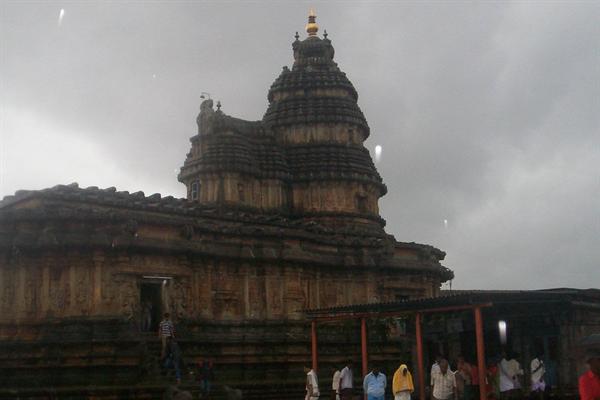 Shimoga is one of the good Tourist places in Karnataka. You can go to Shimoga by many ways like by car,bus,train or you can take a cab or you can go by vehicle of your own. You can reach Shimoga by taking the National High way route i.e. Tumkur, Arisikere, Banavara, Kadur, Birur, Tarikere and Bhadravathi. It is around 274 Km from Bangalore.

How to reach by Train?

Ksrtc ply more number of buses and you have a very good frequency of trains from Bangalore and also Mysore. From cities like Udupi you can reach Shimoga within 3 hours. You can also take Coastal Route to reach Shimoga by bus or car. If you do not get trains from Bangalore directly for the particular time you get trains to Birur like Hubli Inter City from where you can take a train or bus or car to Shimoga town. Direct trains from Bangalore to Shimoga are Shimoga Express and Inter City train which is more comfortable than Passenger trains as you also have a Bangalore-Shimoga Passenger train. The airport is under construction so air route is not that feasible.


Places to visit in and around Shimoga


1.Sakkare Bayalu in Shimoga:

Sakkare Bayalu is about 17 Km from Shimoga. You can hire a car from Shimoga or you can travel by local buses. Sakkare payalu is a good Elephant camp where Elephants are brought from forests cleaned,fed. After all these processes they are left again in the forests. The Forest Department charges 30/- per entry ticket for Sakkare payalu. This is for the maintenance of elephants. Clicking Pictures is allowed there. So why not go there and have a photo shoot with the Baby and Big Elephants?

2.Tunga Dam in Shimoga:

Tunga Dam is very near to Sakkare Bayalu. You can have the splendid view of River Tunga. "Ganga snana Tunga paana " is the famous quote heard by all of us. So why not go there and have the taste of Tunga water?

Note : Clicking photos is prohibited there. And water levels are high in rainy seasons so be careful.

3: Shringeri in Shimoga:

Shringeri is one of the most Devotional places in Karnataka established by great guru Sri Shankaracharya. Shringeri is one of the Shakthipeetams in Karnataka. Shringeri is about 105 Km from Shimoga. You get lot of buses to Shringeri from Shimoga. There are many temples there of which is the most amazing one is Shri Sharada Temple. Visit this and get the blessings of Education Goddess.

4:Jog Falls in Shimoga: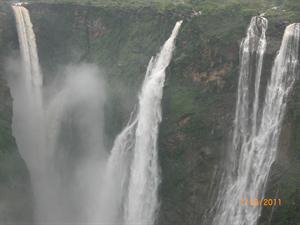 Shimoga is about 105 Km away from Shimoga in Sagar Taluk. You can see the spectacular scene of water falling from 253m height.Water is from River Sharavathi . You must have watched movie Mungaru Male where you would have watched the tip of the falls. Here you can by car or any other vehicle to a place raja seat from original Jog entrance. There is no Entrance fee in Jog. You can get immediate Digital photographs over there. it might cost about 30/-.You can also climb down around 200 steps and can go down too to visit the Sharavathi River.

Jog falls of Karnataka

Jog falls of Karnataka is an exciting treat to all the water lovers. Jog falls in Karnataka originates at a height about 730m near a place called Ambuthirtha in Tirthahalli taluk, in Shimoga district in Karnataka. It is basically created from a river named as Sharavathi that in Karnataka. The Jog falls are the spectacular treat for your eyes. It is one of the most beautiful water falls ever in Karnataka. Not only in India, Jog falls is famous all around the globe! Jog falls is considered to be located in Sagara in Shimoga district of Karnataka. It is an all time famous tourist spot in Karnataka. This has high tourist importance from all parts of the world.!. The famous Jog falls in Karnataka is called by alternative names of Gersoppa Falls, Gerusoppe falls, and Jogada Gundi! Different people address the world famous Jog falls in Karnataka with different names accordingly.


Emergence of the great Jog falls in Karnataka

River Sharavati, a river that rises in a place Ambutirtha, near Nonabar, in the Tirthahalli taluk of Shimoga district and takes a different path in the north-west direction. Later in the due course by Fatte petta, receives the Haridravati exactly on the right side below the place called Pattaguppe in Karnataka and the Yenne Hole place on the left side just above the Barangi. On arriving at the front side portion of it, the water falls bends towards the west directions, that then finally precipitates to the world famous Jog falls in Karnataka where it passes through the village called as Geru-Sappe and hence gets the name called as Gerusoppa falls.

Best time to visit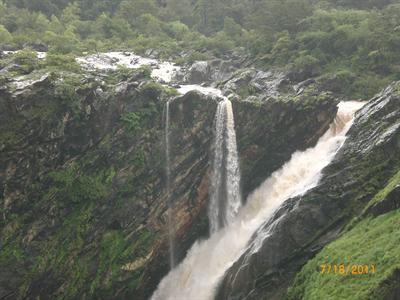 The best time for visiting the magnificent glorious Jog Falls in Karnataka is during the Monsoons. The monsoons contribute prominently to the exotic Jog falls in Karnataka The reason beyond this is only rain! Due to raining the jog falls look magnificently beautiful leaving many goose bums on your skin proving the mind blowing creation of nature!

Entry fees
To visit Jog falls, there is no entry fee. It's absolutely free of cost!


How to reach

By Railways :
The Nearest Railway Station to reach the world famous Jog Falls in Karnataka is Taleguppa and Sagar railway stations in Karnataka. You can book your tickets from the Indian railway department to these places. From the place called Sagar in Karnataka Jog falls are located at a distance of 30 Km.

By Bus :
If you are opting to go by the bus system you can opt for KSRTC buses that offer direct buses from Bangalore in Karnataka. And If you are coming from different places, the nearest Bus Station is Sagar in Karnataka.

By Airways :
Nearest Airports:
Hubli Airport : Hubli Airpot in Karnataka is at a distance of 130km from world famous Jog falls in Karnataka.

Bajpe Airport in Mangalore in Karnataka : Bajpe airport in Mangalore in Karnataka is at a distance of 135km from world famous Jog falls in Karnataka.

Bangalore International Airport: The Bangalore International airport in Devanahalli in Karnataka is at a distance of 340km from the world famous Jog falls in Karnataka.

Lohegaon Airport in Pune: The Lohegon airport in Pune,India is at a distance of 500 Km from the World famous Jog falls in Karnataka.


Travel tips

There are around 2000 steps to reach the bottom portion of Jog falls. And there is another trekking route also. Choosing any part, you can reach the bottom portion of World famous Jog falls in Karnataka and enjoy the spectacular vision of it! Before going you must follow the travel tips mentioned below so that you do not find your travel tiring. Not only that these tips make your trekking more enjoyable!

1. Go for forest friendly colored clothes like green and brown. Wear clothes that extremely comfortable.
2. Wear very flat and comfortable walking shoes. Prefer shoes because of the muddy road.
3. Usually swimming in Jog falls is dangerous. So before going for swimming, take the local people advice and authorities permission.
4. Carry lemon, salt or Kerosene to avoid the leeches.
5. Carry Torch, sunglasses and hat for emergency.
6. Always carry essential medicines.
7. Use strong perfumes.
8. Always be alert.
9. Observe and obey all the rules that are mentioned by Karnataka tourism Department.
10. Always carry water-proof jackets with to prevent the ill effects of winter and rainy season.