Garuda Mall in Bengaluru

In this resource, you can get information about Garuda Mall whcih is located at Magrath Road in Bangalore. You can also get information of shopis in garuda mall, INOX garuda mall timing, garuda mall shops, garuda mall stores and how to reach garuda mall.


Garuda Mall in Bangalore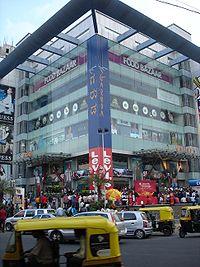 Garuda Mall is one of the best shopping mall in Bengaluru (Bangalore). The mall is located land over 75,000 sq. meters on Magrath Road, Brigade Road in Bangalore. It was started in May, 2005 by Uday Garudachar. The mall has five floors with 120 stores all type of stores. The INOX is a Cinema, situated on fourth floor with five screen and 1,150 seats. The parking facility make it very famous, the mall has large space complex for parking named Multistorey Parking lot. Thousands of vehicles can accommodate in mall parking. ATM service also available in mall you can find ATM of Citibank, HSBC and Eurochange.


Garuda Mall Timings


Weekdays: 11:00 AM - 9:00 PM
Weekends: 10:30 AM - 10:30 PM

The mall also offer food & accommodation services and has five exclusive restaurants Oriental, Continental, Mediterranean and Frontier cuisines. The dinning restaurants, cafe shops, pub and food court as follow:

Kalmane Coffee (second floor)
Barista Crème (second floor)
Bull & Bush (fourth floor)
Indi (fourth floor)
Sikandar (fourth floor)
Kobe Sizzlers (fifth floor)
Baskin Robbins (ground floor)
Cookie Man (ground floor)
Jus Booster Juice (ground floor)
Cafe coffee Day (ground floor)


Entertainment Facilities in Garuda Mall Bangalore


Garuda Mall Amoeba offers entertainment games such as kiddie rides, pinball, air hockey, car racing and the mandatory bowling.

Timing of Amoeba Garuda Mall:

Weeks Days Opening : 10.30 AM
Weeks Days Opening : 09.00 AM

Contact Person : Mr. Syed

Phone : 080- 32950075

Scary House in garuda mall is like as hide and seek with ghosts and devils. There are many different rooms and you enter for 5 minute which has scary surprise for you.

Timing of Scary House Garuda Mall:

Weeks Days Opening : 10.00 AM
Weeks Days Opening : 09.00 AM

Contact Person : Mr. Krishna

Phone : 9945045045

Mirror Maze garuda mall is very famous, actually it is a lost room whrn you enter it then you will see various mirrors and get lost.

Timing of Mirror Maze Garuda Mall:

Weeks Days Opening : 10.00 AM
Weeks Days Opening : 09.00 AM

Contact Person : Mr. Krishna

Funmax 4D Theatre offers $d quality movies and it provides first 4d sfx theatre in bangalore.

Timing of Mirror Maze Garuda Mall:

Weeks Days Opening : 10.00 AM
Weeks Days Opening : 09.00 AM

Contact Person : Mr. Anand


Other facilities and services offered by Garuda Mall Bangalore
Retail Stores
Entertainment/Activity Centers
Multiplex Cinemas (Inox)
Multi-Storey Parking
Food Court
Multi-Cuisine Restaurants
Shops and Stores in Garuda Mall Bangalore

The garuda mall has various shops in every area and field. The list of shops in garuda mall as follow:


Art and Photography: Whizz Kiosk
Books and Stationary: Crossword, Staples, William Penn
Children: Shoppers Stop, Westside, Kool Kidz, Archies Gallery
Department Stores: Shoppers Stop, Westside

Fashion and Accessories: Your M & S, Mango, Allen Solly, Van Heusen, Louis Phillipe, Marks and Spencer, Jashan, Soch, Allen Solly Women, Mustard, Esprit, Levi's, Storm, Paris Bijoux, Accessorize, LP Premium, Baggit, Pepe Jeans, Provogue, Kilol, One Stop Milano, Mint
Fashion Lingerie: Enamor, Forever New
Footwear: Trends, Adidas originals, Nike, Soles, Puma
Gold and Jewelry: Allukas, Sia Art, Dev's
Health and Beauty: Lush, Health and Glow
Home Furnishings: Fab India
Mobiles and Accessories: Global Access, Sony, Planet M
Specialty Stores: The Body Shop, Zimson, Swatch, Swarovski, Hidesign, Titan, The Time Factory
Sports and Outdoors: Planet Sports
Miscellaneous: Samsonite, Rays, See & Take, Intercraft, Mrigaank, Tresspass
ATM and Finance: Citibank, HSBC, Eurochange


Contact Address of Garuda Mall Bangalore

Garuda Mall,
Magrath Road,
AshokNagar,
Bangalore - 560025,
Karnataka.

Phone : 080 40698888

E-mail : customerservice@garudamall.net