Araku Valley Review: Tourist attractions in Visakhapatnam

Araku Valley in Visakhapatnam is one of the most famous hill stations in Andhra Pradhesh. Explore for tourist places near Araku Valley and know about best hotel accommodation, guest house and resorts in Araku and many more.


Araku Valley Guide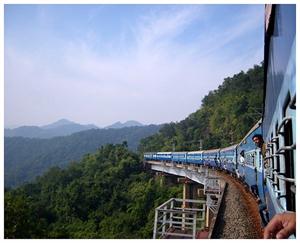 Araku valley hill station of Andhra Pradesh or Araku of Vizag is a popular hill station located 115km from Visakhapatnam. One can remind Araku is a place of beauty when visited this place. One wants to stay some more days in Araku valley. A slow breezing comes on trees in Araku valley that gives so much happiness to us. On your Araku Valley tour, you can experience the natures beauty at best when you reach Araku by train. By doing so we can find the culture of different tribal people and we cross so many tunnels when we travelling in train.

It is really wonder to cross nearly 48 big and small tunnels on your Araku valley train journey. In these tunnels, 36th tunnel is very long as it has 1.2km long. When the train entering into tunnel, we feel darkness, but darkness is removed with sodium lamps which were fixed in tunnels. When train comes from the tunnel we feel that we are going to up of the hill which is touched with the sky.


Padmapuram Gardens tourist spot in Araku Valley Visakhapatnam

Padmapuram Gardens is one of the major tourist spot in Araku Valley of Andhra Pradesh, which is more attractive, where we can find Padmapuram hanging cottages which are at level of 10feets from the ground. These gardens seem to be in the middle of Araku valley.


What to see in Araku Valley, Andhra Pradesh

If you have planned to go for Araku Valley tour package, do not miss to visit the picnic spots in Araku.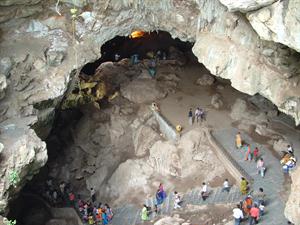 Ananthagiri Water Falls Araku: If you would like to visit waterfalls in Andhra Pradesh, then Anathagiri water falls is a must place to visit, which is nearly 30 kms from Araku.

Dumbriguda Chaaparai water falls Vizag: Dumbriguda Chaaparai water falls is yet another famous picnic spot in Andhra Pradesh is only 15km from Araku and seems to be very beautiful.

Borra Caves near Araku Valley: Borra caves are near 92km from Vishakhapatnam. These caves occupied 1square Km. William king, a geologist, found these caves of million years old caves in the year 1807. In geographical manner, Borra caves occupied very large area comparing with other caves in India. We can different shapes of stalgamites in Borra caves that were formed by water percolating from the roof containing Calcium bi carbonate and other minerals. People living in the area of Borra caves named these stalgamites in different names. Before reaching Borra caves the train crosses 42 tunnels along its way.


Accommodation in Hotels, Guest House and Resorts in Araku Valley

If you are looking for budget hotels and resorts in Araku Valley, you need not worry, as you will find a number of best accommodation in Araku and you can also find resorts in Araku for which the budget fits into your pocket. Find some of the best tourists homes and guest houses in Araku mentioned below.

APTDC Punnami Hill Resort Araku Valley: In this resort of Andhra Pradesh Tourish Development Corporation (APTDC), one can stay in the A/C rooms and the starting room rates for Punnami Hill resort of Araku valley is from Rs. 800 to Rs. 1600. If we go by bus to Araku, at starting this resort is come. But, from railway station, it is nearly 3Km distance. If you want to reach Punnami Hill resort from railway station, autos and cabs are available.

APTDC Punnami hill resort: In this resort, charges for room rents vary from Rs400 to Rs600. This resort is nearly to Araku railway station and also tribal museum.

Hotel Krishna Tara Comforts Araku: This hotel has 6 Ac and 6 non-AC rooms. In this hotel, the room rents starting from Rs1000 to Rs2500. Rooms are very clean to see in this hotel.

Ushodaya Resort Araku Valley: This resort is located nearly to Padmapuram gardens and having 50 rooms. The room rent for Ushodaya Resort Araku Valley is from Rs.600 to Rs.4000. Service in this resort is little bit slow.

SRK resort at Araku: This resort is located at some distance from actual Araku town. Here, in this resort, rates of rooms starting from Rs800 to Rs1300. There is no restaurent facility in this resort.

Chandrika Family Guest House Araku Valley: If you are looking to stay in guest houses in Araku valley in Andhra Pradesh, then Chandrika family guest house is one of the best which seems to be very, very beautiful by locating home near home. There is care taker in this guest house to take food from near by restaurent. The Chandrika family guest house Araku valley room rates starts from Rs. 3000 to Rs. 4000/-