Thusharam Homestay, Kuttikkanam - a personal experience and review

Are you planning to visit Thekkady? Want to stay in a holiday home near Kuttikkanam with cooking facilities at a very scenic place? Check out the details of Thushaaram Homestay/Holiday cottage.


I travel a lot with my family including kids. One of the biggest challenges we face is finding good food. Many holiday destinations have all types of restaurants including 5-star rated restaurants and several roadside food shops. While roadside shops are cheap, they are usually not very healthy since they tend to use cheap products, unhealthy flavours and often they reuse the cooking oil. We could find good food in premium hotels but then the price is usually very high and has a big impact on our overall travel budget. I always prefer to find a holiday home where we can relax without many distractions and also cook some basic food of our choice. There are many such homestays and holiday homes in all tourist destinations but finding the right one is always a challenge.

In this blog, I am going to share my experience at "Thushaaram", a homestay style holiday home at Kuttikkanam, in the Alappuzha - Thekkady route. Read further to learn more about my experience at this beautiful holiday home.


Thushaaram Holiday Home Near Kuttikkanam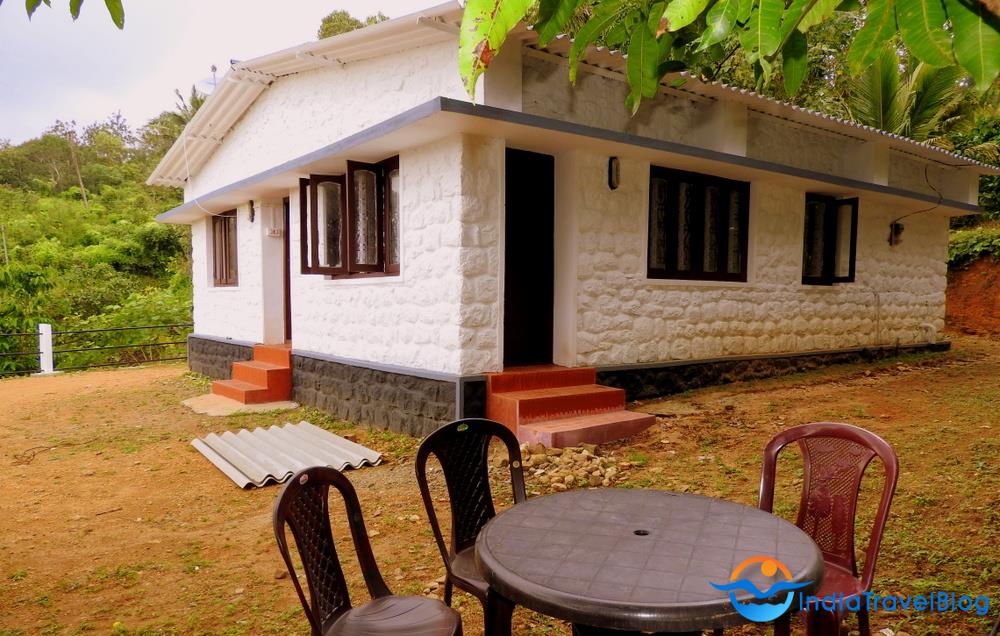 Thushaaram Homestay is an independent house which is converted into a holiday home and is rented out to tourists on daily or weekly rent. It's a family run business, owned by Mr. Shyamlal, who is a networking trainer by profession and a passionate traveller. Even though he doesn't live in the property, he visits often, makes sure the property is in excellent condition and also he calls every guest directly to ensure they are comfortable at his sweet home. It's a beautiful house located on a one-acre plantation, situated on a sloping elevation on the banks of a small shallow river. This cottage style house is surrounded by a variety of fruit trees including jackfruits, guava, mangoes, coffee, cardamom, oranges, and many others. The front area of the property is on the same level as the tar road.

The cottage is constructed about 20 feets down the elevation and there is a concrete road that reaches up to the door of the house. There is some well-landscaped area around the house, separated from the plantation by a small, natural looking compound wall made of round rocks. In fact, the entire cottage is constructed using the round granite rocks, which gives a great ambience of being close to nature. You won't feel like you are in a concrete structure. If you have children with you, they will definitely enjoy the clean landscape area around the house, which gives them ample space to run around and play. If you are a nature lover, go and explore the flora and fauna in the property. Carry a notebook with you and see if you can identify all the trees and birds you find there. Or, call Mr Shyamlal, the owner and he loves to explain everything in the property.


Activities and Fun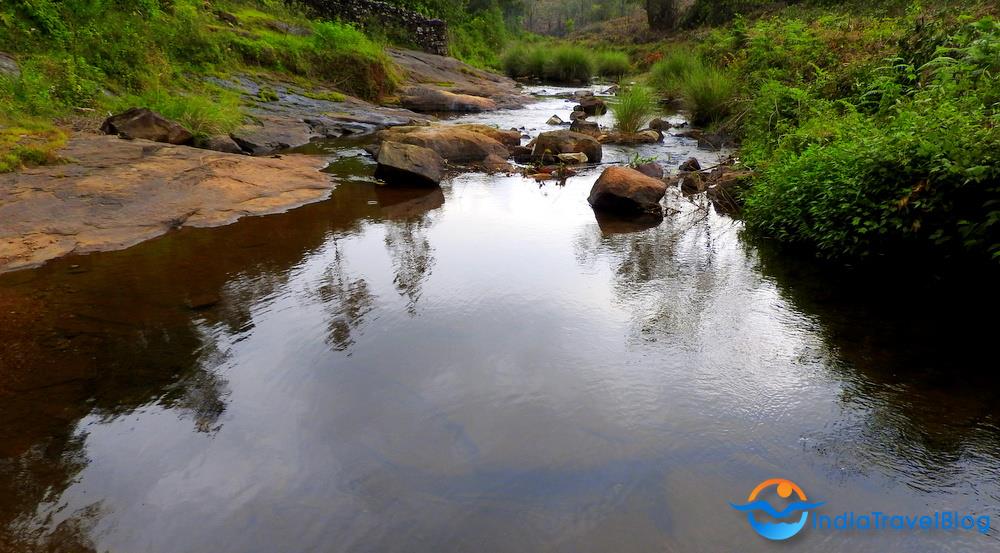 As I mentioned earlier too, this is not a resort. Don't expect a lot of activities here. The owner told me that he has ambitious plans to build a bird watch tower, play structure for children, tent house, walking trails, rope climbing, swings, fishing cabin etc. As of now, they are just in the plans and dreams but hopefully, buy the time you visit, some of they may have already been in place!


Tent and Outdoor Camping

They do have a small tent that can accommodate 2 people to sleep. I would recommend you use it as a fun activity for children to lie down in the tents and not as a place to sleep outdoors.


Fishing

The visitors can enjoy fishing in a tiny beautiful pond which is situated in Thusharam. However, during summer, this pond appears to dry almost completely. During our visit, there was no fish in the pond but owner told us he is going to bring fishes into the pond.


River

There is a small river at the lower boundary at the end of the property. It is a very shallow river with a lot of rocks. You can get into the river, and swim/bath there. It is safe for children since there are no deep pockets or danger zones. If you are very keen on camping on the river side, you can very well use the tent to sleep on the banks of the small river.

Read more about The Periyar Tiger Trail - Adventure trekking and camping


Thushaaram - Holiday home or Homestay?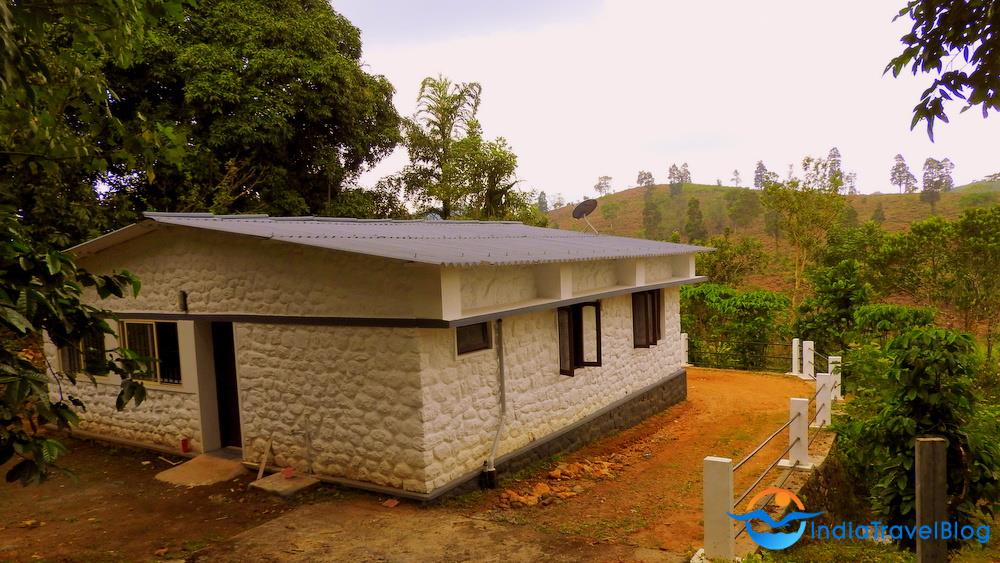 Even though Thushaaram is frequently referred as a "homestay" in many online sources, it is more of a holiday home than a homestay. Technically, this is not a "homestay" since the property is not operated under homestay license under Kerala Tourism Department. The owner of the property doesn't stay in the property. Instead, there is a caretaker who makes all arrangements for the visitors. He is living next to the cottage and so, he is available anytime for any help including some local shopping for the guests.

The entire cottage is rented to the guests. Guests are free to use all facilities and rooms including kitchen, bedrooms, living room etc. Even the open landscape around the cottage is accessible and can be usable for the guests.

Thushaaram is a cottage with 2-bed rooms, kitchen, bathroom and a living room. You can rent this property and enjoy your stay here without much interference from the rest of the world.


Set your Expectations Right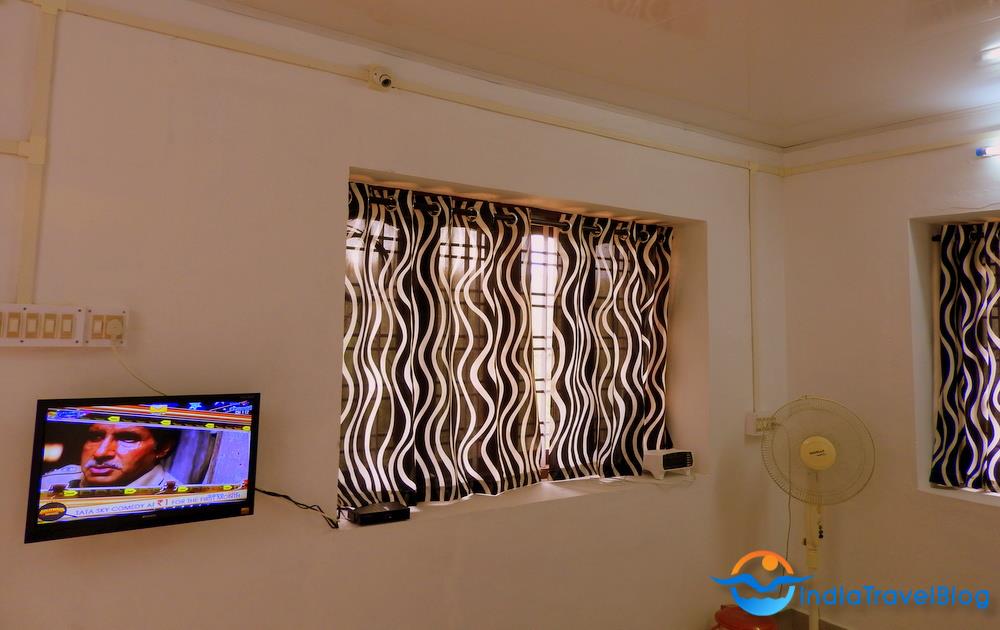 When I hire a holiday home, my expectation is to get a full house along with a kitchen with basic facilities like cooking vessels, stove, refrigerator to keep food for a day or 2 etc. Thushaaram just meets my expectations perfectly. They have a TV, small refrigerator, a regular gas stove, basic vessels for cooking, plates and cups for serving food/coffee, knives, spoons, waste bin etc. Surprisingly, they have a small room heater which comes very handy if the outside temperature is very low, especially during winter.

Don't expect a star hotel ambience or facilities here. You won't get a welcome drink or facial/dental kit here. Bring your own toothbrush and shaving kit. If you like to cook food here, let the caretaker/owner know in advance and they will arrange the essential items of your choice for cooking, of course, you pay the price for the same.

There is a power inverter, which will give you backup power for 12 hours, just in case the electricity goes down unexpectedly. But the power backup will not support iron box, heater etc. It will just allow you to use the lights and fans in the bedrooms.

The whole property is safe, comfortable, beautiful and is great for singles, couples, families, small groups, large groups and virtually for anyone who love to live in a small house in a beautiful place, away from the hustle and bustle of the city. The family who run this holiday home are just like your family and treat you like family. Other than the 2 neighbouring houses which give you a safety feeling that you are not deserted in a forest, there are not many people around.


Rooms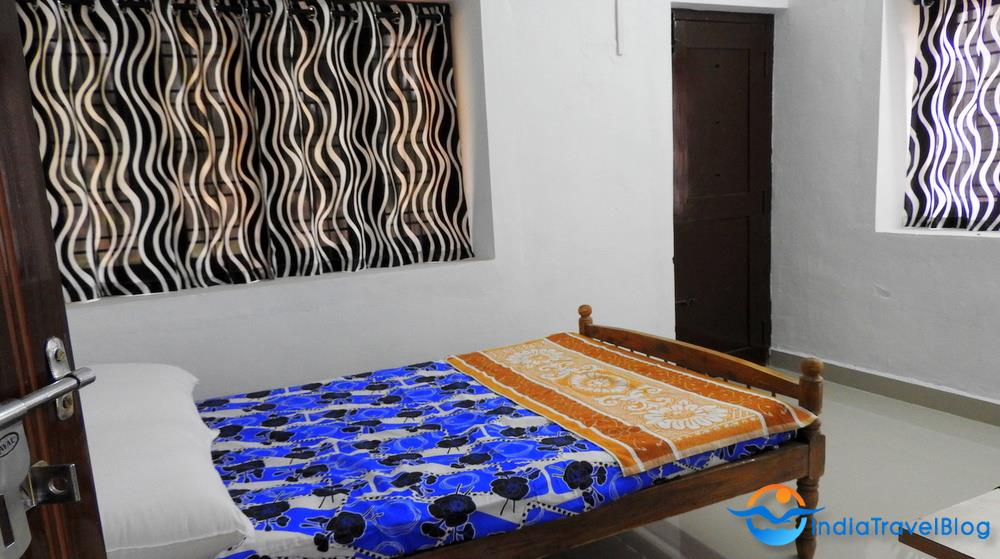 Rooms in Thushaaram

There are 2 bedrooms, 1 kitchen, 1 dining room, 1 common toilet and a living room. The toilet is attached to the dining area and there are no attached bathrooms in the bedrooms. Both the bedrooms have shelves to hang your dress and store your belongings. Kitchen has a refrigerator, water purifier, gas stove and few utensils for cooking and serving. Both the bedrooms have one double bed each. There are few sofas in the living room and some extra chairs in the bedrooms. There is a set of table and chairs outdoors which you can use for some outdoor dining or just playing cards.


Other facilities
Indoor:
Television with DTH Connection


Washing Machine


Refrigerator


Regular two burner Gas Stove


Water Purifier


Power Backup


Basic Cooking utensils


Dining table


Sofas


Iron box
Outdoor:
Campfire


Outdoor camping tent


Fishing in the pond


Parking in front of the cottage


Bath & swim in the river


Plantation walk


Nature walk


Bird watch in the property in the morning
Shopping

The nearest grocery shop is about 5 km from here at Kuttikkanam junction. You can have a quick drive to the grocery store and purchase everything you need. Also, if you just want to relax and cooking is not your cup of tea, there are many good restaurants at Kuttikkanam town.


Nearby attractions
Parunthumpara, a hill valley view point which is getting huge attraction recently, is about 10 km from Thushaaram holiday home. The breathtaking beauty of dangerous cliffs is an amazing sight from the viewpoints here. Don't risk your life trying to reach the dangerous zones of the cliffs.



Baker Hills (Thrisangu Hills)



Panchalimedu – A beautiful view point overlooking mountains and valleys. Kids would love running around the plains.



Valanjanganam Waterfalls - this is a small waterfall along the highway and is a good place to give a break for your car on your long drive.



Thekkady and Periyar tiger Reserve - Located at about 28 km from here, this is one of the most sought after destinations in Kerala.


Read more about tourist attractions in Alleppey Thekkady route


How to reach Thushaaram

Thushaaram is located at a small town called "Kuttikkanam" along the Kottayam - Kumily (KK Road) highway. If you are going from Kottayam or Alappuzha to Thekkady, turn left at Kuttikkanam towards Kattappana. Drive for about 2 km in this route and then you need to take a small diversion to a country road to reach this property.

Check out best route from Alappuzha to Thekkady

Thekkady is about 28 km from this here. If you are on a long tour across various destinations in Kerala, Thushaaram is a great place to take a break on your way to Thekkady or Alappuzha.


Contact details

Website: www.thushaaram.com/
Email: info@thushaaram.com
Phone: +91 9061055469

More reading: Homestays in Kuttikkanam.