Review of KTDC Lake Palace, Thekkady - A Heavenly Place to Stay in Periyar Wildlife Sanctuary

Read the complete review of KTDC Lake Palace island resort in Thekkady. This is a beautiful heritage style property, located in Periyar Wildlife Sanctuary. Hotel Review, Photos, Videos and more.


Lake Palace is the former summer home of the king of Travancore, the ancient kingdom in today's Kerala region. The place is now renovated and converted into a premium heritage hotel, operated by KTDC. With only 6 rooms, this is a small hotel, located on a small island in Periyar Lake, surrounded by water and woods everywhere.


Location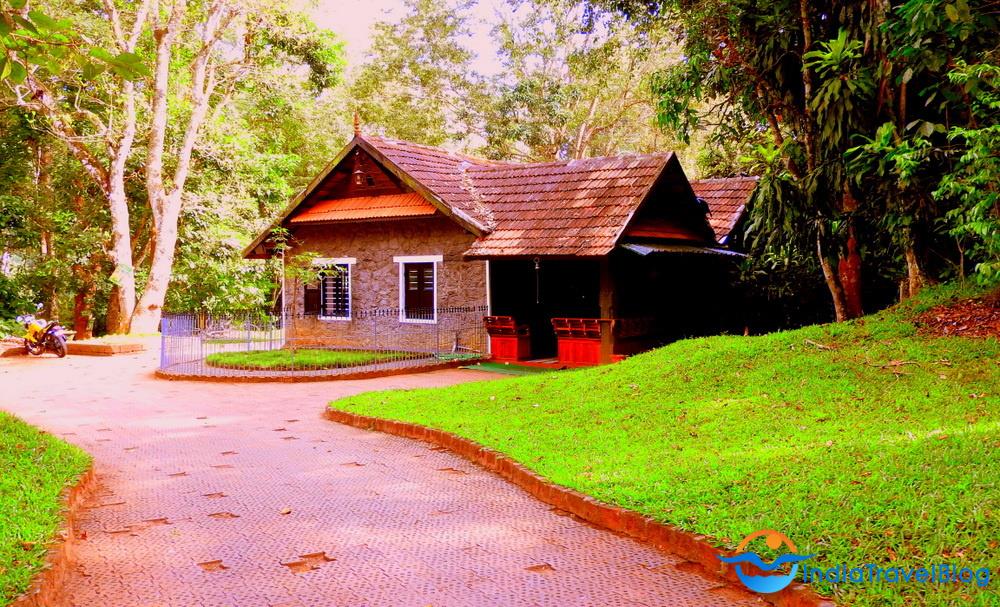 Lake Palace is located inside the Periyar Tiger Reserve (Wildlife sanctuary) and entry to this place is restricted. You need to enter through the gate of Periyar Tiger Reserver, drive up to the launch of the hotel in the forest, park your car there and then travel in a boat for about 25 minutes to reach the hotel. The boat ride to the hotel itself is an experience. If you are lucky, you can spot a lot of wild animals on your way to the hotel.

Since the gate of Tiger Reserve will be closed at 5:30 pm, you won't be able to enter or exit the hotel after this time. An emergency exit may be possible with special permissions.


Rooms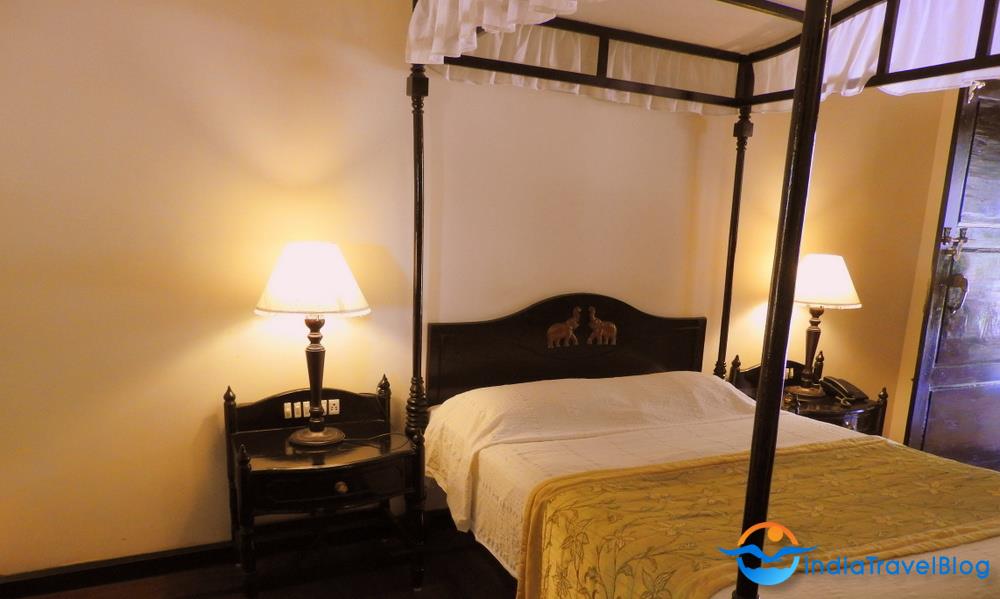 Rooms are very spacious but nothing fancy or ultra modern. There is a cosy bed in the middle of the room, along with 2 side tables on both sides. There is a table with chair, a large mirror and a dressing table with storage space. Bathrooms are very clean with Europian style closet, shower cubicle and a wash basin. Each room as a patio with a few chairs and a fantastic view of the lake. One of the rooms in Lake Palace is very special with the closest view of the Lake. From this room, you can watch the lake and forests right from the beds. KTDC charge a premium for this room. If you are lucky, you would get the room used by the "Maharaja" and there is nothing better than feeling "royal" at least for a night!


Food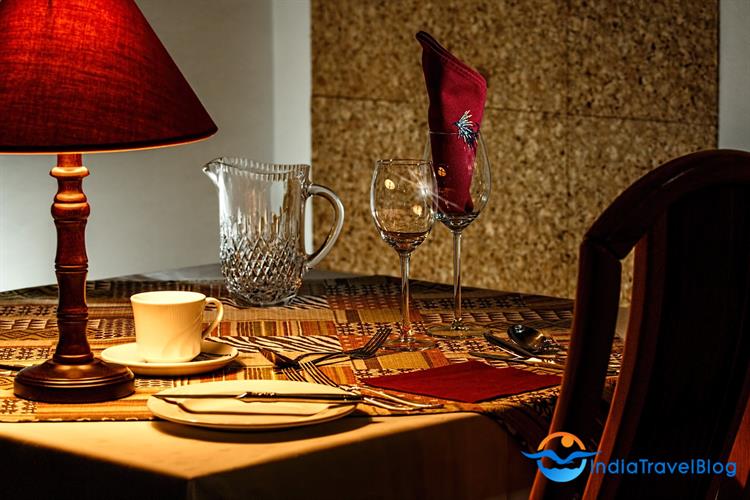 Traditional Kerala style food is served here. Coffee and snacks are available anytime on order. However, since this hotel is far away from the mainland, they have limitations on arranging a wide range of choices. Their menu is pretty limited but does have enough options unless you are too picky on your food choices. Any food would feel tasty when you are surrounded by the beauty of nature. Imagine a candlelight dinner in an island, secluded from the rest of the world.


Outdoor activities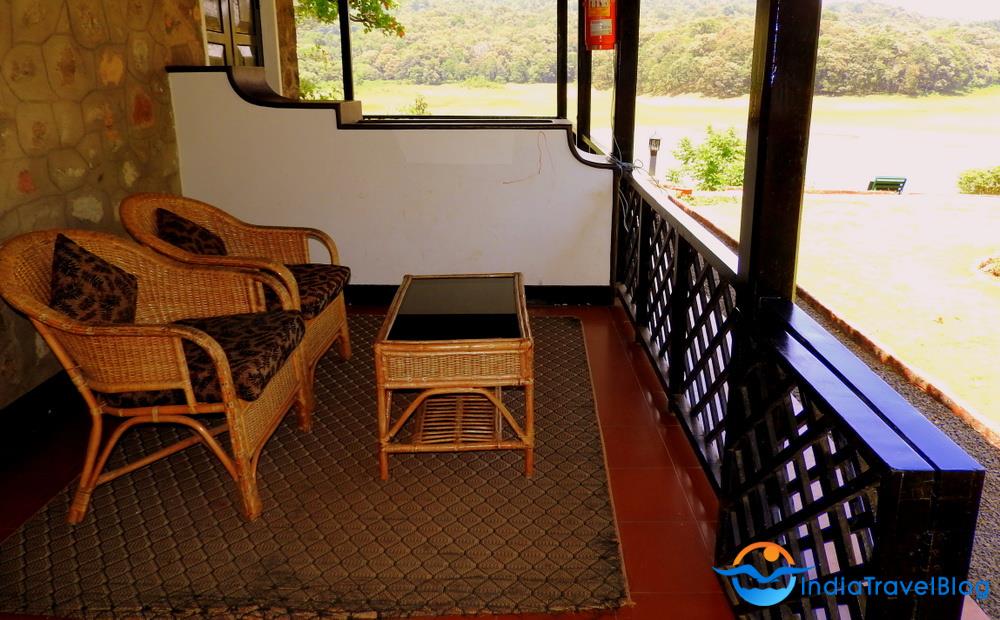 Lake Palace is located on a small island. Behind the hotel, there are a couple of guest houses for the staff of Forest department and hotel. The area in front of the hotel is beautifully landscaped with some outdoor benches, outdoor dining area, lawns, garden etc. There is plenty of space for you to sit and watch the animals on the other side of the lake. We spotted several elephants, wild buffalos, deer and sambar deer. Don't forget to carry a camera with good zoom. Animals are usually located on the other side of the lake, which is good for your safety but are far to view with naked eyes.


Overall review of Lake Palace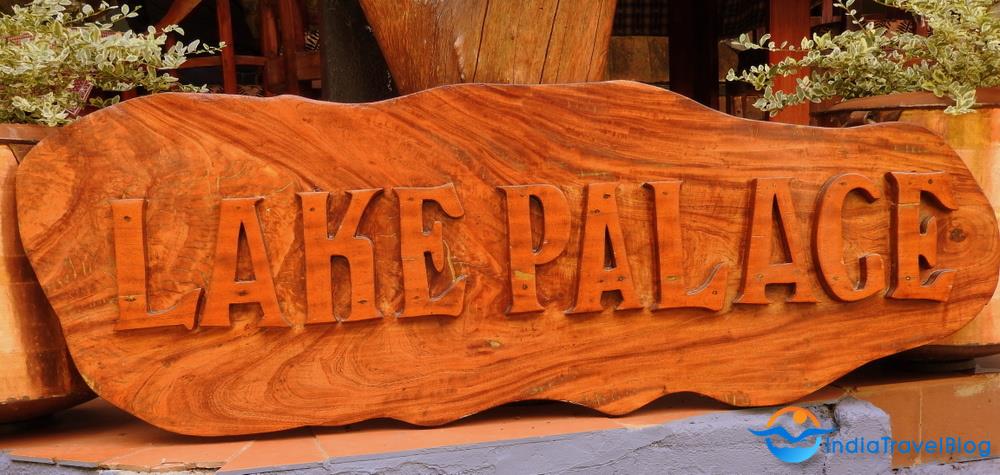 We spent only a limited period of time there but we enjoyed our visit. It was a fabulous experience to ride the boat through the lake in the middle of the jungle watching the animals & birds. We spotted a few tribal people fishing in the lake. In fact, these tribes are the only people who are allowed to enter the forest any time for fishing, who make their living out of this.

Lake Palace is an ideal place to relax and enjoy the lush greenery around and different varieties of animals grazing on the grassland. The entire property is well maintained with lots of trees and plants all around. There are different types of monkeys, which give good entertainment if you watch them for some time. But beware of monkeys - they are very good in stealing your food.

The hospitality of the staff is worth mentioning. Very friendly staff is always available for any help. If you mingle with the staff, they have a lot of wildlife stories to share. One such story we heard was, this is the only summer palace of kings which is not associated with hunting. Every other summer palaces were built for hunting but the Travancore Maharaja used to stay here to watch and relax with wild animals. The elephants in the forest still have that gratitude. Even if elephants come to the property, they don't cause any damage for the same reason, according to one of the stories we heard from the staff.

TIP: Ask for Room# 44, which has the best views. It comes with a premium rate but it is worth if you can afford it.

The view, lake, forest, animals - all adds to your experience. If you are visiting Thekkady to enjoy the wilderness, then Lake Palace is the place to stay. But remember this is the most expensive KTDC hotels in Thekkady. If budget is a constraint, you may consider other KTDC hotels like Aranya Nivas or Periyar House. Read a comparison of all KTDC hotels in Thekkady.