Review of The Elephant Court, the only 5-star resort in Thekkady

I recently stayed in The Elephant Court, a premium hotel cum resort in Thekkady, near the Periyar Tiger Reserve. Read more about the awesome experience we had at Elephant Court, which made my vacation really enjoyable.


Being a travel blogger, I travel a lot and have reviewed a lot of hotels and resorts all over India. But I can vouch for one thing - there are no other hotels in Kerala like The Elephant Court. I would give a 5 out of 5 rating for this one for its elegance, ambience, hospitality, cleanliness, professionalism and the food.

During my visit to Periyar Tiger Reserve in the first week of October 2016, I stayed in The Elephant court for 2 nights. Read further to learn more about the outstanding experience and hospitality I experienced there.


About The Elephant Court

The Elephant Court is the only 5-star hotel in Thekkady area. If you like to stay inside Periyar Tiger Reserve forest, there are couple of KTDC hotels located inside. But if you are looking for a more premium place to make your stay more memorable and enjoyable, then you won't find anything better than Elephant Court.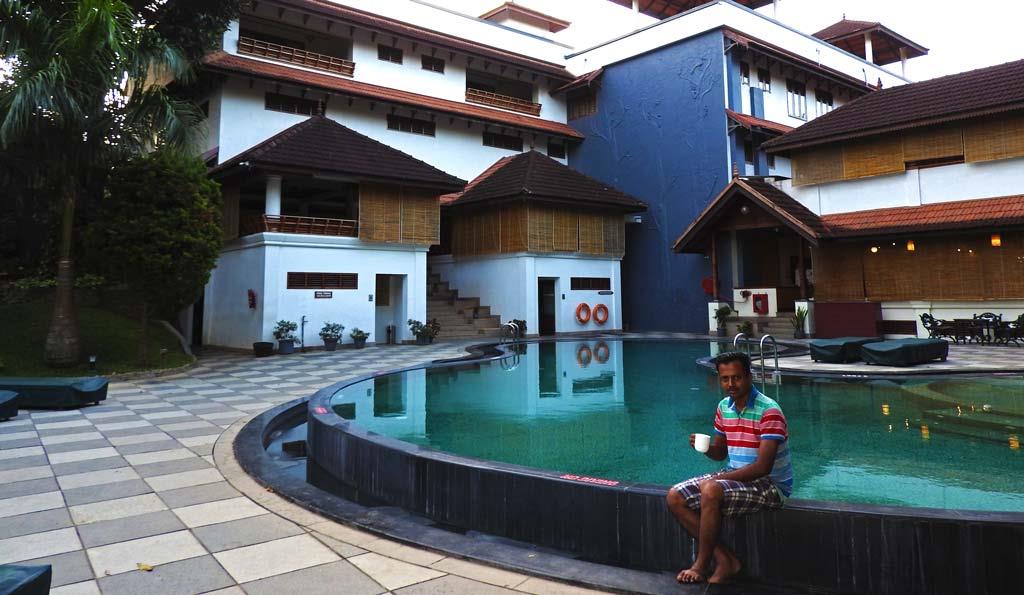 Cottages - The elevation and the architecture

The hotel is located in a very nice and well-landscaped elevation. You can make a pleasant walk around the large swimming pool or through the walking trails connecting all the cottages. The exterior of the hotel is very pretty and impressive. Most of the cottages have a private balcony, allowing you to enjoy the beautiful garden in the front. The private balcony has ample wooden seating, allowing you to sit and relax. If you wake up early, you can see a lot of birds. Also, since this hotel is located close to the Periyar Wildlife Sanctuary, many small animals would visit this hotel. I was able to spot some monkeys and a big wild squirrel on the trees next to my room. The squirrel even posed for a photo for me!


Restaurant & Food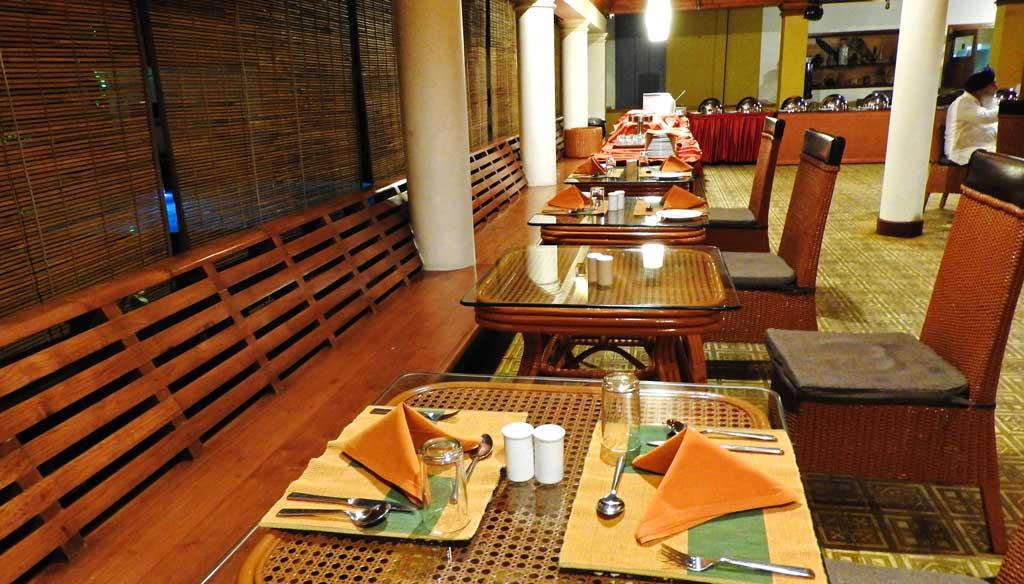 The spacious restaurant overlooks the pool and is very well maintained. They have plenty of choices and the price is very reasonable. They have buffet breakfast in the morning with a lot of choices from bread, cereals, fruits, idly, dosa, non-vegetarian dishes etc. Usually, after a buffet meal, I would feel guilty in mind and bad in my tummy. In The Elephant Court, I felt guilty but my tummy never felt bad. They use a perfect, mild combination of spices and oil to make sure the food is healthy and tasty. Also, you can feel a freshness in everything they serve.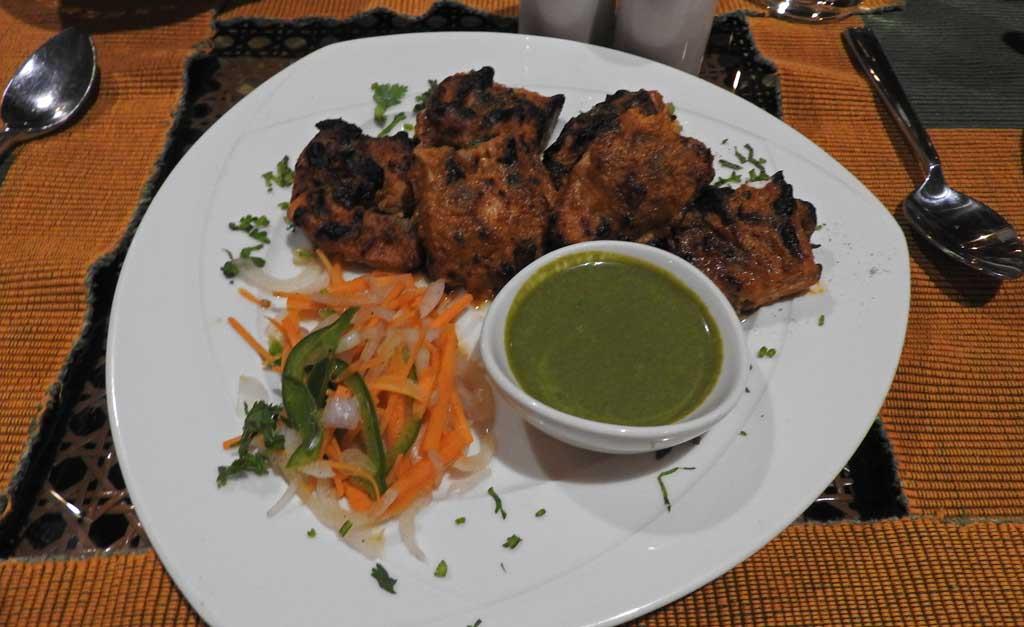 Rooms

Rooms are excellently maintained with teak wood all around, which provides a soothing environment. After we entered the room, all of us were busy inspecting the construction and architecture for a few minutes, until someone from our group asked "did you come here to learn architecture or what?" The interiors are very well kept and impressive.

I stayed in a deluxe room but I requested them to show the pool suite and garden suite. Both of them were like royal palaces!

Elephant Court has 4 types of rooms:

1. Deluxe Rooms - a spacious room with a dressing area, private patio and a large bathroom

2. Pool Studio - This suite room has a private pool. You will feel royal in that room with your own swimming pool, allowing you to enjoy it any time of your choice.

3. Honeymoon suite - This has ultimate luxury and privacy, something the honeymooners want to make the best part of their life memorable.

4. Garden Suite - How about your own private garden within your suite room? That's what the Garden suite in Elephant Court has for you. This room is similar to the Pool Studio except that instead of the private pool, you have a private garden here.


Ayurvedic Spa

Most of the tourists coming to Thekkady wouldn't leave the place without taking an Ayurvedic massage. One of the sad things about it is, Ayurveda has become a pure business here. If you ask any locals for some reference, they would happily take you to one of the private ayurvedic spa, which offers them up to 50% commission. The end result is, everyone would guide you to the place that offers them the best commission and not to the place that gives you the best value.

As part of my travel blogging, I have visited several ayurvedic facilities across the state. From my experience, The Elephant Court has one of the best ayurvedic spa in the state. I would strongly recommend you to try one of the ayurvedic packages offered at the hotel. They have highly experienced and skilled staff who are trained on Ayurvedic programs.

The Ayurvedic spa in Elephant Court is ranked top in my list of authentic ayurvedic spas in Thekkady. Other than the Ayurvedic spa, they have the regular spa and a beauty clinic to serve the guests.


Staff

Very courteous staff deserve special mention. The moment you look at their face, they will greet you with a smile but no one ever drags your attention unnecessarily by greeting you from all sides. This is very important for me. In some hotels, I have seen the staff would call you from left, right and behind just to say 'Good morning'! In the restaurant, all are eager and keen to please you and serve you. I would give 5 out of 5 rating for the professionalism of the staff, including the waiters in the restaurant and the cleaning staff. Having seen several hotels and resorts, I know how difficult it is to keep the staff professional and courteous with all the guests all the time, no matter how hectic is their work schedule.


Review of The Elephant Court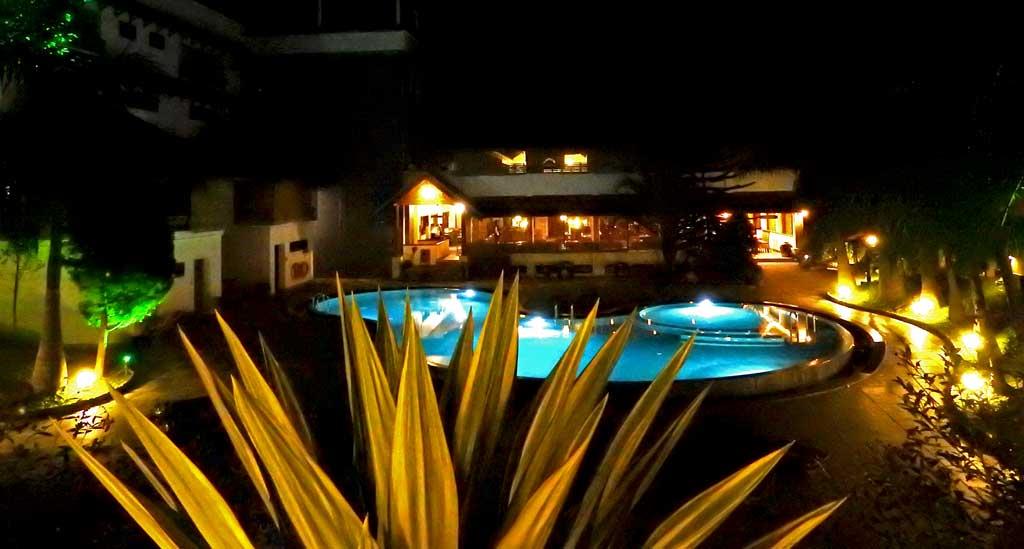 The entire hotel is very elegant and is professionally managed, fully worthy of its stars. Both the interiors and exteriors are well maintained. There was absolutely nothing to complain during our stay. The entire property was spotlessly clean. The employees are very professional and friendly as they should be at a similar hotel.

I would recommend this hotel to anyone looking for a luxury, premium hotel in Thekkady.


Contact

If you are planning to book your stay in The Elephant Court, here is the contact details:

Website: www.theelephantcourt.com
Phone: +91 9895767199 / 9633811199
Email: sales@vijayahospitality.com
Booking: reservations@vijayahospitality.com