Best 11 Family Resorts in Wayanad

Wayanad is one of the best tourist paradises in Kerala, the southern part of India. Here are the best family resorts in Wayanad for a comfortable stay and rejuvenating trip.


Forming the tip of the Deccan Plateau, Wayanad is blessed with all kinds of natural beauty and goodies that a hill station is blessed with. Wayanad is visited by millions of people every year owing to the abundance of the natural beauty and various other tourist destinations located nearby. Though lots of people visit the place, finding a good accommodation and that too when you are travelling with your family. You just can't choose any hotel devoid of proper facilities or located at any desolate place. Further, the choice of stay while visiting a place you are not familiar with requires a very good judgement and you have to be really considerate for the security and basic cleanliness. Hence, in order to help all the people that are planning to visit the place in the near future or have already taken the route to Wayanad, we have compiled the list of the best family resorts in Wayanad. So, here we go.


Best Family Resorts in Wayanad

Here is the list of best resorts in Wayanad for families, based on various criteria we used:


| | |
| --- | --- |
| 1. | Raindrops Resorts |
| 2. | Abad Brookside Lakkidi |
| 3. | Vythiri Village |
| 4. | Wayanad Silverwoods |
| 5. | Pappy's Nest |
| 6. | Wayanad Blooms |
| 7. | Chateau Woods |
| 8. | Banasura Hill Resort |
| 9. | Blue Ginger Spa Resorts |
| 10. | The Wave |
| 11. | Hotel Sheelisach Inn |
Raindrops Resorts


Raindrops Resorts Wayanad is a luxury boutique resorts in Sulthan Bathery, near to the Muthanga Wildlife sanctuary, surrounded by coffee and pepper plantations and has a beautiful paddy field view in front of it. An in-house multi-cuisine restaurant, ayurvedic massage spa, swimming pool, campfires, games and activities, cycling, jungle safari and trekking, and honeymoon cottage are some of the notable attractions of this place. The bunker beds are also available which are really enjoyed by the kids. The traditional food prepared by the local chef is really good and the rooms are well maintained, neat and clean. All the staff and the overall team are very friendly and caring, the rooms and surroundings are spacious.

Address of the resort: Raindrops Resorts Pvt. Ltd.
Nambikolli, Sultan Bathery Road,
Wayanad - 673595
Phone: +91 83019 57119
Website: http://www.raindropsresorts.com/


Abad Brookside Lakkidi

Image credits: https://www.abadhotels.com/resorts-in-wayanad

Abad Brookside is a rain themed resort in Lakkidi, Wayanad. If you and your family love rain, then this the perfect place to spend your vacation. Nestled in the enchanting greenery, Abad Brookside Lakkidi has 18 garden facing cottages and 12 Brookside cottages. Infinity Pool, Beautiful Sit-outs, Balcony Areas overlooking the adjoining lush green forest area and renowned Kerala Ayurvedic Spa make Abad Brookside your family's favourite vacation spot.
The Multi-cuisine restaurant is the icing on the cake to the beautiful ambience of this family resort in Wayanad. Sit back, Relax. You and your family are going to love the rainy days.


Address of the resort: Abad Brookside Lakkidi,
Near Kunnathidavaka, Wayanad Dist.,
Lakkidi, Kerala 673576
Phone: 099465 82222
Website: https://www.abadhotels.com/resorts-in-wayanad


Vythiri Village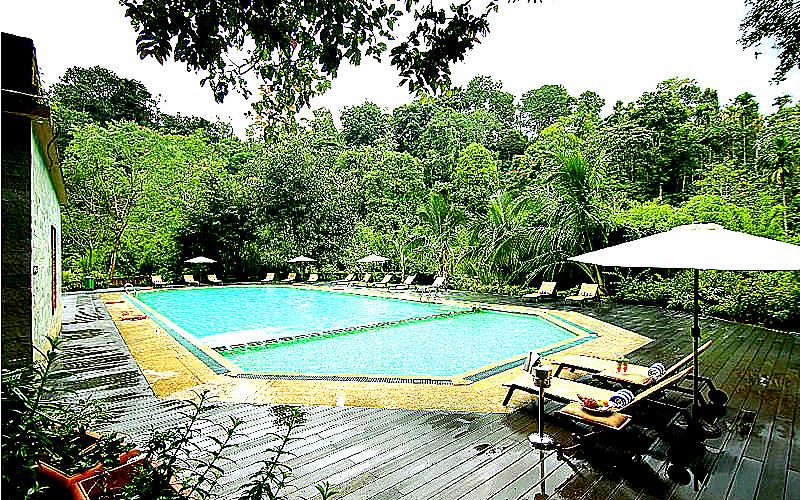 Image credits: www.sharoyresort.com

Vythiri Village is one of the best resorts in Wayanad Located near the Vythiri Town, the Vythiri Village has a lot of fun elements along with a good accommodation for all of its visitors. There is an artificial waterfall, fish spa, swimming pool, cycling area, conference room, mini golf course, convention centre, archery area, stream walk and zip line along with oodles of natural beauty to engorge upon. The stay can be really good as the food, the services and the staff is amazing and make your stay full of pampering and good memories. Special arrangements can be made for the Theyyam performance and barbeques on request. If you are travelling with your family, especially kids, you are bound to have a swell of a time at the Vythiri Village.

Address of the resort: Vythiri Village,
NH-212, Near Vythiri Town, Vythiri P.O,
Wayanad, Kerala 673576
Phone: 04936 256 716
Website: http://www.vythirivillage.com/


Wayanad Silverwoods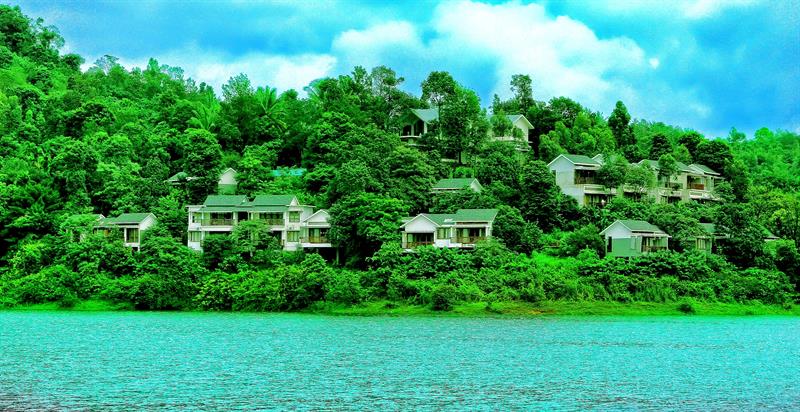 Image credits: www.wayanadsilverwoods.com

Wayanad Silverwoods is a premium stay in Kalpetta that offers you every luxury in the best possible way. There is various villa themed rooms such as Romantic villa for the honeymooners, Royale Villa for a royal experience of staying, Primero Villa with premium residential facilities etc. The visitors can enjoy a pleasant stay with pleasant views of the riverfronts, valleys, hills, and thus make the best out of their vacation. While travelling with family, especially kids, one has to be really considerate of the facilities available at the hotel etc. And Wayanad Silverwoods has all of it. Wayanad Silverwoods is one of the best resorts in Wayanad visitors are offered a welcome drink, and the staff makes every effort to make your stay wonderful. There are provisions for indoor sports, candlelight dinner, snooker game, foosball etc. One can enjoy exotic views of the Banasura Dam and have a candle light dinner surrounded by the amazing natural beauty the place has to offer.

Address of the resort: Wayanad Silverwoods,
Vythiri -Tharuvana Road, Manjoora P.O, Pozhuthana,
Kalpetta, Wayanad, Kerala 673575
Phone: 097464 75714
Website: http://www.wayanadsilverwoods.com/


Pappy's Nest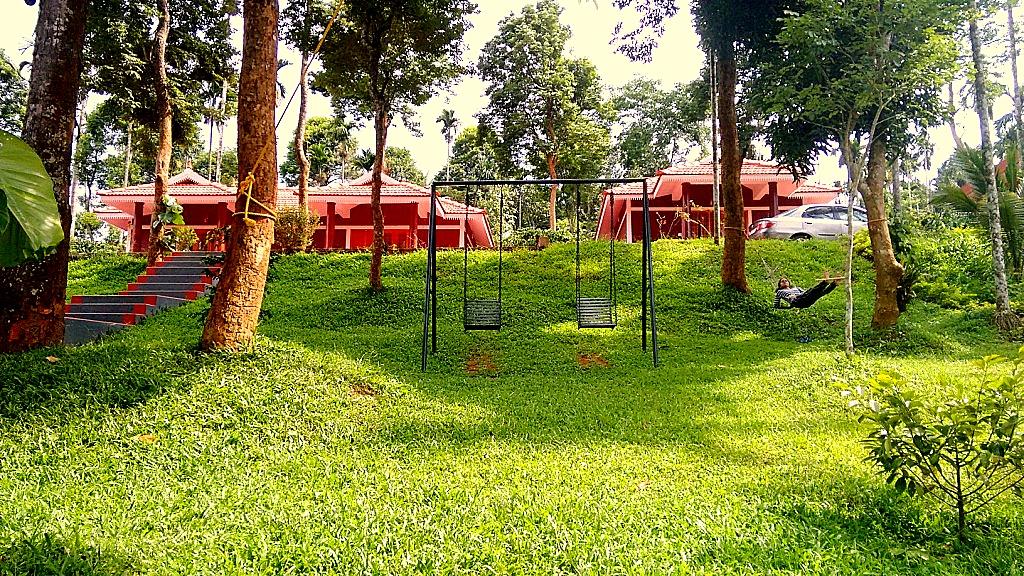 Image credits: www.pappysnest.com

The Resort is located in Kenichira and is one of the best resorts in Wayanad to stay while touring Wayanad or nearby areas. The resort has really amazing natural resources and is blessed with the best things nature has to offer. Water streams, lakes, plantation, flora, fauna, and that too with high-class infrastructure and services. The staff is helpful and dedicated. Boating facilities are available and the visitors are even allowed to do fishing in the lake. Pappy's Nest is basically a plantation resort which means you can have loads of fun with loads of nature all around you. There is a bird watching tree house where you can explore the birds inhabiting the Wayanad region. The children can play indoor games as well as enjoy small rides and swings in the garden.

Address of the resort: PAPPY'S NEST RESORT,
Kenichira P.O, Sultan Bathery,
Wayanad – 673 596
Kerala – India
Website: http://www.pappysnest.com/


Wayanad Blooms


Image credits: www.bloomsgreenfarm.com

Wayanad Blooms is located in Edakkad and is a place surrounded by trees and vegetation on all sides. An organic farm, bamboo huts, rabbits in the garden areas, campfires, small stream, mud house and honeymoon cottage are some of the notable attractions of this place. The bunker beds are also available which are really enjoyed by the kids. The food is good and the rooms as well as other, areas are properly maintained and clean. All the rooms are spacious and the surroundings are full of life with various colours of green flora. The hospitality staff and the overall team that is working over the place make every endeavour offer the best of the stay experience to all the visitors.

Address of the resort: Wayanad Blooms,
Wayanad District, Near Infant Jesus School,
Kenichira, Kerala 673596
Phone: 099955 52299
Website: http://www.wayanadsilverwoods.com/


Chateau Woods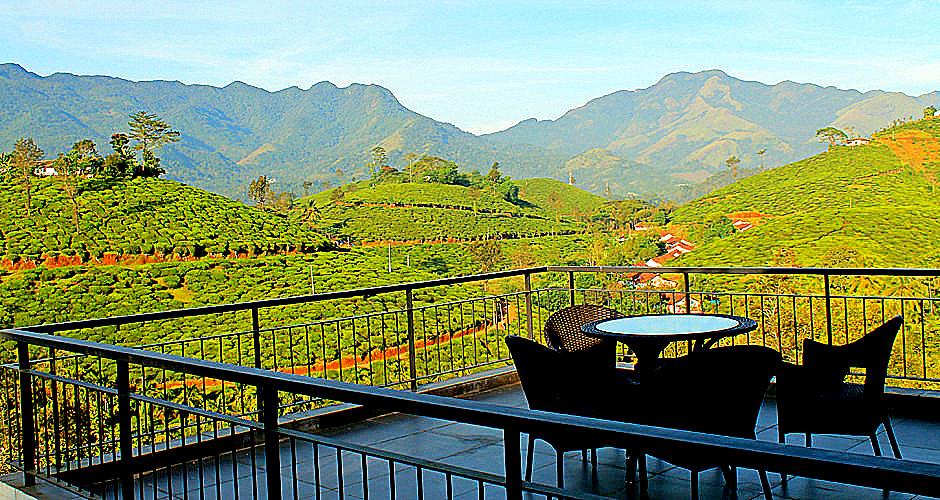 Image credits: www.cwoods.in

Located in the Chooralmala is one of the best resorts in Wayanad with the serene and peaceful surroundings, the Chateau Woods is a place that is teeming with life, fun, and oozes charm and elegance at the very first look. There is a private waterfall, amazing views of the nearby cliffs, a fishing pond, tea estate, table football, and an exotic view of the Soochipara Falls. The ducks and swans form an attraction for the kids. There are amazing balconies with deck chairs, recliners and other pleasant sit-outs. The balconies are blessed with amazing views and if you are lucky, the rains will fall and make you feel a part of the clouds. The residential facilities are really good and everything else such as food, hospitality staff etc strive to make yours stay the best possible.

Address of the resort: Chateau Woods,
Sentinel Rock Estates, Chateau Woods Road,
Chooralmala, Wayanad, Kerala 673121
Phone: 098470 91222
Website: http://www.cwoods.in/


Banasura Hill Resort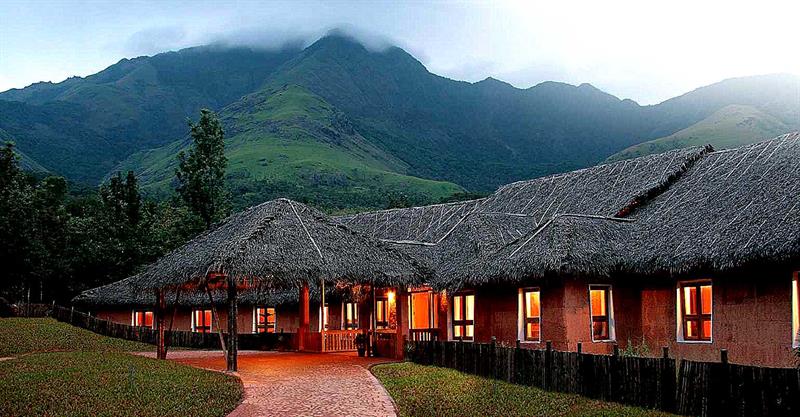 Image credits: www.banasura.com

Nestled in the lovely valleys of Wayanad, the Banasura Hill Resort is a yet another place to stay while touring the Wayanad region. Famous as a Nature Trail in the UNESCO approved world heritage site, the place is located amidst the hills and forest. The rooms are well furnished, the services are really good, the natural beauty around the area seems to have a lasting impact on the minds of the visitors. The place has the honour of being the only 'earth' resort of the nation and one of its only kind in Asia. You can enjoy the trekking on the nearby hills and remove the tiresome effects of the same by sipping the freshly ground coffee too. There is a spa to relax and rejuvenate your senses. The rooms always stay at a cool temperature because of being constructed in mud and no AC is required even in the scorching summer heat. Whether you are on a family vacation or on your honeymoon, the place is one of the best ones to stay at.

Address of the resort:Banasura Hill Resort,
Vellamunda, Wayanad, Kerala 670731
Phone: 095397 01354
Website: http://www.banasura.com/


Blue Ginger Spa Resorts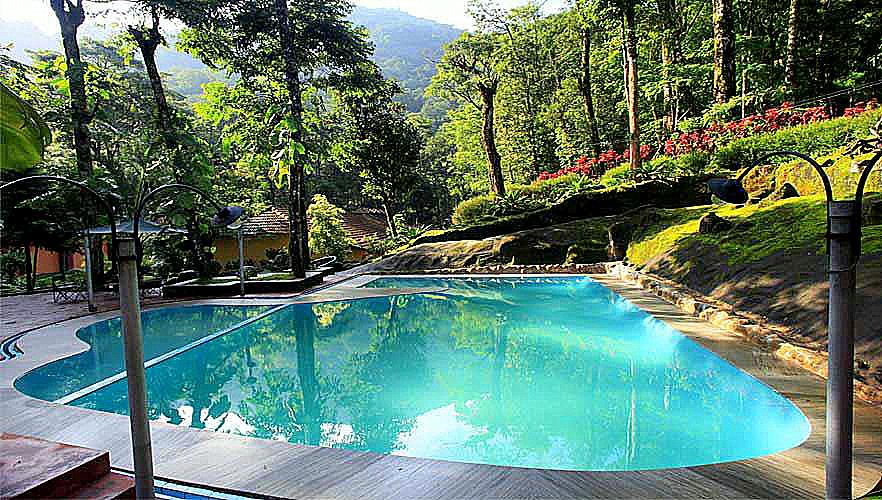 Image credits: www.bluegingerresorts.com

The resort is located in Melapoonchola and is one of the best resorts in Wayanad nestled cosily amidst the lush green and dense vegetation the area has to offer. There is a natural waterfall, hills for the trekking and camping experience, eco-friendly sustenance and amazing natural beauty. Other attractions include swimming pool, natural pool, western holistic spa, health club, multi-cuisine restaurant, bird watching areas, natural streams, bonfires, and a trek made more exciting by the streams, waterfalls etc.

Address of the resort:Blue Ginger Spa Resorts,
Melapoonchola, Old Vythri,
Vythri Post, Wayanad, Kerala 673576
Phone: 092874 39303
Website: http://www.bluegingerresorts.com/


The Wave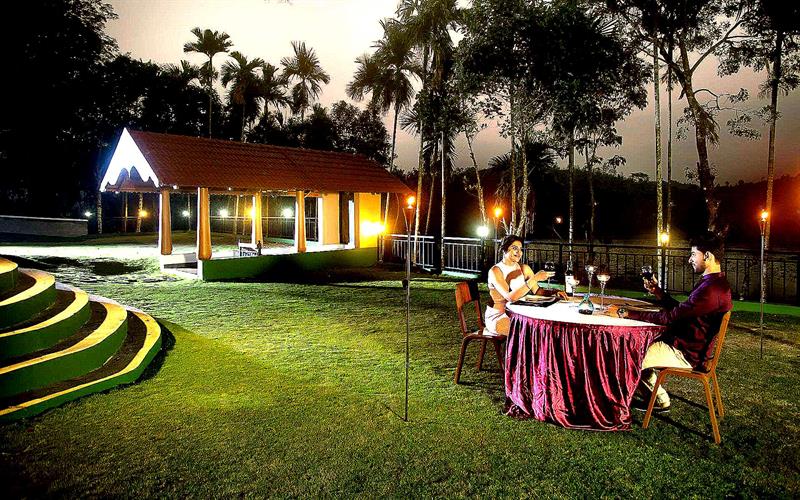 Image credits: www.thewavewayanad.com
The Wave is one of the best resorts in Wayanad is located near the Odavayil Lake Side and is famous for the excellent service and amazing décor. The rooms, balconies, sit-outs, all are well furnished and the visitors will find it a good accommodation. The bath rooms are large and well maintained too. The food is delicious and the natural beauty in the surroundings makes the whole place seem divine.

Address of the resort:The Wave,
Odavayil Lake Side, Ambalavayal,
Wayanad, Kerala 673593
Phone: 04936 260 164
Website: http://www.thewavewayanad.com/


Hotel Sheelisach Inn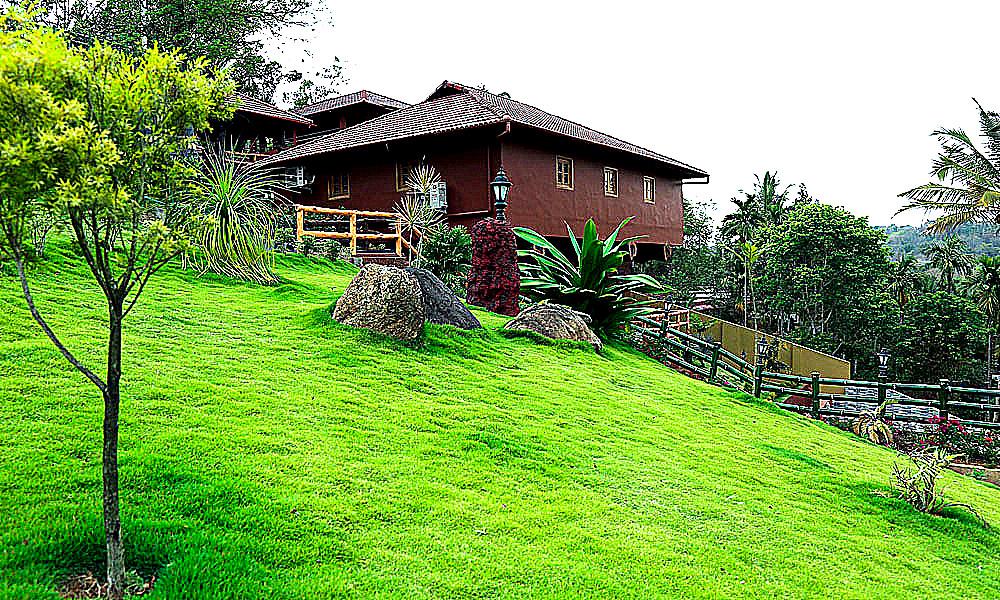 Image credits: www.sheelisach.com

The Hotel Sheelisach inn is surrounded by a completely different ambience as compared to the Sulthan Bathery town. The amazing views, natural splendour, helpful and dedicated staff, swimming pool, banquet hall, play area for kids, and tasty food – Hotel Sheelisach Inn has got it all.

Address of the resort:Hotel Sheelisach Inn,
State Bank Of Travancore Road,
Dist., Sultan Bathery, Kerala 673592
Phone: 070252 92223
Website: http://www.thewavewayanad.com/

Now, you have all the names of the best family resorts in Wayanad. Go hit the road and enjoy your vacations..!!

Also Read: Top Tourist Attractions in Wayanad