An Experience of Bali Hinduism and More

Bali is an ideal tourist destination for the Indian travellers. Read this article to know about Bali and experience of Bali hinduism


Bali is an island city in Indonesia. In recent years, it is emerging as a viable touristy option for Indian Travellers with varying budgets. For all its popularity, the island is still not a very crowded tourist destination where Indians throng in large numbers, say like the islands of Thailand. Thereby, it has retained much of its exclusive and exotic flavor. For one, it is relatively far off from India and it takes an eight hour flight to reach Bali. Add another 2-3 hours flight time and you will be in Perth Australia, another continent itself. The place sees a lot of Australian tourists, and since westerners are usually disciplined, Bali has remained a pristine location untouched by over-commercialization, pollution, and other grimy facts of most over-crowded tourist destinations. People in Bali are polite and helpful and leave you to do your business.

Bali has a predominantly Hindu population and the Hindu influence is unmistakable. Hinduism came to Indonesia from India due to trade activities between the two countries. Slowly, it was replaced by Buddhism which eventually got displaced by Islam. While Java and Sumatra regions of Indonesia embraced Islam, Bali continued to be a follower of Hinduism. Today 83% of Bali population is Hindu.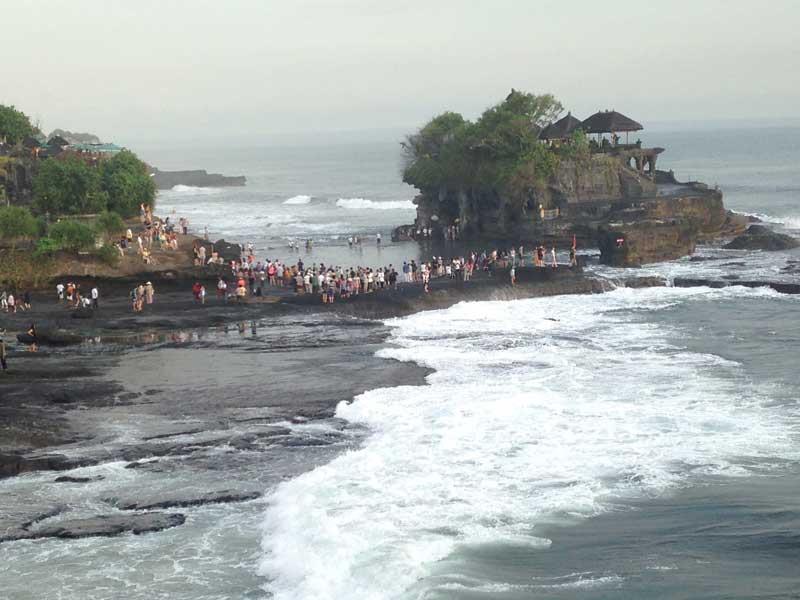 Bali Hinduism like Indian Hinduism is based on the concepts of dharma that is, good and adharma that is, evil, and the struggle to achieve balance between these two opposing forces. Some of the features distinct to Balinese Hinduism include usage of local animism in their rituals, belief in reincarnation where people are believed to be reborn in the same family, reverence for Buddhist Saints, tantric based rituals and an elaborate cremation ritual where death is viewed as a celebration. Once a year, the island observes a day of complete inactivity. This day is known as 'Nyepi' , the 'Day of Silence' and is commemorated on Saka New Year (Hindu New Year). The day is observed as a public holiday and the people involve themselves in fasting, meditation and self-introspection. It is believed that the complete silence and inactivity will scare away evil spirits and negative elements from the island. Their belief is so strong that for a day the whole island is off business. Tourists are compelled to stay inside hotels as all beaches, shops and recreational spots and even Bali airport remains closed. The only exception is emergency services.

During late evening hours, it is heart-warming to see locals glued to their television sets watching the local TV serial 'Mahabharata'. Another regular ritual is offerings in leaf trays containing eatables like rice, salt, biscuits etc. and incense sticks. These offerings are seen outside people's homes, offices, malls etc. On inquiry, we found that it is a daily ritual and the offerings are for Lord Acintya - the supreme god hailed by the Balinese, and his manifestations.

The island seems to be deeply influenced by the epic tales- Ramayana and Mahabharata. The influence is lot more than what is here in India. It has permeated their day-to-day lives to an extent that there is a mocktail offering called 'Ramayana' and a cocktail labeled 'Ramayana Pimms'. There are statues of Arjuna, Bhisma Pitama, and Ghatotkacha that stand tall on the roads of Bali; such is the popularity of the epic characters. The national airline in Indonesia is called 'Garuda', which in mythology is the name of the bird used by Lord Vishnu as his vehicle.

Bali has a number of Hindu temples. Tanah Lot is a very famous temple in Bali. The iconic temple built on large offshore rock worships the deity of Dewa Baruna, the sea god. The temples in Bali usually have invincible deities represented by an empty throne. Deities are said to reside in nature- in mountains, sea, oceans and sky and visit the devotee when invoked. The temples have courtyards, doorways, and guardian gods who act as doorkeepers to the temple. But inside the temples, there are no deities.

Tanah Lot temple- famous for a beautiful view of sunset

The temples in Bali require visitors to wear their traditional temple attire before they can go inside. The gods, goddesses, demi-gods, and other epic characters have similar sounding names as those in India but not exactly the same. For example, the epic character from Ramayana is called 'Sintha' in Bali and not 'Sita' as we call her in India. Vishnu is spelled 'Wisnu'. The external appearance of the gods, goddesses, and epic characters are typical of the land.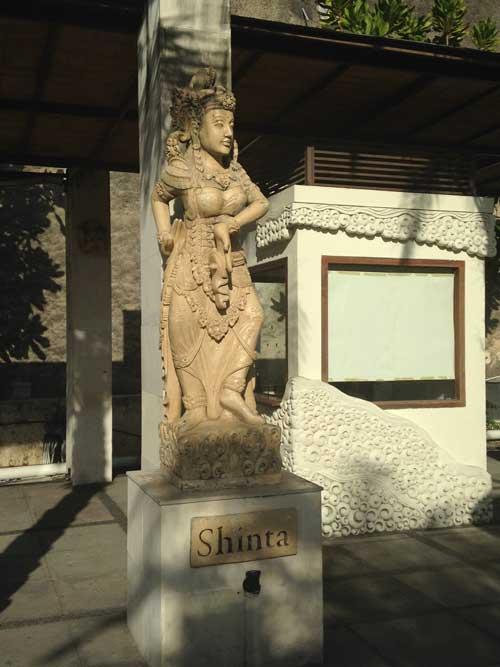 A statue of epic character 'Sita' known as 'Shinta' in the island

Apart from a culture steeped in religion and spirituality, a tourist to Bali can enjoy old historical sites, beaches, mountains, animal parks and a happening night life. Beaches in Bali are clean with wonderful water activities like the flying fish that is not found in India. What is important is that tourism in Bali is cheap given the recreation options it offers. An added plus for a tourist is the food in Bali, which is varied and exotic. The use of local herbs and spices is liberal giving the dishes, mostly non-vegetarian, a distinct flavor. The high-end restaurants have a classy feel and many are by the sea-side. For an Indian traveller, accommodation in a budget hotel with good amenities will cost between Rs.2500-3000. A person can enjoy a filling meal for Rs 300-400.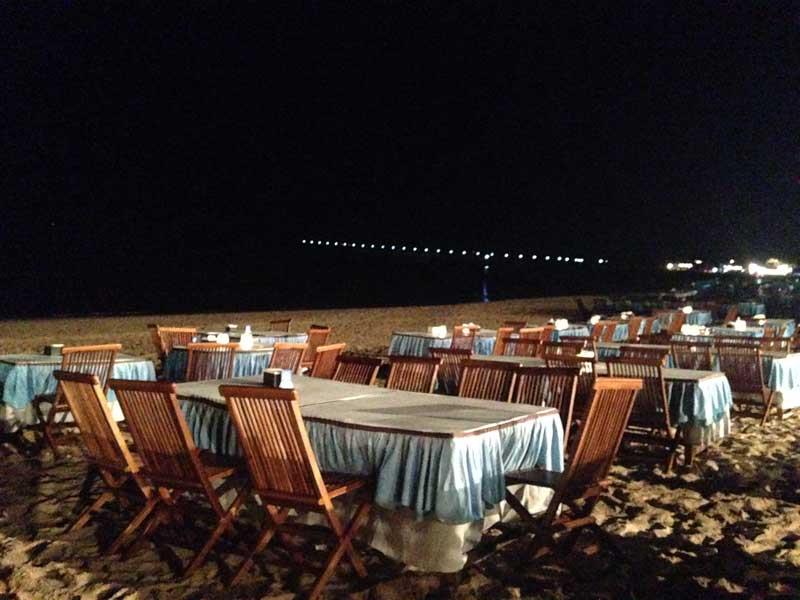 Jumbaran Restaurant by the Sea beach, popular Hindi movie songs are crooned by local entertainers on seeing Indian visitors
Flying Fish Water Adventure on a beach in Bali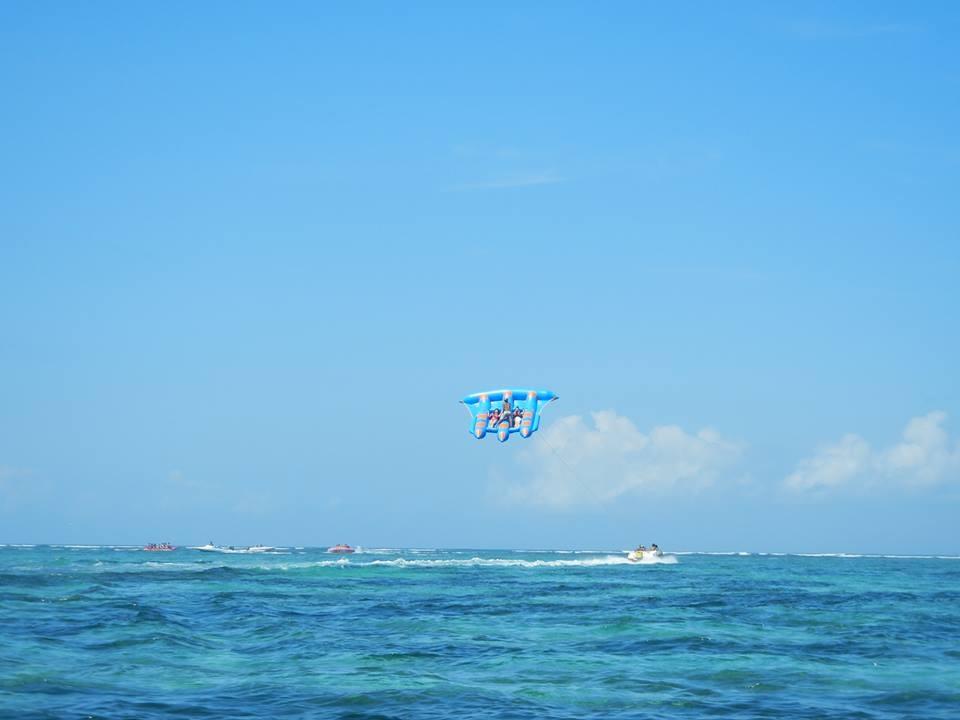 All in all, Bali is a great tourist destination with a good mix of tradition, culture, and modernism packaged together. On one hand it transports us to the era of demi-gods and mythology and on the other, gives a taste of modern life with great shopping options, water adventure, upmarket restaurants and a vibrant night life. Do visit Bali and be ready embrace a very unique experience.