Badami Cave Temples

Are you planning to pay a visit to one of the most astounding destinations in Karnataka? Badami would be an ideal location with its spectacular cave temples, intricate paintings and structures.


We were to visit Davanagere in Karnataka to attend a naming function of our nephew's son. We wanted to explore what can be seen in around that place apart from Harihar. This is because we shall be traveling so long and far from Hyderabad and why not make the travel more enriching. We are, of course, travel buffs making minimum two getaways a year. We have heard about Badami Caves being very famous and much talked about for their Chalukyan Architectural wonders. We thought we will cover that.
We had a nice bus journey from Hyderabad to Davanagere starting evening 8.30 pm from Kachiguda Station, Hyderabad and reached Davanagere around 6 am (Bus further travels for two more hours to Shimoga, a place close to famous Jog Falls.) This place Davanagere is busy on famous for cotton Sarees and of course for Desi Butter Dosa. You love it. We had a nice time at the naming function and were free to move on, 3 pm onwards.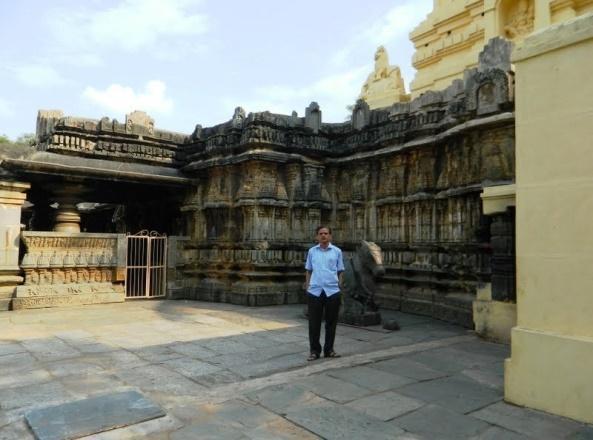 We went to Harihar just about 14 km in a bus, to have a Darshan of the Lord but the temple was closed. Of course, we were lucky to have that opened after a brief wait. It is on the banks of River Tungabhadra but no water at this time in the river (November). When we reached bus stand to go to Badami we were told that there are no direct buses in the evening and we must go to Gadag about three hours away from Harihar (150 KM) and try our luck. Badami is about an hour and a half from Gadag (65KM). Left with no option we boarded a KSRTC bus and reached Gadag around 8 pm ( 140 KM). We were advised to halt at Gadag, a relatively better town with train connectivity than Badami. So we took a hotel for the night stay. Not so good hotel, but okay for a night: a budget hotel at 300 rupees per night. We had food outside and went to bed early to catch the morning bus to Badami so that we have a full day at our disposal to explore the places leisurely. We came to know later that there is a nice temple in Gadag dedicated to Lord Vishnu, Veeranarayana temple, we missed out due to lack of information.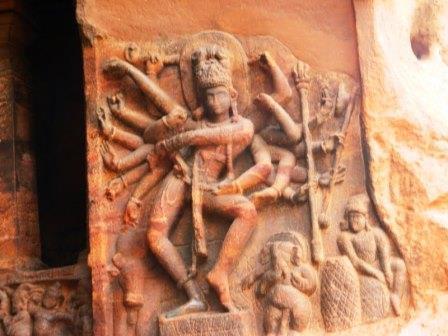 We were at Badami, also known as Vaataapi earlier, by about 8 am and were having breakfast at a restaurant and checking with people about our program. To our pleasant surprise, we were told that Pattadakal, Banashankari, and Aihole can be covered in few hours as they are just about that place within a radius of 20 KM. Few Taxis, Autos were available. We were only two and since the distance to be traveled is not much at a stretch, we went for a good looking auto. We struck the deal at Rs 300 for the whole trip ending at Aihole and, of course, at our pace. For the full day, to be sure. It is nice to have a vehicle at your disposal so that you can take a call either to trek or to climb on to the auto as we wish.

First, we went to Badami Caves. Magnificent!! My words fail me to express more than that. It is a beautiful view and a feast for the eyes. Badami is famous for its sandstone cave temples. Cave temple 1 at Badami is made of red sandstone and has a hall with numerous pillars and a square shaped sanctum hollowed in the control back wall. There are paintings of amorous couples on the ceiling. Other features include Shiva and Parvathi with a coiled serpent and the 18 armed Lord Nataraja in 81 dancing poses. There are 4 major cave temples here. We enjoyed the temple sculpture to the core. It is not much taxing if you take your time and relax. These are Gigantic statues with so intricate and fine sculpture. The skills and dedication of the artisans to the fore once you look at them; few snaps are with this travelogue but one must see to believe and appreciate. We were reminded of Hampi and Ellora and in a way even our visit to Egypt when we were looking at these huge rock temples with beautiful carvings with various mythological themes. These temples were constructed by Badami Chalukyan kings between the 6th and 8th centuries.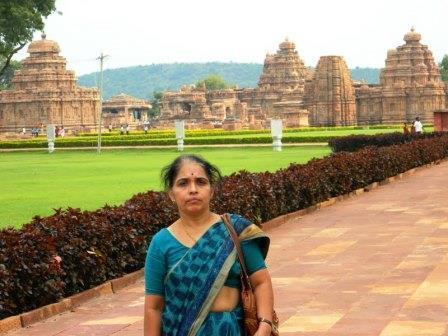 After almost two hours we went ahead in our auto to Pattadakal about 18 km away. This is another masterpiece and one would be awestruck looking at the intricate carving and gracious structures. These have been reorganized in this area due to submerging of the area where they were earlier. It is Very clean and well maintained. Pattadakal (Anointing Altar) stands for the holy stone which is used while anointing a new king of the dynasty who succeeds to rule as per succession or otherwise. This is a royal custom and tradition. Since all are organized in one location we could complete our visit in about an hour and a half.
We went to Aihole (10 KM) passing through Banashankari and Mahakoota. At Banashankari, we had a Darshan of Goddess Banashankari. We stopped over at Mahakoota, a temple dedicated to Lord Shiva and it gave us a very good feeling visiting that very ancient temple dating back to 7th century. Not maintained at all and we could see scores of bats hanging from the roof and it was not clean. We have not heard about this one before coming here but came to know while chatting with our auto driver cum guide. There is a place nearby called Kudala Sangama (confluence of rivers) where rivers Krishna and Malaprabha meet and flow towards Srisailam in Andhra Pradesh. This is pilgrimage center and a very good place to visit when there is water, post monsoon, sometime during September or so. We did not visit this place.



We managed our lunch while traveling with whatever we brought from home and that which we picked up en route as there are no good eating places. We also ensured to carry drinking water with us to avoid dehydration though the temperatures are not high but it was a bright sunny day. Roads are average and being in auto, ride was a little bumpy.

From here we went to Aihole and started seeing relocated temples. There are about 20 or so. But could visit only 7 or 8 as time was a factor as we were to catch a bus that night from Bagalkote to Hyderabad. We took an auto from there to a place called Amingad about 9 km from Aihole and from there took RTC bus to Bagalkote, about 40 minutes ride. We had enough time for dinner before we got our bus ride to Hyderabad at 9.30 pm and reaching Hyderabad around 7 am.

It was a fulfilling and very enjoyable tour, albeit short. We covered so much and in so little time. What we invested for this trip was just peanuts.

Our enchanting memories about this place are still so fresh as we bow our head in all humility to those great sculptors and artisans who created these masterpieces of art and to those who encouraged such activities generously.
Lord blesses us all.