Accommodation in Valparai - Homestays and Hotels in Valparai

Are you looking for hotels, resorts, homestays or lodges in Valparai? I recently visited this place and have shared details of accommodation available there.


Valparai is a small hill town in the middle of forest land, in the State of Tamil Nadu, located on the Kerala border. With thousands of acres of tea estates all around, this place is abundantly blessed with natural beauty. However, this is still an unexploited tourist destination and for the same reason, you don't have a lot of choices for accommodation.

In last 2 years, the number of people visiting this hill town to enjoy the natural beauty is increasing. Since this hill station can be accessed only through forest roads which are closed after evening, tourists are finding it difficult to stay and enjoy this place to its best. The visitors who like to return after a visit to Valparai should leave the town by 5 pm so that they can return before the forest check posts are closed.


Accommodation facilities in Valparai

There are a couple of homestays, lodges, hotels and small bungalows in Valparai for accommodation. I personally visited some of the properties in March 2017 and have shared the details available.


Hotel Saravana Grand - a mid-range hotel in Valparai

Hotel Saravana Grand is a relatively new hotel with a total 30 rooms. Both A/c and Non A/c rooms available. All rooms are very spacious. You can choose rooms with 1 bed, 2 beds and 3 beds. The 3 bedrooms are suitable for big families or groups. Even with 3 beds, there is sufficient space in the room to walk around comfortably.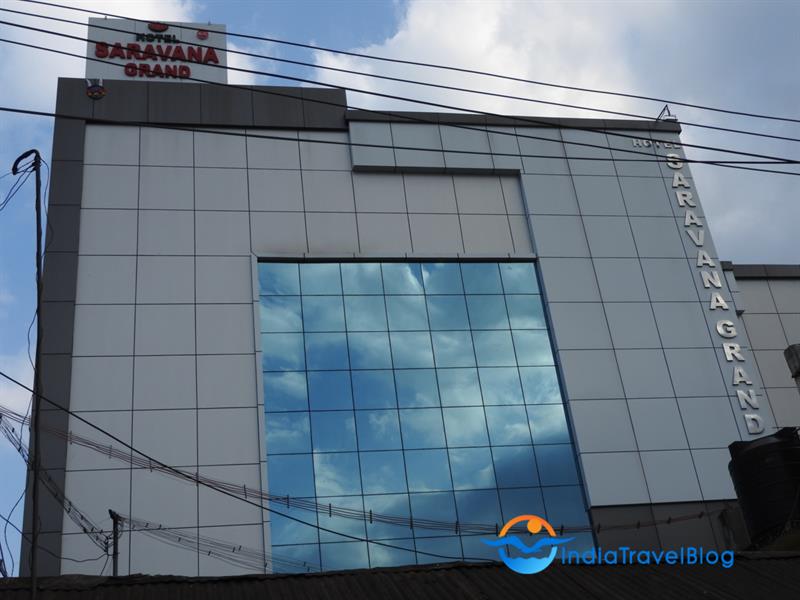 Advantages of Hotel Saravana Grand
Hotel is located in the middle of the town and is just 200 metres from Valparai bus stand. I personally don't like a crowded place like the middle of the town but if you are looking for easy access and want to be close to the shops, then Hotel Saravana Grand is in an ideal place.

There is an attached multi cuisine restaurant. We ate lunch there and I would rate it only 3.5 out of 5. However, I was told by some sources that this is the best you can get in town. There are no premium restaurants in Valparai town.

Hotel Saravana Grand is located in a crowded place and I struggled to park my car when we went there for lunch. However, later I understood that they have safe parking space behind the property for residents of the hotel.

There is ample space in the terrace of the hotel where a small party or gathering can be arranged. It has a great view from the top and is well decorated with flower pots.



Triple bed room can accommodate 3 - 6 people

Other services offered include:

1. Laundry service.
2. Wi-Fi access.
3. In-room dining
4. Travel desk

Address: 9/73, State Bank Road, Valparai - 642127

Website: www.valparaihotelsaravana.com

Phone: +91 4253222466, 467, +91 9487222466

Room Rates:

Standard Double: Rs 1,200/-
Deluxe Double A/c: Rs 1,500/-
Standard Suite: Rs 2,000/-
Deluxe Suite A/c: Rs 2,500/-

I wouldn't call Hotel Saravana Grand a premium hotel, but as far as I could find, this is the best among all the hotels and lodges in Valparai. They do have housekeeping services, travel desk, security, parking, laundry service etc. Other small properties in Valparai do not have any such professional services, even though they might make some arrangements if you ask for it.


Green Hill Hotel, Valparai

Green Hill Hotel is located opposite to the Hotel Saravana Grand and shares pretty much the same location benefits. It is close to the town, bus stand and shops. However, their entrance is a bit hidden among various shops which are sharing the ground floor of the hotel building. They do have some parking space in the ground floor.

Some of the rooms have a pretty good view of the tea gardens and the valleys. If you are walking in without advance reservation, check the views and the room before you check-in. Ask for a spacious room with a good view of the tea estates.

Parking is a bit touch and the approach road to the hotel is narrow (which is the same road leading to Hotel Saravana Grand). Ask for help from hotel staff if you are not able to find space to get in and park safely.

They do have a multi-cuisine restaurant as well.



Hotel Hill View is located opposite to Hotel Saravana Grant

Room rates:
Rooms are pretty spacious. They do have large rooms with 5 or 6 rooms for a comfortable stay for big families and groups.

Super Deluxe Room - Rs 2500/-
Deluxe Double Room - Rs 1410/-
Standard Double Room - Rs 1100/-
Five Bedded Room - Rs 2372/-
Six Bedded Room - Rs 2768/-
Extra Bed - 300/-

Contact Green Hill hotel
Email: greenhillhotels@gmail.com
Website: www.greenhillhotels.com
Landline: 04253-222861-3, 222562 / Fax: 04253-222262
Address: State Bank Road, Valparai

Location map



3. Idham Inn

This is a new property close to Valparai town and looks pretty clean. They have only a couple of rooms. The rooms on the second floor have a good view of the valleys behind the building.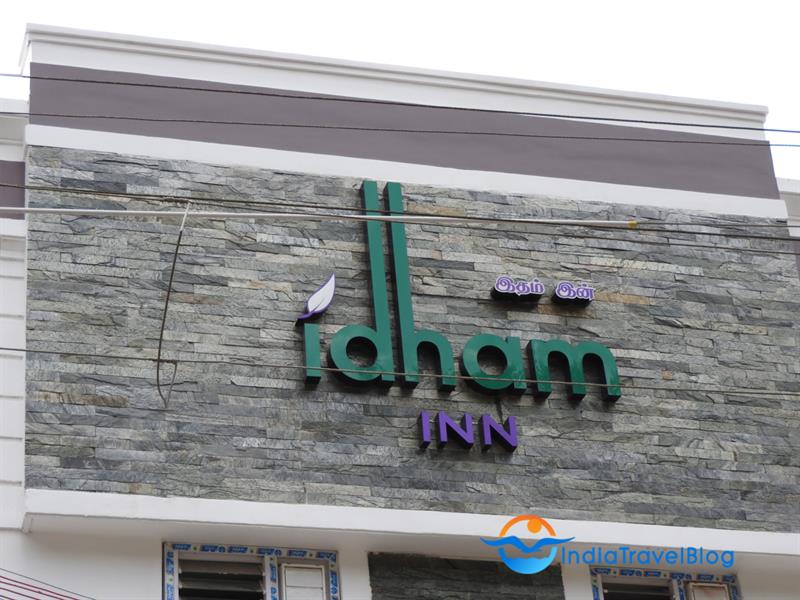 Bunk bed above the main bed can sleep 5 - 6 children

Advantages of Idham Inn:

1. Located adjacent to the Valparai - Pollachi road, just 200 metres from Valparai town.

2. New property, so rooms are very clean.

3. In addition to the bed in the room, they have a loft kind of place in some of the rooms, which has 3 beds put together and can sleep 5 - 6 people. So, if you are coming as a group or a big family, then these rooms are ideal.




Rent: Room charges vary from Rs 1,200 to Rs 1,500, depending on the size of the room and season.

Address: 118 , Kamraj Nagar, Pollachi Main Road, Valparai

Phone: +91 9994948788, 9894646566