Best place to stay in Wayanad with family

This article introduce you some of the best place to stay in wayanad. To accommodate visitors Wayanad has dozens of hotels and resorts. And choosing the right one will make your stay a memorable one. Find the best place to stay in Wayanad!.


Natural scenic beauty and breath-taking landscape makes Wayanad one of the top tourist destinations in India. To accommodate the millions of visitors who stream here every year, Wayanad has dozens of hotels. Most visitors prefer to stay in Holiday Apartments / Resorts / Homestays as opposed to old fashioned hotel rooms that usually only have a bed and a bar fridge.

Read more about Best 11 Family Resorts in Wayanad


This article highlights Top 5 best resorts and hotels in Wayanad.
#1. Le Villagio Holiday Apartments ( Great Value for Money)
Located - Dhottappankulam, within Sultan Bathery, Wayanad.

Le Villagio is one of the best value for money family hotel in Wayanad. They have got very classy interior rooms and every inch of the suite is so meticulously architected, especially their selection of white color theme - brings you a vibrant positive energy through out your stay. Le villagio offer both Two bedroom and One bedroom apartments. Their apartments are large and clean, and some have a balcony from where you can enjoy magnificent natural scenery and the surrounding landscape as you sip on your morning coffee. Le Villagio offers real value for money, with apartment prices averaging $55. The staff at Le Villagio homestay in Wayanad are hospitable, kind and courteous. They are also great tour planners with lots of recommendations any time you feel like you need to venture out. And if you're not in the mood to try one of the local recipes in the apartment kitchen, you can grab a meal in one of the many food joints around this facility. There's a well-maintained children's play area where your kids can play while you log in to your PC to check whether you've got new mail.So this is one of the best place to stay in wayanad.

Bookings can be made on site, but you're better off checking for availability and seeking more details via Le Villagio's official website. They have a very good customer service chat option on the website that runs for 24 hours a day.
Contact: www.levillagio.com | info@levillagio.com | +91 9446976000


#2. Vythiri Resort (Luxurious Stay)
Located - Lakkidi P.O, Wayanad.

Vythiri Resort is a top-rated hotel apartment Wayanad located 18 km from Kalpetta town.And this is one of the best resorts in Wayanad. It comes across as an exquisite jungle getaway that provides easy access to many of Wayanad's tourist attractions. Vythiri Resort is situated beneath a large canopy of lush tropical forest, and offers great views of breath-taking natural scenery. Guests can enjoy the natural vegetation, butterflies in the Vythiri rainforest, reptiles, fish, birds and mammals within the proximity of the hotel. The staff at Vythiri are very friendly and kind, and the food is great. There are TV-free tree houses for accommodation, and traditional dances, magic shows or live music is often provided within the facility. If you're excited about staying in a tree house and singing with birds, Vythiri Resort is a great pick. The on-site spa is excellent, plus there also an Ayurveda Centre for whole-body healing, a conference hall, a coffee shop, a multi-cuisine restaurant, a swimming pool, a games room and a health club. Tours to any tour spot in Wayanad can be arranged for from Vythiri. For guests who are willing to pay premium, Vythiri is an excellent Wayanad hotel.
Contact: www.vythiriresort.com | vythiri@lezeldor.com | +91 4936 256800


#3. Wayanad Silverwoods (Scenic Location)
Located - along Vythiri -Tharuvana Road, Manjoora P.O, Pozhuthana, Kalpetta, Wayanad.

For travellers who are spoilt for luxury, this is arguably the best place to stay in Wayanad.Located in Kalpetta area, this resort offers comprehensive luxury villas for guests.The hotel is laid out over an extensive area of 16 acres, and offers great views of the surrounding Banasura mountains. Activities include guided bird watching, trekking, fishing, boating, and nature walks. Visits can be organized to Banasura Sugar Dam, the largest earth dam in India (second largest in all of Asia). Guests can also visit Edakkal Caves, Glass Temple, Chembra Peak, and many other Wayanad attractions. There's a cookery class that offers lessons in authentic Malabar cooking, and a fully organic garden for those looking to learn some hands-on backyard garden skills. Wayanad Silverwoods has a fitness centre, club house, convention centre, lobby, an infinity pool, a kids' play area, an ayurvedic spa on premise. Concierge services can also be arranged for. Although the services here are a little more expensive compared to some other hotels in Wayanad, this resort is ideal for honeymooners or families who're looking to pay more for a top experience.
Contact:www.wayanadsilverwoods.com | email@wayanadsilverwoods.com| +91 97464 75714


#4. The Woods Resorts (Escape from City)
Located - Chethalayam, Sulthan Bathery, Wayanad.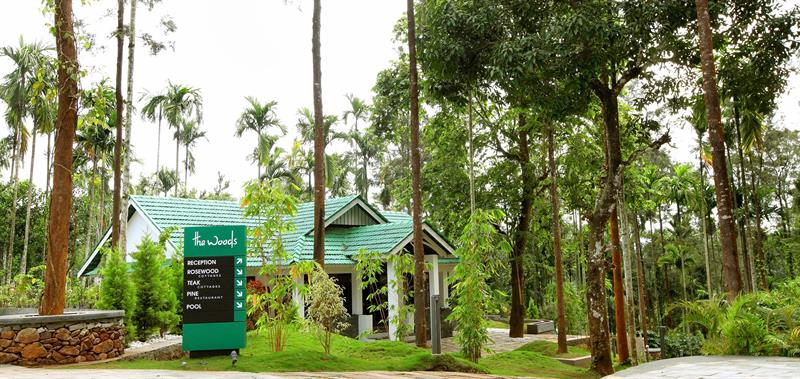 Located in Sultan Bathery, the Woods is one of the best resorts in Wayanad. They have 10 exclusive cottage rooms, made from rosewood, teak wood and even tree houses for a really set-back experience for visitors looking to spend some relaxing time off their regular schedules. This particular resort is located in a very quiet place surrounded by verdant greenery. There's a coffee shop that provides a 360-degree view of the surrounding forest. Also, available on site are a kids' playground, a meditation centre, a swimming pool, golf carts, a business lounge and a curio shops. If you're into food, you can try some local delicacy at the multi-cuisine restaurant located within the Woods resort in Wayanad. Visitors to this resort can trek in the surrounding forest, enjoy some fishing, camping, or try the Ayurvedic whole-body healing medicine at the Woods Ayurvedic Spa. The lovely cottages and abundance of activities make this one of the best honeymoon hotels Wayanad.
Contact: www.thewoodsresorts.com | reservation@thewoodsresorts.com |+91 8593 8593 62


#5. The Wave Wayanad (Homely Experience)
Located - Ambalavayal, Wayanad.

The Wave is one of the best place to stay in wayanad for vacation rentals. This facility is located proximate to the picturesque Odavayil Lake, and it's a little set off in the bush. Most visitors here pro-rate the excellent natural ambience, and the hospitable staff working at Wave Wayanad. The food is great and there are a lot of options to choose from based on your tastes. If you're more of nature walk buff, or a bird watcher at heart, you'll enjoy ¬¬strolling around the estate in the mornings or evenings. There's a banquet hall, a swimming pool, a children's play area, and a health club on site. Outdoor excursions and activities can be organized from the hotel by the friendly staff. Visitors here can also try some Ayush Ayurveda ancient wisdom for a true sense of relaxation and tranquillity.
Contact: www.thewavewayanad.com | sales@thewavewayanad.com | +91 97444 45288


Conclusion:

Holiday apartments are especially ideal for families with kids and honeymooners. Normally it comes with a living room, fully equipped kitchen, bedrooms, reception, etc. The main advantages of apartments are, you can utilize the kitchen facilities to cook or warm food for children. Holiday apartments also come with housekeeping services and reception desk. They are comparatively cheap, but since it is generally located near or within the cities, they provide lesser outdoor activities compared to resorts. Nonetheless, they are best place to stay in wayanad for travelers who're more into sightseeing than spending time within the property.

Resorts are ideal for couples or families who likes to spend more time relaxing within the resort rather than going out for sightseeing. They are more expensive compared to hotel apartments, but provide comprehensive facilities within the property itself. Resort accommodation comes with full board meals, outdoor activities, swimming pools, home service, front desk, etc. Before you book into a particular resort, it's important that you consider its road accessibility, Wi-Fi condition, and whether there are insect problems, as most of the best resorts in Wayanad are far from city and in remote areas.

Homestays are popular in Wayanad. These provide a complete home-away-from-home experience and kitchen facilities with self-cooking options. It's no wonder they are popular with large families or families who like a quiet, independent stay away from city hassles. Most homestays lack a front desk and do not provide room service or housekeeping services. Before you book into a homestay, it's important that you check on the food options, and availability of Wi-Fi and electricity backup. Homestays are best place to stay in wayanad that is recommended for visitors who're looking to explore the local experience and cultural tours. Some homestays are part of a large house where the host family stays on the other side of the house.

There are dozens of hotels in Wayanad, each one with its unique advantages and service options. This list is meant to provide general tips for visitors who're looking to find a great home stay while sampling some of Wayanad's natural magic. If you'd like more information on any of the facilities mentioned here, simply let us know in the comments section below.


Also Read: Wayanad Tourist Attractions