Family Trip from Jodhpur to Vaishno Devi

Family Trip from Jodhpur to Vaishno Devi was a divine and beautiful journey. We have enjoyed a lot in this trip. I have shared all vital details which will be useful for you when you plan for Vaishno Devi Yatra. Hope you will enjoy.


It was a 5 days trip from Jodhpur to Jammu and back to Jodhpur.

We started our journey in Jammu Tawi express from Jodhpur station and got in train at 8 pm from Jodhpur and we reached at Jammu Tawi next day same time.

After arriving Jammu Tawi we went outside railway station and there is one Dharamsala just outside station. We had taken our dinner over there and take Yatra Parchi which is necessary document for Vaishnodevi.


Trains Available


Ahmedabad Jammu tawi Express
Ajmer Jammu Tawi Pooja Express


Travel and Accomodation


Maa Trinyani Palace , Katra

If you do not take Yatra Parchi , then you have to take in Katra at some authorized center but make sure you have taken it otherwise you are not allowed at Banganga.

We came to taxi station outside railway station where we got a cab to Katra which is almost 80km from Jammu Tawi station. This cab cost up to 1200 for four people. If you are only a couple you can also share the cab with someone and it will not cost you a lot and the best thing about it. There are buses to Katra but they do not have any time table to follow so better hire a cab and reach Katra.

We reached Katra at 11 PM and checked-in to hotel Maa Trinyani palace in Katra . The hotel staff is supportive.We took rest at night and next morning we woke up early and had breakfast at hotel and hotel cab dropped us at Banganaga (cab drop and pick up till Banganga given by hotels )

Now at Banganga we went through some security check and they scan our Yatra Parchi, so without Yatra Parchi you cannot go inside.


Mandir Darshan


There are tattoos(donkey) or Palkhi Wala who take pilgrims to Mandir Darshan. Vaishno Devi shrine board also have helicopter facility. You can book it online in advance and it is also reasonable rate.

you can get info here
https://www.maavaishnodevi.org/helecopter_detail.aspx

We started journey on foot .There are lots of vendors who sell eatables and there are some authorized Bhojnalaya which prepare delicious Rajma Chawal on the way.
We reached Ardhkuwari but we could not get Darshan as it was rush and so we walked to reach at Vaishno Devi temple and got Mandir Darshan .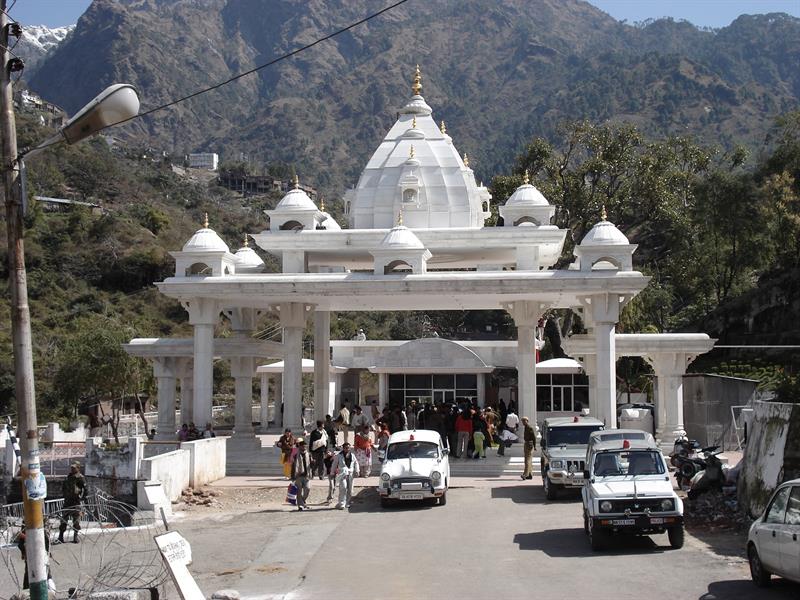 Next we moved forward to get Darshan of Bhairav Nath without which this journey could not have been called completed. It is 2 km above the Vaishno Devi Temple and then started to get down and came to Banganga around 8:30 PM. Our hotel cab came to pick us up and drop at hotel.
Next day we got train from Katra station to Ajmer. It was the best trip we had ever and came back to home with lots of memories.
Hope this article will be helpful to those who plan a Family trip to Vaishno Devi Mandir Darshan.