Cruising in New Zealand

New Zealand consists of over 15,000kms of coastline and to explore such a long extensive coastline, there's no other way than cruising. So this article is all about 'new zealand cruises' where you will get to understand the ports, destinations for cruising and so on.


New zealand cruises are much popular even before than any other country because waterways was the only route available to reach New zealand. Even in the past when the first settlers came in, they came by boat. And now, at present, new zealand cruises has reached an another level in terms of tourism, luxury and pleasure.

New Zealand has got a long extensive coastline which makes cruising between the destinations short or rather overnight. The distance is less but there is no compromise in the beauty of its landscapes. If you're after exploring beaches, visiting national parks for wildlife or learning about the art & craft made by Maori people, New Zealand has it for you. Tourists takes experiences and memories away post their trip.

Now focusing more on cruise destinations, each and every destination has something to offer. And these destinations are untouched, unexploited and unique in terms of everything. Below is the map of the cruise destinations.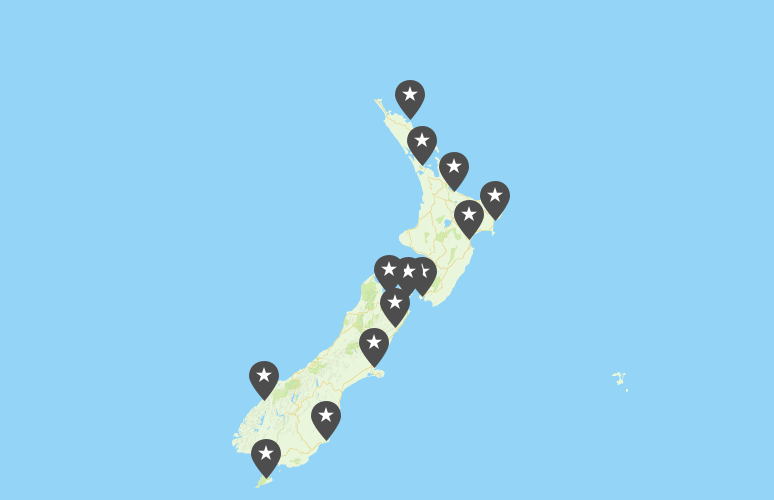 Following are the cruise destinations
Christchurch & Akaroa Christchurch & Akaroa is situated on the borders of the Pacific Ocean at the palms of Canterbury Hills. Though Christchurch faced a massive earthquake in 2010 and 2011 but despite the destruction, it has re-invented the spirit of tourism. The city now is filled with world-class cafes and restaurants, wineries, galleries of art & craft to museums of sculptures and paintings etc. Akaroa is the place where cruise ships anchor. It is a small village with French style buildings, stalls and markets and its approx. 90mins drive away from Christchurch.

Shore Excursion Activities in Christchurch & Akaroa



Akaroa is the perfect blend of French architecture along with New Zealand's local food stalls and shops. One can enjoy the delicious cuisine of Akaroa in a local way or at a world-class café/restaurant. Also, the world's rarest dolphin that is 'Hector's Dolphin' is found here. You can opt to travel by boat at Akaroa harbour to get a glimpse of this small dolphin.


The best way to explore the city of Christchurch is by Open Top Double Decker bus. You will get the best views of the city-life and food stalls, shopping shop's, gardens and so on. Also you will get the view of the affected area caused by the 2010 and 2011 earthquake. In the presence of a tour guide, you will get more understanding about the earthquake and the restoration process. You can also enjoy the Christchurch Botanic Gardens at the Avon River.


The best activity to do here is to take a thrill ride on the TranzAlpine train. This train travels all the way from Christchurch to Arthur's Pass between the mystical Southern Alps.





Dunedin & Port Chalmers Dunedin is considered to be the architectural capital of New Zealand. Why? Because of the historic architectural monuments and buildings that it represents. Victorian and Edwardian are some of the buildings that stands as a symbol to present rich heritage of Dunedin. Dunedin's Otago Peninsula is also renowned for some world-class cafes & restaurants. So if you're a foodie, then this place is definitely a must visit one. About Port Chalmers, it is a very tiny village/town well-known for art & crafts, design boutiques and a mix collection of some unique galleries.

Shore Excursion Activities at Dunedin & Port Chalmers



If you want the long excursion tour of the whole region, then do travel in 'Taieri Gorge Railway' which is a 4hr long journey. You will get to see the captivating views of the whole Dunedin.


'Larnach Castle' which is known to be New Zealand's only castle is located near Otaga Harbour. You can opt to wander this majestic castle enjoying the beautiful views from the top of the hill.


If you're a chocolate lover, then Dunedin is a perfect place for you where you can tour the entire Cadbury World factory and also some chocolate shops.



Gisborne Gisborne is an ideal city for tourists in Eastland that perfectly describes the history & culture of Maori people. It is located on the North Island where the first canoes of Polynesian's were landed. It is the place where the groups of Maori and European settlers came together. The highlight of this city is that it is the first place in the world to see the rising of the sun each and every day. Gisborne is also well-known for spectacular surfing beaches and food & wineries.




Gisborne is considered as the 'Chardonnay Capital of the World' because of some top-class wineries. Explore some of the best wineries and get stunned by its stunning beauty.


A perfect place for surfers where tourists can enjoy surfing at Gisborne's popular beaches.


At Gisborne, you can find the North Island's largest national park that is the 'Te Urewera National Park' well-known for stunning lakes and deep dense forests. Also, you can opt for kayaking at Lake Waikaremoana





Kaikoura If you're more into eco-tourism, then Kaikoura is a perfect place for you. Situated at the foothills of South Island, Kaikoura is blessed with gardens & marine wonderland. You can find so many species of animals here ranging from dolphins to seals and whales. It is one of New Zealand's best eco-tourism destination and a must visit one.

Shore Excursion Activities at Kaikoura



With 'Wings Over Whales', you can get the closest view of Sperm Whales. Discover this activity and get amazed by some unique species.


You can also opt to enjoy a swim with Dusky Dolphins under an instructor.


Kaikoura's sea-food is so tempting that no one should miss the oppourtunity of having food here. From crayfish to paua and some local produce, you will find the best quality food served. And that's the reason why Kaikoura is recognized as New Zealand's sea-food capital