Pondicherry - The Europe of India

Read more to know why Pondicherry is referred as Europe of India. This article helps you to find out more about the famnous historical and tourist spots in Pondicherry.


It was during my stay in Hyderabad I utilized an opportunity to visit Pondicherry along with my friend Bhattacharya and his wife for the first time. Later on I had gone there few times on weekend tours, sometimes with my cousins of Bangalore or friends from Delhi. Last time I visited this town was a few years back when I had gone to my brother's home at Bangalore. We were three in the group. My elder brother, sister-in-law and me. The day before the journey we engaged a cab. It was on a weekend summer morning of mid-July we started our journey and within no time we were on NH 46 the highway that will take us to Pondicherry. We went past beautiful scenic beauties on both sides of the highway. Our cab followed the shortest and best route of Bangalore - Mysore - Krishnagiri - Vellore - argot - cheyyar - vandavasi - tindivanam – Pondicherry. After a stopover for breakfast at Vellore and coffee breaks enroute we reached Pondicherry covering a distance of nearly 381 km in six and half hours.

On the southeast Coromandel Coast of India is Pondicherry the other name for Puducherry With the advent of French colonial powers the place came into prominence. It used to be a place for trade and business with India that was exploited by the Romans and French. French found the place suitable from business point of view and arrived gradually in large numbers and established their colony here. Later on the local administration of the town was taken over by the representatives of the French Government. Till 1954 it was a French colony The buildings, memorials, churches, monuments and statues reflect architectural patterns as in European cities and scrupulously followed by the French colonials. Being a coastal town Pondicherry attracts tourists from all over India and abroad. The place suits both category of people, those who want to enjoy beach holidays or those who want to witness the cultural heritage of French colonialism. Presence of many colonial buildings and churches made it look like a European city and for this reason it is popularly known as The Europe of India.

The main tourist attractions are Sri Aurobindo Ashram and Auroville, the International City of Unity about 6 km away from Pondicherry. Another place of interest is Plage Paradise beach which is thronged mostly by the weekend visitors. If you have faith in Jessus Christ then you must visit The Basilica of the Sacred Heart of Jesus, one of the most beautiful cathedrals of India, Some of the places that we covered during our weekend tour are :-


Shri Aurobindo Ashram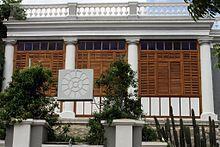 As we reached our first stopover at Aurobindo Ashram. A representative of the Ashram volunteered to explain us briefly about Saint Aurobindo and role of Mother Mirra Alfassa in setting up the Ashram. Shri Aurobond Ghose, an Indian freedom fighter who later transformed himself as a spiritual saint used to live in Pondicherry and impart spiritual knowledge to his devotees from India and all over the world. While in India, Mirrra Alfassa, a French origin lady ( who later became famous as The Mother ) came in contact with Shri Aurobindo and became fascinated by listening the spiritual discourse of Shri Aurobindo. The spiritual tenets representing a synthesis of modern science and yoga inspired this lady and she decided to stay in Pondicherry forever. She later founded this Ashram in consultation with Saint Aurobindo and named the ashram as Shri Aurobindo Ashram which is located at 12 Rue De La Marine. Till death of Saint or Rishi Aurobindo in 1950 , she handled the activities of the Ashram as its head. We completed our visit here and left for our next stopover Autoville.


Auroville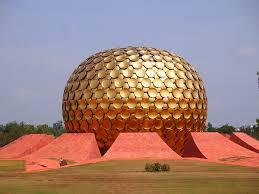 Auroville (City of Dawn) is an experimental township which is situated 8 km north-west of Pondicherry in East Coast Road. It was founded in 1968 by Mirra Alfassa (also known as The Mother), the spiritual collaborator of Sri Aurobindo. As per the Mother's vision and guidance Auroville was designed by the French architect Roger Anger. Auroville is meant to be a universal town where men and women of all countries are able to live in peace and progressive harmony, above all creeds, all politics and all nationalities. The purpose of Auroville is to realize human unity. During the inauguration ceremony of Auroville on 28 February 1968, soil from 124 countries was placed in a lotus-shaped urn and mixed to symbolize universal oneness. In the middle of the town is the Matrimandir, which has been acclaimed as "an outstanding and original architectural achievement. It was conceived by Alfassa as "a symbol of Universal Mother"

Although originally intended to house 50,000, the actual population today is 2,007 (1,553 adults and 454 minors), coming from 44 nationalities, 836 of whom are of Indian origin. The community is divided up into neighborhoods with Tamil, French, Sanskrit and English names like Isaiambalam, La Ferme,. , Arati, and Aspiration, and The residents are involved in agriculture, administration, commerce and handicrafts, alternative technology, education, healthcare and development projects, the latter including AuroRE Systems, an international award winning unit involved in solar photovoltaic and thermal systems. While returning from Auroville we decided to visit some of the other interesting places of tourist interest in Pondicherry. These are :


Mahatma Gandhi Statue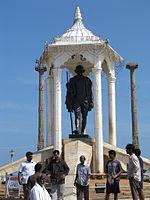 Surrounded by granite pillars which were brought from Gingee a fort at a distance of 70 kilometers from Pondicherry, the statue of Mahatma Gandhi near the sea beach is four-meter in height.
The calm and quite environment around the place charmed us so much so that we spent a full hour sitting under the blue horizon remembering our Father of the Nation's and his struggle for our independence.


War Memorial on The Promende Beach

As we reached Promenade Beach, we were welcomed by the Bay of Bengal with its cool breeze and for a moment we were lost in a heavenly pleasure. Our heart filled with joy and excitement by the very sight of the vast ocean in front of us. We sat around the War Memorial on the sea beach. This war memorial was erected by Puducherry Government in memory of the freedom fighters of our country. We spent about an hour. The beautiful ambience of the place attracted us so much so that we were unwilling at heart to leave the place so early. As were feeling hungry we went to a nearby eating joint Seagulls Restaurant at the southern end of the beachside promenade where every second Saturday of the month live bands performed. Food was good, so also its fantastic ambience. We readied ourselves now for our next stopover at Statue of Joseph Francois Duplex.


Statue Of Joseph Francois Duplex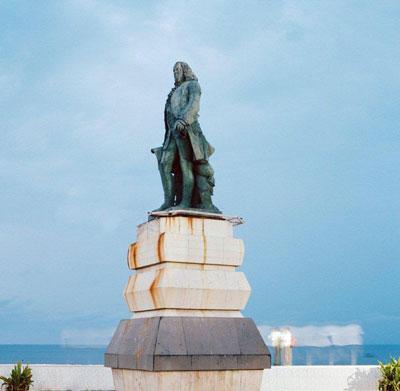 Born in Landraces, France, Dupleix came to India in 1715. His Business efficiency and leadership made him famous and in 1720 he became a member of the Superior Council of Pondicherry. His reputation made him Governor General of all French Establishments in India. He wanted to acquire a major portion of India for his country France and formed a troupe of locals but unfortunately his plan got disclosed to British Government and he was made unsuccessful in his endeavour. The famous Hyder Ali of Mysore was a soldier in his troupe After his death, in recognition of his services to his country France, two statues were built, one in India and other one in France. The 2.88 m tall statue of Dupleix situated at Goubert Avenue at Pondicherry has become a major tourist attraction. We spent some time remembering this great man and his contribution in shaping today's Pondicherry. Our next stopover was at Bharati Park where the famous Park Monument or Aayi Mandapam is located.


Park Monument ( Aayi Mandapam )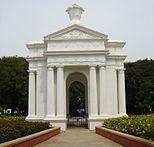 Built during the time of Napoleon-III, Emperor of the France, Aayi Mandapam (Park Monunemt) is a white monument situated in the center of Bharathi Park. To commemorate the provision of water supply to the French city this monument was built and named after a lady courtesan called Ayi. who sacrificed her own house and erected a water reservoir to supply water to remove water scarcity for the people of Pondicherry.We were overwhelmed by seeing the monument and its lovely floral surroundings. We sat on the beautiful park lawn for sometime and enjoyed cup of coffee and snacks. Our next place on the visit itinerary was Statue of Joan of Arc. The brave lady of France.


Statue of Joan of Arc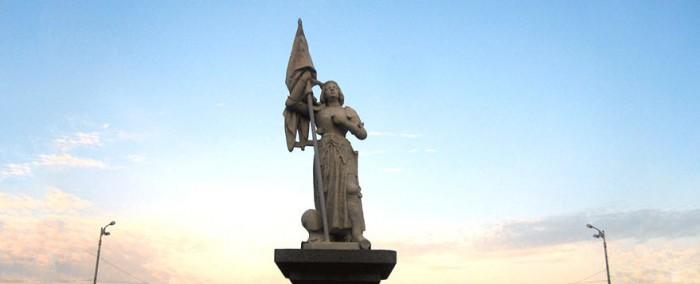 Joan of Arc considered as a heroine of France helped France to recover from English domination of Hundred Years. Later she was captured by the English and put on trial on various charges and sentenced to death by burning on 30th of May 1431. Before leaving India forever, French built some statues and monuments in Pondicherry. One such statue is of French damsel Joan of Arc placed in the middle of a garden that was erected in 1923 and located in front of the Church of Our Lady Angles at Dumas Street.After spending a good half an we left for our last stopover of sightseeing French War Memorial.


French War Memorial

Built in the memory of the brave soldiers who fought the first World War for their country and died a hero's death, the French War Memorial on the Goubert Avenue is a place worth seeing for the visitors. The memorial was built in 1971. We were lucky enough to see the illumination on 14th of July as our visit date coincided with the Bastil's day. Every year on this day the place is specially illuminated for paying homage to the brave martyrs.Our tour of Pondicherry for day one was over and we return to our Guest House and retired to bed after finishing our dinner. Our next day tour was scheduled for Paradise Beach.



Paradise Beach

There are many beaches in Pondicherry like Gandhi beach, Auroville beach, serenity beach, rock beach, Reppo beach, Promenade Beach, beach but nothing like Paradise beach. So we opt for Paradise beach. Paradise beach in Pondicherry away from the hustle bustle of city life is a quite sea beach located at 8 kms from from the city is a must see for every tourists. We left for this place early in the morning next day and reached Boat station at Chunnamber resort which is on the Cuddalore Main Road in Pondicherry. There were speed boats and Jet boats at different rates. However we preferred ordinary mechanized boat and boarded the ferry. We were told to put on mandatory life jackets. After sometime our boat started and sailed through the calm backwater.. Within 15 minutes our boat reached the beautiful Paradise beach. We changed our clothes and went straight to the sea for enjoying water splash (Bathing and Swimming are not allowed). We spent about an hour watching the calm and shrine environment. While at the beach we enjoyed beer and chips from a kiosk. Soon after our return from the beach we started feeling hungry and went to one of the eateries at Chunnamber resort. We ordered some chicken Biriyani and delicious fish curry. Food was really tasty. Visiting Pondicherry in one day is not possible if one wants to go in for exhaustive sightseeing of various other places in and around the city and sea beaches. We left for Bangalore in the afternoon and reached home at midnight.

How to reach Pondicherry from Bangalore
By Cab/Car - It is a little over six hours journey on the NH 46.
By Bus - It takes about 6 to 9 hours by bus. The journey is quite enjoyable as it passes through many scenic beauties both sides of the road
By Train - Those who love to travel by train, travelling time is nine and half hours. There are 5 weekly trains from different city stations of Bangalore to Pondicherry.
By Flight-– It takes about one hour from Bangalore.
Accommodation
Accommodation can be easily booked either directly or through MakeMytrip or Trivago. Plenty of Budget hotels, guest houses and home stays are available Beach side resorts are very popular and can be easily booked on line.