A Trip to Hampi: Believe the Hype

This article discusses some of the most famous tourist spots in Hampi and will help readers planning a trip to this well-known tourist destination in India.


I felt myself lunge forward as the tuk-tuk braked sharply. I peered ahead under the low roof to see whether it was a pedestrian or a pot hole we'd narrowly avoided. Confused after failing to see either, a dog's nose suddenly appeared in front of the vehicle on the driver's side as it ambled away to safety. "Don't worry," our driver said cheerfully, "chicken curry."

Feeling relieved I had largely stuck to vegetable curries during my time in India thus far, I was intrigued by what awaited us in Hampi. Travellers fall into two distinct categories: those who have never heard of Hampi, and those that rave about the place. My girlfriend and I had reluctantly left behind beautiful Agonda Beach in Goa to explore Hampi and although a traveller should always arrive with an open mind and a sense of optimism, I was dubious as to whether Hampi could live up to the descriptions of previous visitors. However, when you have an ace up your sleeve, even the biggest sceptics turn into believers.


Achyutaraya Temple


Arriving late in the afternoon, we dropped our bags and left the small but touristy hub of Hampi behind us and walked part of the way up Matanga Hill to reach Achyutaraya Temple.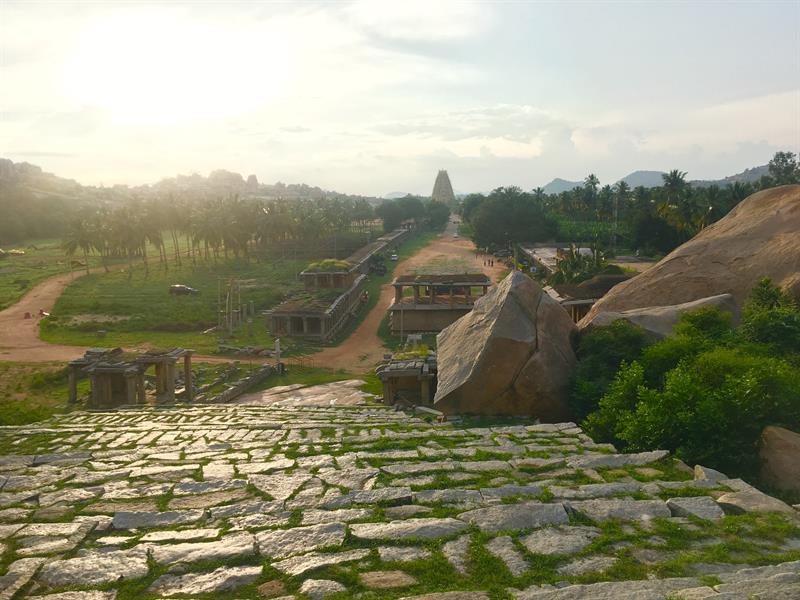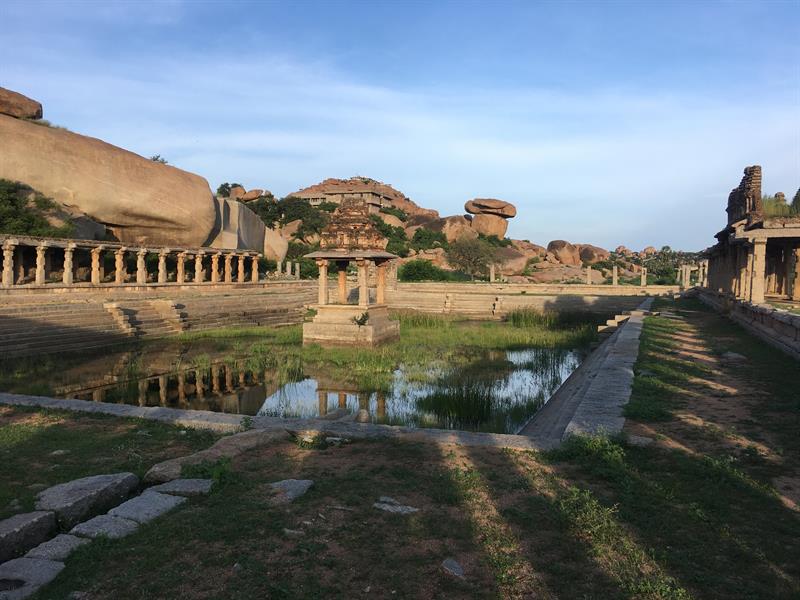 As someone who regularly travels alone and enjoys the independence that provides, there are few places I'd readily admit are better to explore with someone else. Hampi is one of the rare exceptions. The landscape surrounding the ancient city is so unique that stumbling upon its beauty is a joy that is better shared. Precariously balanced volcanic rocks, eroded over the centuries are littered across the horizon, while hundreds of 16th centuries temples remain across the hillside. Assessed individually, the vast majority of these ruins could form the centrepiece of a major tourism industry, but combined all together they merge with the rocks to enhance the breath-taking landscape.

We were amazed by the almost total absence of tourists. In places with a resemblance to Hampi, such as Angkor Wat, you are surrounded by other travellers falling over themselves to take the perfect shot of the ruins in the golden hour. Yet here, we had complete freedom to wander alone and as we discovered new ruins around each corner, we felt like intrepid explorers as we channelled our inner-Indiana Jones.


Hitting the road on two wheels, not four


The next day we cycled around 27km around some of the most picturesque ruins. Tuk-tuk drivers looked at us like we were mad and informed us on numerous occasions we were making a terrible mistake, but if you have a modicum of fitness and are willing to accommodate the crazy driving techniques of your fellow road users, and suicidal dogs, the opportunity to meander at your own pace alongside the banana plantations is not to be missed.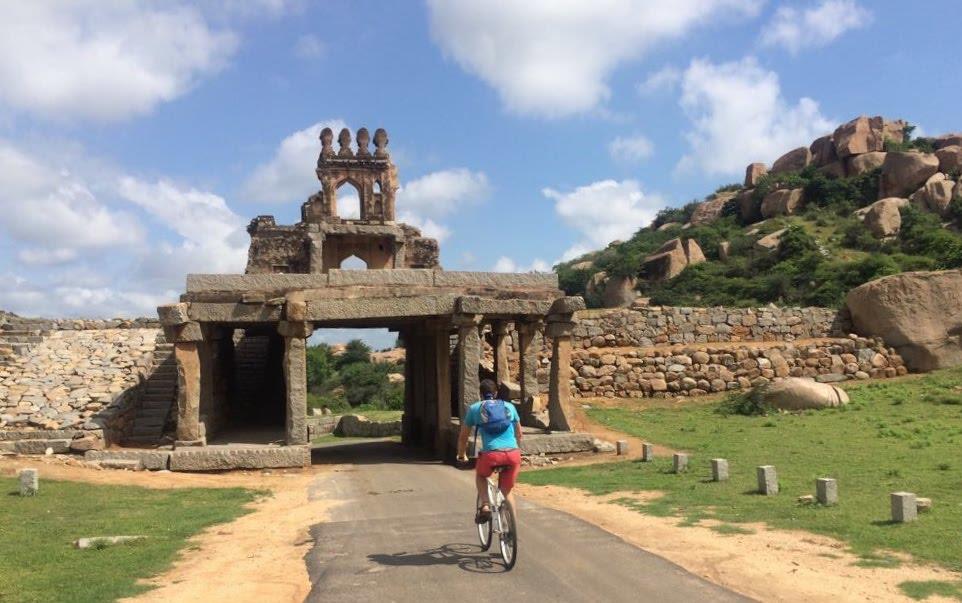 We stopped at the furthest point on the route first and made our way back the same way to Hampi for sunset. Our first stop was to one of Hampi's most famous ruins; the stone chariot at Vittala Temple. The structure's intricately designed wheels were once able to rotate while the outer 'musical' pillars reverberate when tapped. The Royal Centre also features prominently on postcards. This area can become busy with tourists, but the complex is so large that walking a little beyond the most famous temples will soon ensure you are left to enjoy the ruins with just the sound of crickets to accompany you. We ended the day watching sunset from the ruins on Hemakuta Hill overlooking Virupaksha Temple.

On the second day we took the bikes north of the Tungabhadra River to Virupapur Gaddi and Hanuman Temple on Anjanadri Hill where it is believed the Hindu monkey god was born. We were watched by groups of monkeys as we ascended the 570 steps to the top. In the afternoon we returned south to explore Hampi's waterfalls, located 2km west of the town centre. A word of warning though: you'll need a guide or a past visitor to take you there. We were fortunate to meet a Frenchman who had been there the day before and was happy to help us navigate our way through the banana plantations, swamps and boulder fields to reach the beautiful whirlpools.

It would take weeks to explore all of Hampi's ruins properly, but the two days we spent there were among the best of the trip. The lack of international recognition Hampi receives compared to similar historic sites is curious, but that is all the more reason to travel to India before word of it's incredible scenery spreads.

Chris Atkin is a freelance journalist currently learning Spanish in Panama. Read and follow his journey at www.chrisatkinonline.com or on Twitter @chrisjat.