A Solo Trip to Leh ladakh in bullet

I love being in the mountains. The calm and peaceful nature I find there, is almost nowhere else to be found. Do you feel the same way? Then you would definitely find my trip to Leh informative and helpful.



I posted some pics on Instagram / Facebook and my relatives and friends really loved the place. It is a great destination for solo/couple/family outing for biking/trekking trips and being out in nature.
One of my school friends called me as he really loved the pics and said: "Your trip pics are awesome and now I so want to plan my own trip". We spoke for sometime and then he suggested to me write a blog about my travel, so others could learn and prepare well for their trip as well. So today as he flew to Leh and shared his pics, here I am giving a quick summary of my trip.


I just thought I could still make a small contribution as well. I started my Diamox medication a day prior to flying to Leh. Rested the day I landed and was absolutely fine for the entire trip. If you push yourself unprepared, you can have AMS. Being my 1st trip to Leh with a solo biking plan, I had planned to take it slow.

Places I visited:
Day # 2 Hemis Monastery & Thiskey Monastery.

Day # 3 – Shanti Stupa & War Memorial.

Day # 4 - Kardungla Pass: The ride is awesome as you cross valleys with scenic views of snow covered mountains. The road condition is good till the check post where you have to show your permit. Post that the road condition is challenging as it gets eroded by the landslides.

Day # 5 – Spituk Monastery & Pathar Sahib Gurudwara: Ride from Spituk Monastery is awesome and you might find yourself all alone in the valley while driving to Gurudwara.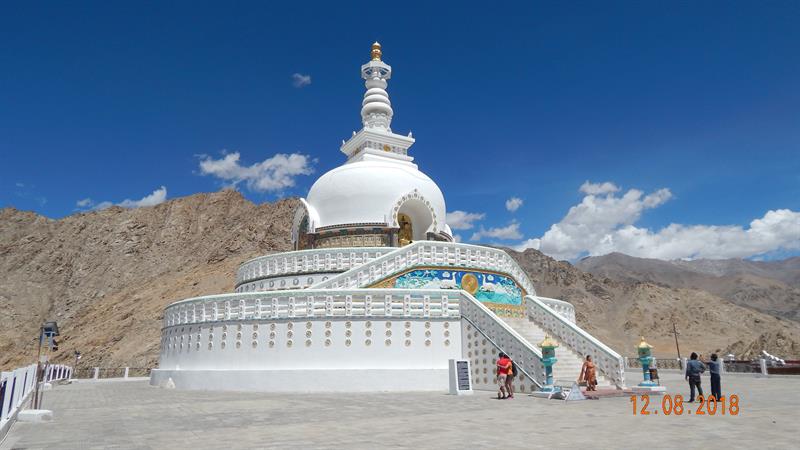 From Spituk Monastery, you get a panoramic view of the Leh Airport with flights landing and taking off.

Leh would have been different if our Armed forces WOULDN'T have built and maintained the wonderful roads they have. Perfect for biking. You will never be alone driving around Leh as there are army bases / sub-babes at regular intervals.


Leh has limited mobile phone connectivity with only Airtel and BSNL network. Vodafone network is not available in the Valley so you might need to buy an Airtel / BSNL prepaid SIM post reaching there. The prepaid SIM won't work outside J&K, so seems a use and throw the case.



Fort Road is the place to look and rent Royal Enfield bikes for your tour. I got lucky as found a decent operator and rented 350 CC. Try and take the latest model available to avoid any issues. For security purpose, Operator's will keep your ID. My Hotel did not accept Credit cards and wanted all food and balance booking amount settlement to be done in cash. Some of the hotels prefer that way.
The Sun is bright and sunny in Leh, so sometimes touring / biking in the afternoon can be a little tiring.
An awesome place to ride, go around and explore the inhabited places around Leh. Hope to be back soon with my family/friends for yet another biking trip.